Comics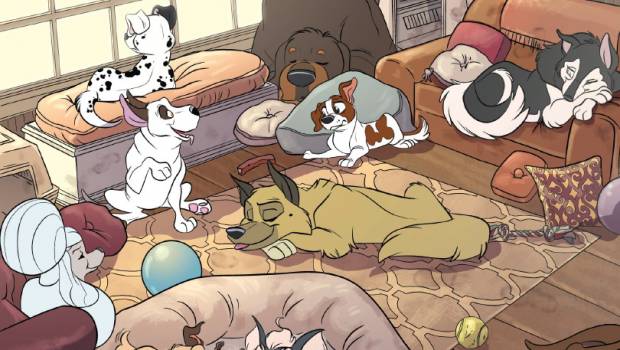 Published on January 20th, 2021 | by Tim Chuma
STRAY DOGS #1 (2021) Review
Summary: A scared young pup finds new friends but still does not what got her there. Will her new friends help her find out?
Young dog Sophie finds herself in a strange new house with a bunch of other strange dogs. She doesn't remember what happened to her or what happened to her former master. The other dogs don't believe their own master might be somehow involved but the lead dog vows to get to the bottom of it.
Having enjoyed reading the Battlepug series over the course of its storyline I was interested in a story set from the dog's perspective and not just having them as a companion character. One of the artists who worked on this series also worked on the famous My Little Pony series.
There are seemingly thousands of uplifting stories with dogs, to the point that Everything Is Terrible Doggie Woggiez! Poochie Woochiez! was able to make an entire new movie out of clips of dog movies. Then there are things like Plague Dogs and many stories that try and score cheap emotion by killing a dog in the story. While this story has a dog in danger it does seem to be leading somewhere and it is the main character so you know it is not in danger yet.
I thought the character designs of the dogs are great and they have a lot of personality being all shapes and sizes from small dogs to big dogs, elderly and puppies. I draw a lot of dogs in my spare time and notice if something is done well.
Despite the cute characters this is not a book for kids and maybe not the faint of heart who just want totally happy stories with dogs.
I would recommend this to people who think Cujo and the Doberman Gang were cute and want something with a bit more bite (yeah, I went there.)
Comic details:
Writer: Tony Fleecs
Artist: Trish Forstner
Cover Art: Trish Forstner, Tony Fleecs
Colourist: Brad Simpson
Layout Artist: Tone Rodriguez
29 pages, colour
Genre: Horror
Publisher: Image
Published: February 17, 2021