XBox 360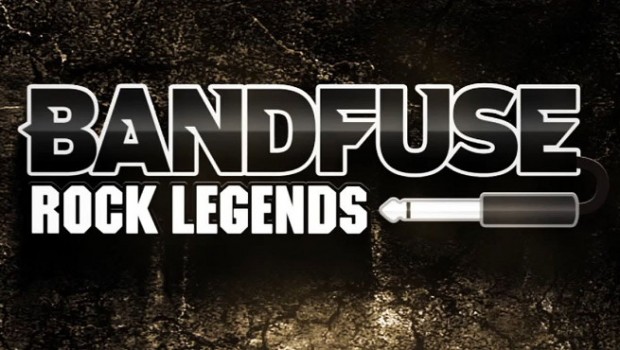 Published on November 24th, 2013 | by Edwin Millheim
Bandfuse Rock Legends Xbox 360 Review
Summary: Bandfuse: Rock Legends is a rocking good time with a learning curve worth applying yourself to.
Title: Bandfuse Rock Legends
Developer: Realta Entertainment
Format: Reviewed on Xbox 360
Produced and marketing: Co-venture with Relativity Media
Publisher: Mastiff Games
Distributer: Majesco Entertainment
Guitar Partnership: Fender
Video Partnership: Rad Tools
The folks sent me over a copy of the game to test out. Realta Entertainment Group, Inc. and Realta Studios are the folks behind the latest offering into the new exciting world of using real instruments in a learning, gaming environment. With Bandfuse: Rock Legends, the title does take it a few steps further than what is offered so far. We all marveled and of course enjoy actual learning with guitar and bass. So seeing another company taking a step up and hitting things from a different angle is welcome, it's a win for everyone especially the consumer.
Bandfuse: Rock Legends up until I got my hands on it, came across to me as a come worship us we are rock legends kind of thing. The early press stuff just came off with a thud. Later as the company was able to reveal more and speak to press as well as give live demo streams of the gaming product it became clear that the people behind Bandfuse: Rock Legends cared very much about music and delivering a top notch learning experience. My interactions with the developers and team through various ways including their Facebook page has shown them to be surprisingly supportive. They believe in the game, but most of all, they believe in teaching and spreading music.
The game comes at it from a different direction than what we are used to, music notations come across the gaming screen animated guitar tablature.  A learning experience one can take into the world of guitar and bass.  If you're like me and you look at the display and get confused because the top string on the guitar is displayed as the bottom string on tabs and also in this game…welcome to the club. But that's how it is presented. So, how easy or how much of a learning curve is involved here with learning tabs? How well does Bandfuse help you learn? Let's see about answering those questions as I dig deep and review this deceptive power house of a game and learning tool.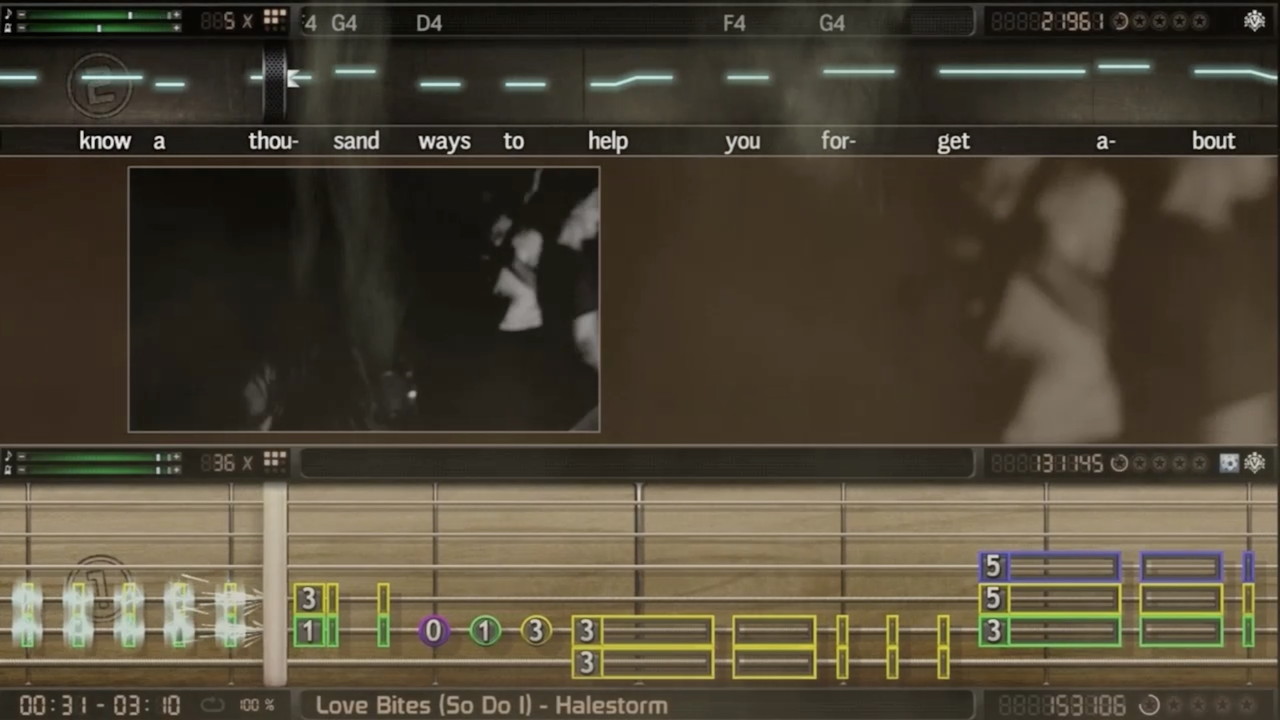 One of the banes of real guitars and interfacing with a game system or computer is lag.  Lag is a very noticeable delay between a player's guitar or bass plucking or strumming and the sound coming out from the game and syncing with the music in the game. Realta Entertainment seems to have really pushed themselves when it comes to wiping out lag. The game does have something in the settings to sync the games sound and video up nicely and adjust for any lag that may be sneaking around. Though between the games interface, and lag settings and the hardware that comes with the game….there is surprisingly no lag that I can notice…and I tried. Putting it through all kinds of paces to see what would happen. Lag? What lag?
The hardware that comes with the game is a ¼ jack to hook up your instrument, a headphone extender and an orange box like adaptor.  The adaptor which is colored orange plugs into the back of the Xbox 360. It has analog outputs as well as a digital output, and a headphone jack. Plugging the orange adaptor in the back of the Xbox 360 is easy enough, though if you have a wireless adaptor hooked to the back of the system it may run in to a lack of room problem.
We tried hooking up a guitar (We tried several different brands…An Epiphone Les Paul Standard,  a Fender Stratocaster, A SRO Badwater guitar, and an ESP M-50 LTD. And a Stagg Semi Hollow Electric Gold top tiger eye stripe) All of them interfaced very well with the game.  We also hooked up a USB microphone for some singing action and things worked well. We ran into a bit of an issue with a mic that stayed hot. Having one that has an on /off switch may be a good idea. Sound from the room going through a hot mic caused interference with turning the guitar in the game. Unplugging the mic since it had no on off switch got us passed tuning, then plugging it back in got us on our way. So you can …if you have the cabling, have four players, two guitars, Bass and a singer.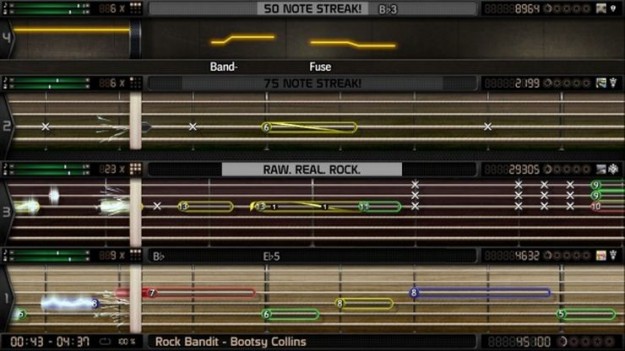 The Interface and menus are very simple and straight forward. When first starting the game it gives you a run-down of the interface, you would do well to sit through this and listen to it, especially if you're new to guitar, bass and or singing. The video is of Slash who runs you through the basics of the game and how the guitar interface works. This was darn cool because we even learned a pro tip in these intro videos. Something we never even knew about, so the video intro and the tutorials and candid talks are actually golden. Speaking about the interface and menus… after the load screens everything is lickety split fast.  Going through the menus has no major pauses that we can see at all. Even going into a song and deciding to back out, there is no major wait time in this game which is a very welcome thing indeed.
When firing up the game and getting past the introduction screens, it asks you what instrument and or mic or combination of these you want to play. The Modes of play in the game include:
Backstage; Going into the back stage section opens up several other areas. Such as Pro Tips which gives information on how to play the game and advise on guitar its sort of a mini manual, Gameplay interface which shows the notation controls for the game, Options shows Audio and video settings and the important video latency adjustments, and also the player can set up game options such as setting the difficulty level before every song….turning the option off you will have to choose before every song. There is a Playback menu also; here where you can listen to your recording. You can save up to a whopping 500. A trophies menu shows any achievements you may have cropped up during you playing. There are player stats, leaderboards and a section to show game credits of the hard working team that brought us the game through the sweat, determination and stinging fingers and wailing vocals.
Tour:  The tour mode is as the name implies places players in a tour type environment, the virtual band can get cash for their performances and there are challenges to beat before players see any virtual cash. Such as get five stars on a song. It gives you something to shoot for, though if you're a beginner and just hitting 91% in a song be prepared for goal frustration because you have to hit those notes to get those five stars. So practice- practice and more practice.
Quick play: Here a player can sort through the songs either by title, year, artist name or several other sorting options. The main thing here is how easy is it to search for a song? It's displayed in a tile kind of way showing album covers. So either way it's not bad at all. I can see when they start adding DLC it may become pretty busy graphically. But the different option of sorting should make that less of a chore.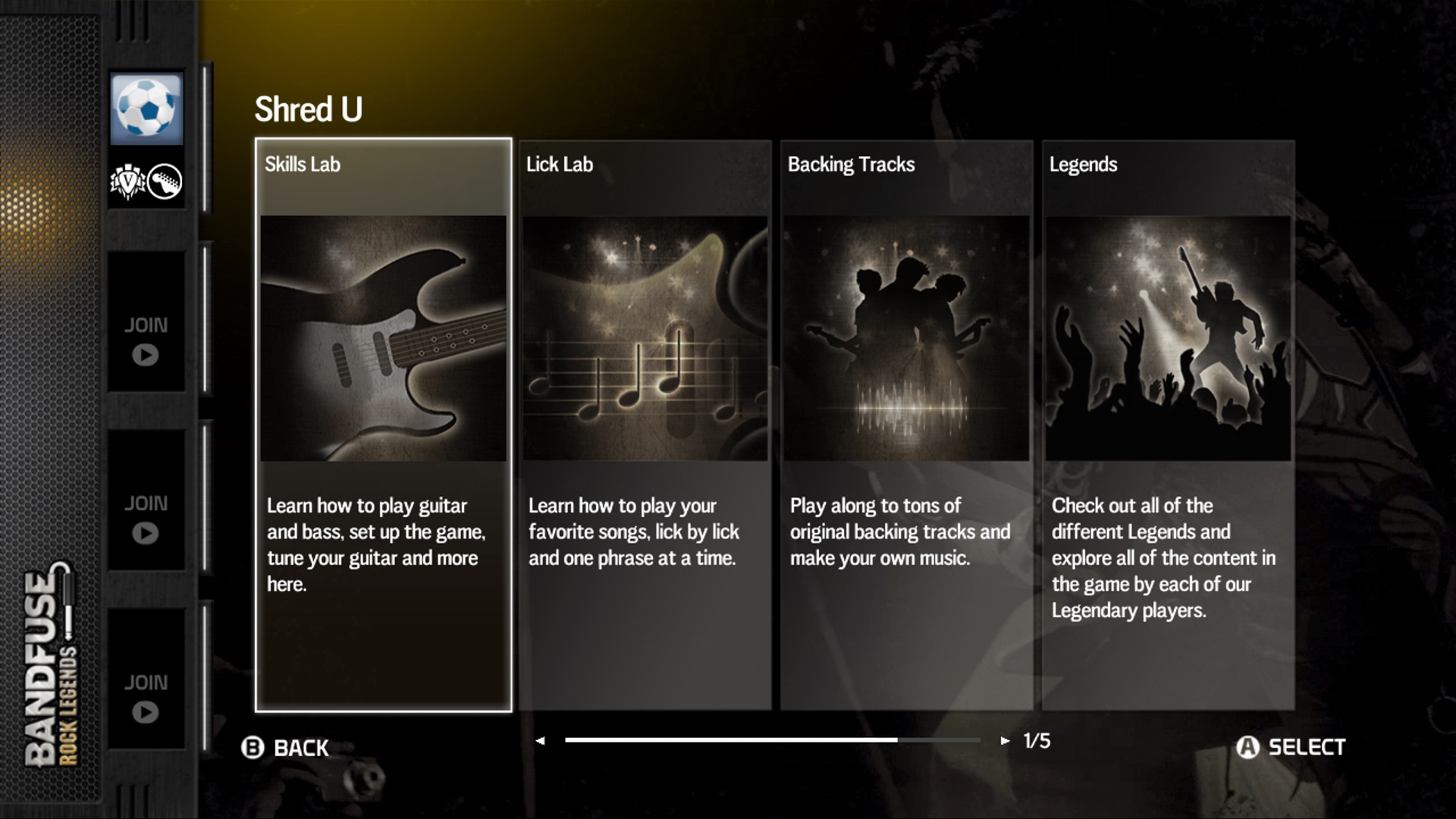 Shred U: Here is the rocking soul that the Guitar Gods have smiled upon of this game. Here the guitarist, Bass player or vocalist can go to brush up and practice their skills. The sub menus here include Skills Lab: Learn to play your instrument here. Lots of cool tips and teachings here. Lick Lab: Learning to play a song, phrase by phrase. Practice: Extra tools to learn and practice the songs. Backing Tracks: Different styles of backing tracks, and also a section to record your own experimental playing, or singing I would imagine. Then the Legends: Here you get to see a bit about the celebrity artist representing in the game.  You also get to see interviews and just general chats on different subjects. Surprisingly in these seemingly casual chats there is a wealth of information for budding artist from these pros. So what may have seemed like a gimmick using these pros in the game to draw players is actually a rocking inspiration. As noted there are some rather static obvious line delivery going on in the actual teaching sections, but when the casual interview conversations come up its informative, riveting at times, just downright genius. Truly as I like to say when something inspires to highs that reach and please the rock Gods…Bandfuse: Rock Legends doth fill our Goblets of Rock to the brim. Plus it's actually pretty dam cool to get some schooling from Professor Slash.
Setting menu: Game settings and options.
So ok, if you have been playing other guitar type games (From plastic toy ones to the new world of actual guitar playing) you may be used to a note highway. Now for something a little different.
So Bandfuse: Rock Legends has something different instead of the note highway gamers have been used to for so long.  Here we get Tablature. Animated guitar tablature moves across the screen. Bandfuse Rock Legends teaches tablature pretty well. This has a lot to do with being able to take and slow things down, and also the different playing levels. Because as a beginner if I was silly enough to try the game at the higher skill levels right off the bat, my brain would explode in frustration from all the notes flying past. Thanks to the different difficulty levels in the game before each song player can ease on in and build the skills up.
Tabs.  Also known as Tablature; is musical notation showing the fingering positions instead of pitch. Tab or Tabs are common enough across musical genre and you can find hundreds on the internet.
They say that tablature is easier to read for the beginner, well…I checked, I have seen instructions, it's still dots to me.  I am one of those folks that learn by doing.  Add the extra fun of being a left hand player and then you start to see a problem in the game that's geared only for right hand players. (Which is just how tablature is shown most times in the real world) Also in showing the traditional tabs where the largest string in tablature is on the bottom of the screen and not the top. I found the transition in reading the tablature and also the strings in this way to be a bit of a challenge, though not at all impossible.
Bandfuse: Rock Legends is beginner friendly and players using the game can build those guitar skills up. This is combined with learning the tablature is something to get excited about. (A matter of choice in the end on what's easier…I'm picking it up but there is definitely a learning curve, anything worth learning takes some measure of dedication. Making the switch from symbols on a note highway where the interface is lefty friendly to tablature animations that is geared to right handers and you have to adapt to it if you're a lefty…the transition was not overly difficult.
Though there is a learning curve to it where I had to concentrate that much harder to see the note fret numbers and fingering suggestions that the colors represented. It should be noted here that…yes there are left handed tab books out there…so the music world does in fact know there are left hand players.  Some of the developers did make comment on their Facebook page that if in fact there was a major difficulty that showed left hand players in the community where having a problem they would look into patching the game in order to flip some of the guitar neck and string animation around to simulate a lefty. So they have considered it and it could be in the future IF there is an issue. As a left hand player that's good to know. I also think it may not be necessary.  Would be nice, and make it easier for us lefty players…but as is…. we just have to work just a little bit harder at the game. Either way it's a thrill when you start making some noise that actually sounds like the song you're working at learning.
As the notes come across screen there is an extra animation near what would be the nut of the guitar on screen. A little docking kind of thing comes out for the note to, well dock with. It corresponds with the string to pluck or pick…and the number is the fret… 0 being open string and not fretted. Then the color of the note indicates the finger the game suggests to use.
Songs and DLC, as we know it's all about the songs and DLC. As I write this we are a couple days away from DLC announcements. So we are hoping for some good news like everyone else to expand the interesting library of songs. It's a thumping list of songs, covering several different tastes in music which is a good thing. Players will navigate first off to songs they relate too or know a bit about. But to really have a blast, expand and explore you may be surprised in what you enjoy playing on guitar or Bass or belting out with your vocals.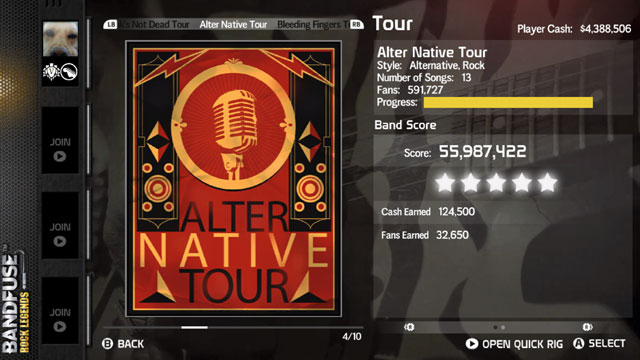 The Set List – The biggest hits. BandFuse: Rock Legends boasts 55 tracks, all of which are immediately playable. No Locked content here baby! We get some darn good represents from rock to metal and punk to funk, and here are the songs on disk!
Songs from In-Game Legends
Slash "Back From Cali" (2010)
Bootsy Collins "Rock Bandit" (2013)
Five Finger Death Punch "The Bleeding" (2007)
Lynch Mob "Wicked Sensation" (1990)
Mike Ness/Social Distortion "Bad Luck" (1992)
Zakk Wylde/Black Label Society "Overlord" (2010)
Alexi Laiho/Children of Bodom "Are You Dead Yet?" (2005)
BandFuse: Rock Legends Complete Set List:
2000s
•             Stellar Revival  "The Crazy Ones"
•             Halestorm "Love Bites (So Do I)"
•             Red Fang  "Wires"
•             Shinedown  "Devour"
•             Bullet For My Valentine "Tears Don't Fall"
•             My Chemical Romance "Welcome to the Black Parade"
•             Wolfmother  "Woman"
•             All American Rejects  "Move Along"
•             Children of Bodom  "Are You Dead Yet?"
•             Fallout Boy "Sugar, We're Goin' Down"
•             Modest Mouse  "Float On"
•             The Strokes  "Reptilia"
•             The Distillers  "Drain the Blood"
•             Maroon 5  "Harder to Breathe"
•             Blink 182  "All The Small Things"
•             Coldplay  "Yellow"
•             Incubus  "Drive"
•             Nine Days  "Absolutely (Story of a Girl)"
1990s
•             Kenny Wayne Shepherd  "Blue on Black"
•             Blur  "Song 2"
•             Duncan Sheik  "Barely Breathing"
•             Sublime  "What I Got"
•             Alanis Morissette  "You Oughta Know"
•             Bad Religion "Infected"
•             Pantera  "I'm Broken"
•             Blind Melon "No Rain"
•             Dream Theater  "Pull Me Under"
•             Pearl Jam  "Alive"
•             Faith No More  "Epic"
•             Jane's Addiction  "Been Caught Stealing"
•             Megadeth  "Hangar 18"
•             Testament  "Souls of Black"
1980s
•             The Pixies  "Here Comes Your Man"
•             Living Colour  "Cult of Personality"
•             Grateful Dead  "Hell in a Bucket"
•             Ratt  "Round and Round"
•             Billy Idol  "Rebel Yell"
•             Modern English  "I Melt With You"
•             The Clash "Should I Stay or Should I Go"
•             Brian Setzer  "Rock This Town"
•             Rick Springfield  "Jessie's Girl"
•             Rush  "Limelight"
•             Judas Priest  "Breaking the Law"
'70s & '60s
•             Foreigner "Hot Blooded"
•             Blue Öyster Cult "Godzilla"
•             Cheap Trick "I Want You to Want Me"
•             Heart "Barracuda"
•             Kansas  "Carry on Wayward Son"
•             Santana  "Black Magic Woman"
As noted about the interviews and teaching from some of the rockers in the game we have, Slash,  Zakk Wylde; bass legend Bootsy Collins; George Lynch, , Zoltan and Jason from the hit metal band Five Finger Death Punch, Mike Ness, and Alexi Laiho to name a few. All giving in sites and teachings.
Of course the game is about the songs, about guitar and about Bass. Bandfuse: Rock Legends takes things a step beyond and makes a gaming and learning experience that includes vocals. Realta Entertainment Group released information and detailed the collaboration with music game pioneers Harmonix Music Systems.  Harmonix contributed its Rock Band vocal interface design to the BandFuse: Rock Legends gameplay. The interface, when tied to the Realta analytics engine, scores vocals for instant feedback in single and multiplayer mode. The team also shared the iconic Rock Band instrument logos for use in the in-game user interface.
It's great to see vocals in the game and it opens things up for a truer band like experience, all that's really missing is drums.
Other than a learning curve that you have to really apply yourself towards, I was hard pressed to really find anything I did not like or anything that detracted from the gaming or learning experience. Maybe a bit wonky, Some of the analitics seemed skewed at times making that coveted five star score in challenges very hard to make even at the lowest difficulty. Leaderboards seemed to rank people from different diffuculty levels on the same playing field and that just is not right. A person playing at the highest level, should not fall under someone playing at the lowest difficulty level on the leader boards regardless of the score. The minor things tweaked my scoring ever so slightly, but make no mistake this is a hell of an experience.
Bandfuse: Rock Legends is at last here and is a rocking good time.
Have fun play games.