XBox 360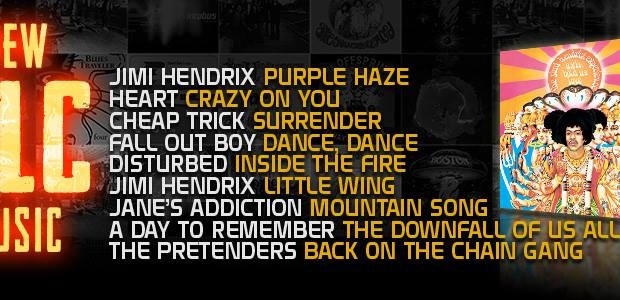 Published on March 13th, 2014 | by Edwin Millheim
Bandfuse: Rock Legends DLC Second Wave
Summary: Bandfuse: Rock Legends is still keeping it awesome with some choice picks for DLC tunes.
Bandfuse: Rock Legends DLC Wave 2
Developer: Realta Entertainment Group
Format: Xbox 360
Reviewer: Edwin Millheim
This next wave of tunes from Bandfuse: Rock Legends carries on with the diversity and thankfully the mix of original recorded versions AND throwing in live performances to keep things fresh.
Of course the root game makes for full song control so you can learn the song in segments, which is pretty darn exciting. This continues to be a spectacular learning tool. If you have been on the fence at all waiting to see what else was released for the game, we can all rest assure that the DLC path is bright. If you're a beginner, double down on things if you already have another learning tool. This game will only enhance things to the nines. (That's cool speak for…ya gotta get this game!)
If you already know how to play guitar then this is also for you, who would not want to learn new songs?  Great music is like food for the soul. You have to feed it. Bandfuse: Rock Legends and its DLC will feed you well.
Let us check out this new DLC and talk about playability, if you already have the game then you know how well the interface is at being able to slow a song down and learn it phrase by phrase. For the new DLC it's no different. So let's break it down to some of these rocking titles. Each level of each song lends itself just enough that you feel like you're part of the band as you play along.
•The Jimi Hendrix Experience – PURPLE HAZE
With one of the most iconic guitar riffs rock history. Unrelenting march accentuated with scratchy fuzz that to this day is known by guitarists as the "Hendrix Chord". The Song embodies what we think of when we think of that era and the sixties.
•The Jimi Hendrix Experience – LITTLE WING (Eb Standard)
The picture painted by this song is surprisingly different from what you would expect. As delicate as soft wings, this ballad is a lyrical and guitar soft touch that paints a different picture in any one's mind that listens to it. It's a welcome addition to the song collection for Bandfuse: Rock Legends.
•Cheap Trick – SURRENDER (Live)
Like other live tracks Cheap Trick's "Surrender" powers through some tasty riffs that never seem to get old. The enduring rock group Cheap Trick has that blend of Beatles pop and hard rock. This song and video show it all off very well.
•Heart – CRAZY ON YOU
You would be hard pressed not to like Heart. With lead singer Ann Wilson and her sister… One of the all-time awesome guitarist Nancy Wilson. With music influenced by hard rock and heavy metal as well as folk music, their songs are just power out right fun to play.
The other songs in the pack run the wide swath of guitar tunes that any guitarist would have a blast playing. Break out the Bass guitar and feel the beat, or try your vocals out and let's see how you wail. However you choose to Rock… Bandfuse: Rock Legends has you covered.
•Jane's Addiction – MOUNTAIN SONG
•Pretenders – BACK ON THE CHAIN GANG
•Disturbed – INSIDE THE FIRE (Drop C)
•Panic! at the Disco – I WRITE SINS, NOT TRAGEDIES
•Fall Out Boy – DANCE, DANCE
•A Day to Remember – THE DOWNFALL OF US ALL
The releases are rounded out with some well put together backing tracks that will keep your guitar practice interesting.
•Marcus Henderson – Back 40
•Marcus Henderson – Summer of '89
•Marcus Henderson – Backing Beats Pack 2 (Three looping drum tracks)
GameStop customers who buy BandFuse: Rock Legends also receive an exclusive code to download Jimi Hendrix's hit "Foxy Lady (Live from the Miami PopFestival)." The track will be available in the BandFuse: Rock Legends Music Store while quantities last. It's unclear if this will be available for general download later…or when.
If you have not tried out Bandfuse: Rock Legends yet…you're missing a spectacularly awesome music experience. We just wish for us poor left hand players we could invert the strings on display so our brains can process the notes better. At this time the game still makes left handers work a bit harder since the strings are shown in traditional Large string at the bottom of display, even though on a guitar its at the top. Still with having to work a bit harder to get it…the rewards are well worth it.
UPDATE: Just a couple hours after we posted our review Bandfuse: Rock Legends on thier Facebook page posted this news and it does not sound good for the game nor for the game company…so if your going show some support for this guitar game… ya better do it soon fellow gamers…..and yes, we know our Australian reader had been waiting for this game…now the future does not look very good that we will see it released in Australia:
"Hi All –
We are very sad to report that due to events beyond our control, Realta has had to temporarily suspended its US operations. The game and current DLC will continue to be available for now, and as we sort out the next steps for the company, we will keep you posted regarding the long-term future of BandFuse. We truly appreciate every one of our supporters! Keep playing the game, posting amazing videos, stay tuned for updates and most importantly, rock on!The BandFuse Team"
Well my fellow Impulse Gamers…what do you think of all that? See and post on our facebook page any of your thoughts.
Have fun play games.
Edwin Millheim, Impulse Gamer.