DVD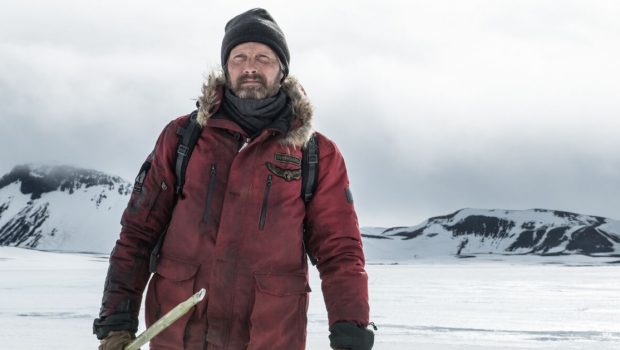 Published on July 17th, 2019 | by Curtis Mayfield
Arctic – DVD Review
Arctic is a true man versus wild tale if there ever was one. Set entirely in a snowy abyss, actor Mads Mikkelsen (Hannibal) seizes the rare opportunity to play a hero. His character, Overgård, comprises of endless survival techniques and mystery. The Danish actor's handsome face pre-empts flashes of villainy, but it is easy to overcome since he is playing only one of two roles here in the wilderness. Unlike other lone survivor movies, such as Castaway (2000) and The Martian (2015), we do not witness the accident that left Overgård in the most uninhabitable place on earth.
First time feature director Joe Penna successfully leans hard into the 'show, don't tell­' side of storytelling. We are fed breadcrumb clues into Overgård's past and current nightmare of a situation. We follow his daily survival routine where we see him sleeping in the hollowed-out plane that presumably crash landed. Penna and Mikkelsen also present the character as a smart and resourceful one. Through tallies drawn on the wall of his makeshift home, we learn that Overgård has been lost and alone for some time; the duress is painfully visible on his face.
For the first part of the film, Mikkelsen is left to his own. With minimal dialogue and maximum solemn facial expressions, his performance is subtle. When he bites into an uncooked packet of noodles you believe from his expression that Overgård is a man who has failed to eat anything but raw trout for months. He has found relative safety by staying with the crashed plane and sending a daily SOS signal from a windup transmitter.
Light spoilers: when a rescue helicopter arrives in the first fifteen minutes of the story to save our Danish hero, it is no surprise that we don't immediately escape the snow. In fact, after their helicopter crashes, Overgård rescues the crew by pulling a young female pilot from the wreckage. Do not assume that a love story blossoms from this encounter though. The character, simply named Young Woman (played by Maria Thelma Smáradóttir), is unconscious for most of the film.
At least Overgård has someone with whom he can exchange stories and be spared from his isolation and insanity, right? Wrong! The helicopter crash provides the story with more conflict than ever before. Overgård must decide whether to stay put and wait for another rescue chopper as the young pilot's health deteriorates or pack up and save themselves by walking out of the mountains. Like any good story, the location changes and the tale progresses.
Arctic is a big bright feather in Mikkelsen's acting cap. His expressions during the physical action say infinitely more than what lines of dialogue could convey. We know that he has decided to leave his home base just by his pensive look into the snowy abyss. It was a mistake for the Academy Awards not to recognise Mikkelsen with an Oscar nomination.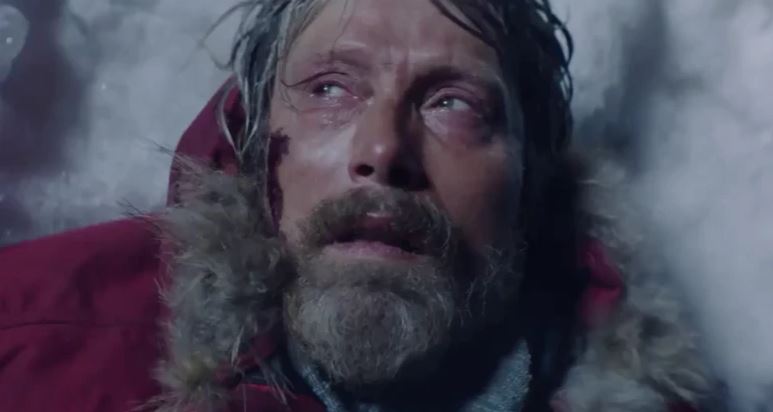 While the beautiful shots of the snow scenery do not vary, the qualities of the main character are sustained. His background is unknown but we know he is a survivor as he uses a simple beeping wristwatch alarm to keep his day-to-day activities (and sanity) in check. Tómas Örn Tómasson's cinematography masterfully convinces us that being lost in the stunning arctic is not such a bad thing.
Though filming took place in Iceland, the movie magic is the articulation of the isolation and danger. Besides an encounter with a hungry polar bear, Arctic remains grounded in a CGI-free environment. The mood is also aided by Joseph Trapanese's musical score, which proves to be as sombre and as beautiful as the visuals. With all its moving pieces, Arctic is a fantastic story that avoids glamorous heroics and focuses on the ugly realities of survival.
DVD Details
Primary Format – DVD
Director – Joe Penna
Film Genre – Adventure/Drama/Thriller
Special Features – N/A
Label – Umbrella Entertainment
Audio – Dolby 5.1
Subtitles – CC Captions English
Running Time – 97 minutes
Rating – M
Year of Release – 2018