3DS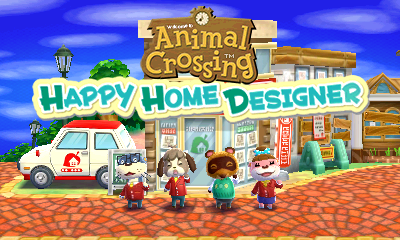 Published on October 21st, 2015 | by Nathan Misa
Animal Crossing: Happy Home Designer 3DS Review
Summary: Animal Crossing: Happy Home Designer will appeal those love decorating homes and collecting Nintendo's new amiibo cards, but for the rest of us, it's a broken home.
2.8
Competent but shallow spin-off
Animal Crossing: Happy Home Designer is a spin-off title of Nintendo's popular Animal Crossing life simulation video game series, focused entirely on the home-designing and customising gameplay elements lifted straight from the last entry and streamlined to be more user-friendly. As the first spin-off in the franchise, it's easily the weakest entry, and one that I am severely disappointed in as a long-time fan.
Happy Home Designer could have easily worked better as a DLC expansion to 2013's Animal Crossing: New Leaf. While it is very clear it's meant to just be about the home designing, this smaller package could have helped improve that title's implementation of home decoration and furniture customisation, but instead Nintendo have released it as a near full-price entry when it doesn't offer anywhere near its RRP value.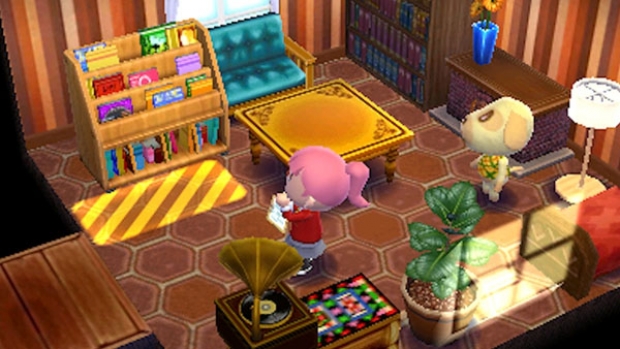 Happy Home Designer takes away the core mechanics that made Animal Crossing titles before it addictive and fun; the real-time gameplay where you co-ordinated activities with the time and date and where emergent events occurred, interacting with villagers and helping them with tasks, exploring towns and customising it to your liking – all of this is gone.
After a short introduction to Tom Nook's team of Happy Home Designers as a new employee, things start fairly quickly in Happy Home Designer. Like in past titles, you get to customise your character's name, gender, eye shape, hairstyle and skin colour to personalise your experience. One nice new touch I noticed is the options for tan and darker skin characters, something which should please players who were never able to make their character look the way they wanted in past titles.
Once finished with character creation, you're tasked with several jobs by co-workers and homeowners looking to spruce up their pads, and put to work fast. Using assets from New Leaf, Happy Home Designer looks and runs familiar on the Nintendo 3DS, with several interface changes which make designing homes a lot more intuitive and user-friendly. This is the best part of the game.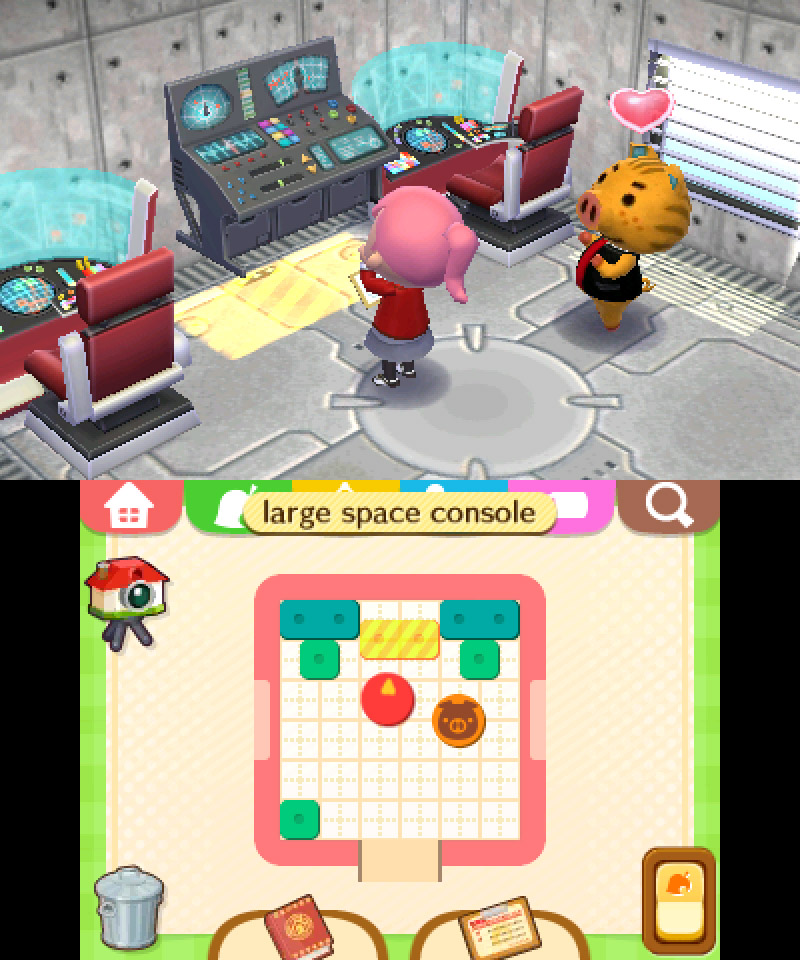 For instance, you no longer have to clumsily go through menus into your inventory and drop furniture, wallpaper or floors individually; the bottom touch-screen is now used to arrange everything, with a grid display of the layout of the room where you drag and drop furniture, wallpaper and rugs and tap their icons to face them in the direction desired. Tappable tabs act as neat categories for you to see what's available to be used.
As for funding or acquiring furniture for your jobs, forget about hard-earned work. All items unlock progressively as you play, which includes building designs for later-game projects. There's no more daily shopping trips to Tom Nook's to see what's new and in-stock, because everything's just handed to you. Yes, it is the company's furniture and payroll this time around and makes sense in this new context as a fresh employee to a home decoration business, but it's still less fun.
All the animal character models, furniture, wallpaper and floor designs are the same as in New Leaf, so don't expect anything new in the art department. It is nifty to be able to freely access the rarer options such as the Halloween holiday-themed furniture set to use in homes you decorate, the kind of sets you might not have ever acquired in the former game.
For my first few hours, I worked on countless animal's homes to only find that there's no scoring system to designing, animal customers are always content with what you present them (even if it's clearly a rush-job or intentional sabotage to challenge the dull A.I.'s response) and there's not even a personal home for you to design, the last omission the most baffling of all.
Perhaps the worst thing of all that doesn't make sense to be omitted in Happy Home Designer is the lack of a town or city or village to see all of these homes. You'll go and visit each customer individually by selecting them in your notebook and teleporting to their location – each job acts as an in-game day – and then return to the depressingly small street where Nook's Homes, your office, is located, to clock off and save.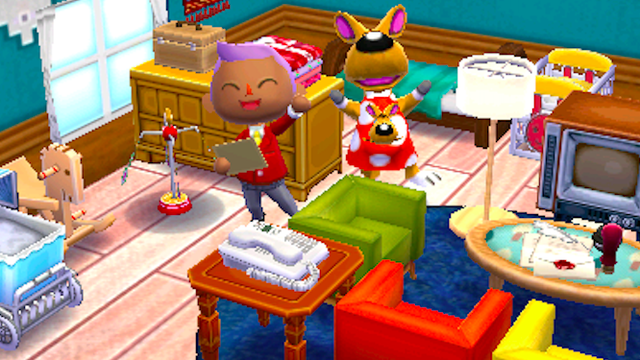 Yes, there's a few public buildings here you can customise that are about the closest things to your own home or space, and there are a few villagers idly milling about to talk to, but the core idea of Animal Crossing games – community – is abandoned for no good reason in HHD.
So, what else is there to say? While the charm and cute factor remains in small doses thanks to an always stellar localisation effort by Nintendo, every job and interaction with villagers wanting you to decorate their home just feels dull. They will give you basic pointers and requests to follow when decorating their house, but with no scoring system, feng shui guide or consequences in place, you can't really lose and can simply design them however you want.
Feedback is fairly generic and usually only a couple of words, an emotion (which you can unlock to use yourself in-game for pictures) and otherwise pointless. The motivation to design good-looking or creative homes is mostly down to your own personal goals or love for furnishing homes, and sharing your creations on Miiverse or social media by taking in-game screenshots.
As for the amiibo cards, you don't have to purchase any to play the game, but they're being pushed heavily by Nintendo. You get an Isabella amiibo card included with your game, and the rest unlock animals for you to decorate their homes, take photos and just generally have a new card in your collection. If you care about that stuff, you'll be well supplied, with a ridiculous number of cards available to purchase in packs.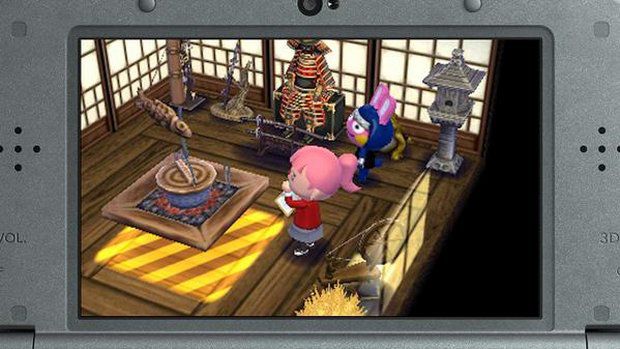 The Final Verdict
Happy Home Designer is meant to be a standalone experience for players who love the home designing aspect of past Animal Crossing titles, but what's very odd of Nintendo to assume is that these same players wouldn't also have liked all the other great simulation mechanics and features that mainline games have as well – which again makes this package make more sense as a DLC add-on to New Leaf.
Animal Crossing: Happy Home Designer will appeal most to fans and newcomers who love decorating homes and collecting Nintendo's new amiibo cards to unlock new animals and jobs, but for the rest of us, it becomes quickly apparent it's a broken home.