Comedy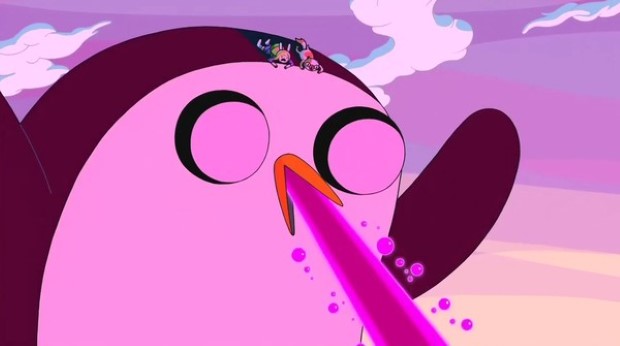 Published on October 6th, 2014 | by Sean Warhurst
Adventure Time: Reign of Gunthers DVD Review
Summary: An accomplished expression of unbridled creativity and subversive humour.
Adventure Time: Reign of Gunthers
Distributor: Madman
Format: DVD
Running Time:  176 Minutes
Rating: PG
Genre: Animation
Reviewer: Sean Warhurst
The latest compilation disc release of the hit animated series Adventure Time, Reign of Gunthers offers fans 16 episodes of quirky, subversive goodness.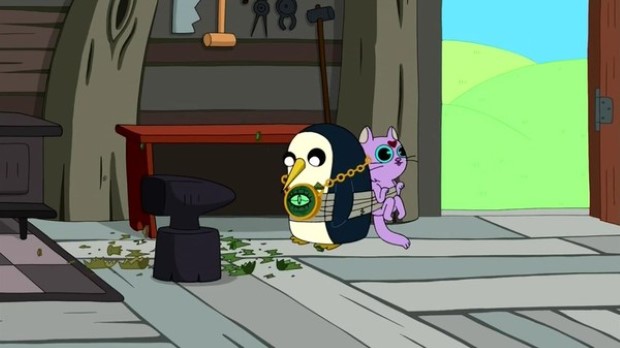 The first things fans will notice with this release is the heavy overlap of episodes between the other compilation discs and the complete seasons, with only a handful of previously unavailable episodes included.
Although it's great to be able to own these episodes on home media before their eventual release on the complete season boxsets, this is the first time that I've actually been let down by the abundance of recycled material and it makes me question Cartoon Network's decision in churning out these collections in lieu of simply sticking to releasing the seasons in a timely manner.
Nonetheless, these issues will only annoy fans who have slavishly collected the previous releases and Reign of Gunthers serves as a an ideal entry point for those new to the series, although some of the episodes included are much more enjoyable when viewed in the context of the increasing sense of continuity that was introduced in the later seasons of Adventure Time's run.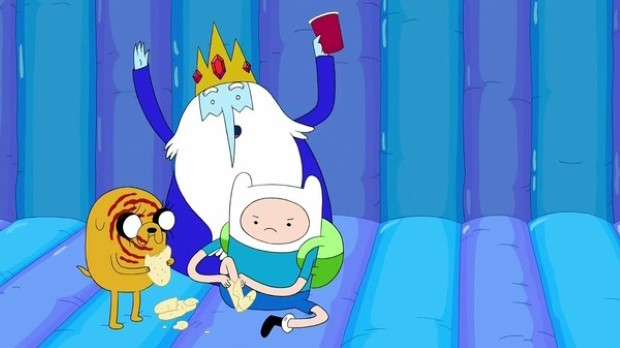 Following the misadventures of intrepid interspecies duo Jake the Dog and Finn, the last human boy, these episodes see the Ice King's penguin minion Gunther leading a destructive army  that wreaks havoc across the Candy Kingdom after having a falling out with his master, a hostage situation where an anthropomorphic cookie with identity issues seeks retribution for Princess Bubblegum shattering his dreams when he was a small child, the long suffering Ice King resorting to stealing pieces from the bodies of the Land of Ooo's many princesses in order to create his ideal wife and the awkward first meeting between Jake and his girlfriend Lady Rainicorn's parents.
Other highlights include Finn pursuing the affections of the temperamental Flame Princess, Finn getting trained in the art of swordfighting by an old Gumball Robot named Rattleballs, Jake getting frustrated at Finn for not treating his body with respect when he wears it like a suit of armour and turning the tables so that Finn's body is at his mercy, Lumpy Space Princess possibly finding love with an old classmate and the return of Susan Strong.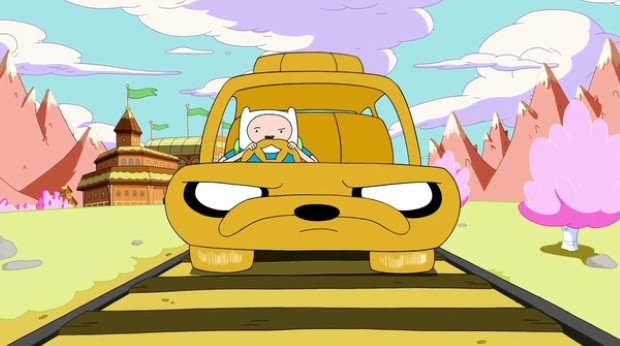 The content of the episodes is as strong as ever and there isn't a weak link amongst them. Visually unique animation and mass appeal are hallmarks of the series and Reign of Gunthers only servse to exemplify just why Adventure Time has quickly become the favourite animated series of many.
Visually Madman's transfer looks rather striking indeed is almost on par with Blu-ray, although there is a few noticeable instances of aliasing here and there. The colours are rich and vibrant and the clean image perfectly complements the garish animation. Sound-wise the series is relatively solid, although yet again the lack of a 5.1 surround option is sorely missed.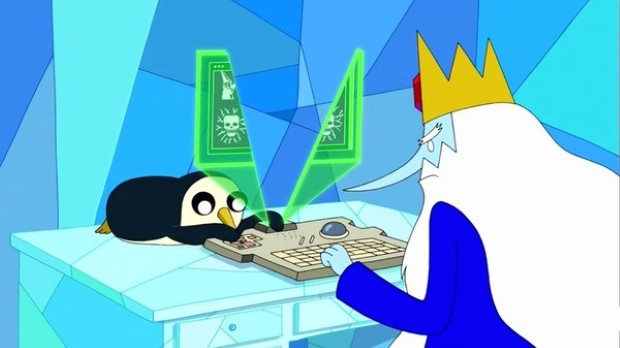 Episode Listing:
Reign of Gunthers
Princess Potluck
Bad Little Boy
Jake Suit
The Party's Over Isle De Senorita
The Box Prince
Rattleballs
Bad Timing
Princess Monster Wife
Hot to the Touch
Beautopia
Her Parents
Loyalty to the King
Princess Cookie
Video Makers
Candy Streets
Special Features
There are no supplemental features included with this release.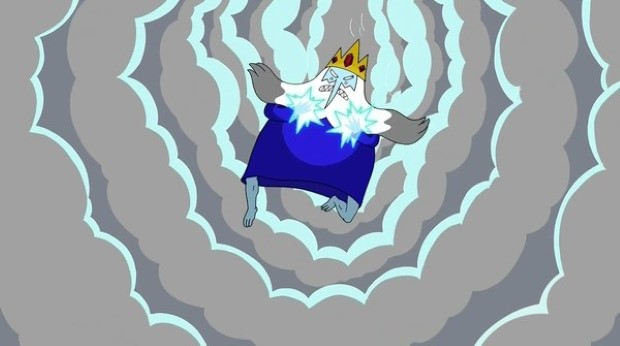 Final Thoughts
As always, if, for some bizarre reason I couldn't comprehend, Adventure Time has never appealed to you then Reign of Gunthers won't go any way to changing your mind; the irreverent humour, absurd characters and endearingly bizarre plotlines are as expertly crafted as always and fans, particularly those who don't own all of the previous releases, will find much to enjoy here.
An accomplished expression of unbridled creativity and subversive humour, Adventure Time's greatest triumph is its universal mass appeal and the episodes on show here only serve to reinforce the factors that make Pendleton Ward's crossover hit such a joy to behold.
Again, the large amount of recycled episodes can be a sticking point for hardcore fans, but the inclusion of the new episodes should go some way to mitigate concerns and, really, can you have too much Adventure Time?
Although I admit to being biased somewhat, as the effusive praise I've heaped on the show in previous reviews should make abundantly clear, I genuinely think Adventure Time is one of the funniest, smartest and surreal programs I've ever had the pleasure to watch. Here's hoping that Pendleton Ward's departure as series showrunner doesn't affect the quality of upcoming episodes at all.
Highly Recommended (Really, is anyone surprised?)