Comics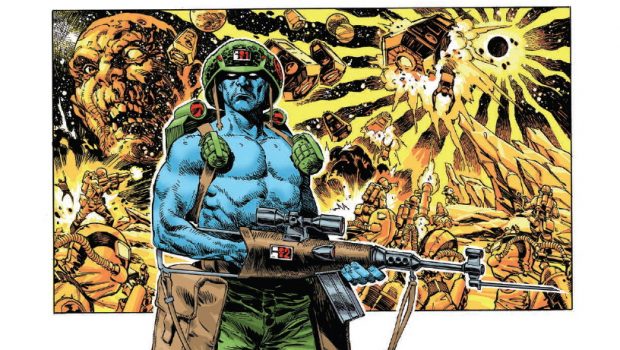 Published on June 18th, 2022 | by Tim Chuma
45 YEARS OF 2000 AD Review – 26 May 2022
Summary: How much you get out of this depends on if you are already a fan of 2000AD or want to find out more about it.
A celebration of 45 years of 2000 AD with each of the artists having a page about them, their most famous creation for the magazine and a full page artwork from a modern comic artist that was inspired by the original.
This is a good book to have to go along with the 2000AD Encyclopedia that has been released recently and also any of the compilations for various characters depending on who you are  a fan of.
There are a lot of these types of art books for Marvel and DC. I recently went and finally looked in an actual comic shop and they only had a small section of 2000AD and then only the Judge Dredd stuff and the rest of the graphic novels were lumped together so it depends on where you go.
While a lot of these books are fine to read in digital form, art books do benefit from having a physical copy to read and have on your shelf so you can put it away and take it out to have a look at when you feel like it rather than just opening a file.
The diversity of the art styles was interesting here as they have the original art and the tribute artwork to it you can go between and see how well the interpretation of it was.
Well worth a look if you are a fan of the 2000AD franchise or just want to have a look at something outside the normal Marvel/DC franchises or superheroes.
Book details:
Creative Team: Andreas Butzbach, Annie Wu, Bex Glendining, Brett Parson, Chris Weston, Chun Lo, Colleen Doran, D'israeli, Dani, Dave Kendall, Eduardo Ocana, Francesco Francavilla, Hannah Templer, Henry Flint, Ian Mcque, James Harren, Jamie Smart, Jenn St-Onge, John Allison, Josh Hicks, Kelley Jones, Kev Walker, Kevin O'Neill, Kyle Hotz, Lando, Langdon Foss, Mark Eastbrook, Mateus Manhanini, Michael Allred, Mick McMahon, Mike Perkins, Phil Noto, Priscilla Bampoh, Rachael Stott, Raid71, Richard Elson, Sandford Greene, Sean Phillips, Simon Coleby, Stathis Tsemberlidis, Staz Johnson, Steve White, Stewart Moore, The Gurch, V.V. Glass, Vincenzo Riccardi
Publisher: Rebellion
Release Date: 26 May 2022
Format: Hardcover, 96 pages
ISBN: 9781786185716