Comics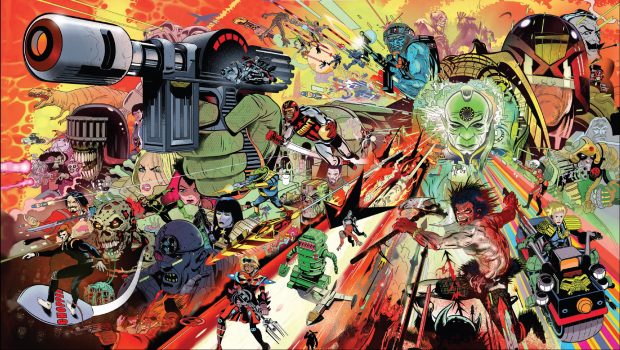 Published on February 15th, 2022 | by Tim Chuma
2000AD Encyclopedia Hardcover (2022) Review
Summary: Well worth it if you are new to the 2000AD franchise or plan on getting some of the collected editions. Saves you having to go to the wiki every time.
With Rebellion republishing a lot of the older 2000AD stories and collections it is hard to keep track of the characters that turn up and why they are important without having to have a wiki open on your phone as you read through which can be a bit annoying when you are trying to read a story.
This book lists every character of note in the 2000AD universe, who created them and what issues they appeared in. Since the series has been running since the early 1970s there are hundreds of characters by now and you would have to have been really into the series to know who all of them are.
If you are a more casual fan of the series or are coming to it for the first time this would be ideal to have so you can refer to it as necessary.
As it is an encyclopedia I did not read it from cover to cover as that's not how you use these or at least not how I would. I did read the entries for the characters I knew about and then flicked through and read the ones who looked interesting or something caught my eye in the description.
The series is based in the UK but set in the USA after the apocalypse so a lot of the satire and politics in the stories are helped by having knowledge of the UK at the time they were published, but that is something else you can go into. The descriptions do mention what influenced some of the characters as some of the more offbeat ones were attempts at satire that were not well received.
Another good thing about this book is that are a lot of big reference books for major comic companies such as Marvel and DC but none really for smaller publishers or indie characters. This helps redress that somewhat and I would recommend it you wanted to balance out your collection and want to find out more about the 2000AD franchise.
I wish I had read this one before trying to read some of the other publications such as the Essential Judge Dredd: Origins (2021)  as I was lost in that story as to who a lot of the people were and why they were important. Going forward I will refer back to this book when I am reading a new comic or collection.
Book details:
Author:  Scott Montgomery
Publisher: Rebellion
Artist: Various
Genre: Reference
Publisher: Rebellion
Published: February 15, 2022
Language: ‎English
Hardcover ‏ : ‎ 336 pages
Item Weight ‏ : ‎ 1.74 pounds
Dimensions ‏ : ‎ 10.5 x 1.19 x 12.38 inches