Hardware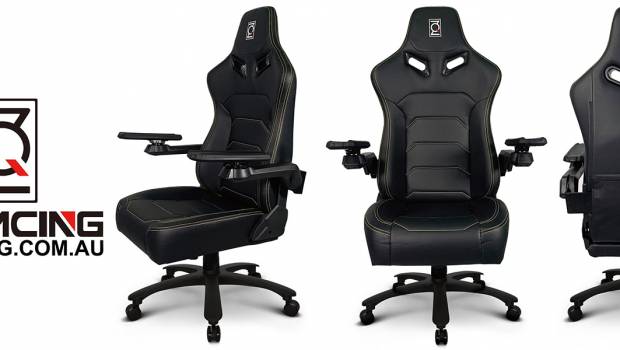 Published on March 15th, 2020 | by John Werner
ZQRacing Overdrive Series M.H.C. Gaming Office Chair Review
Summary: Allow me to introduce to you the greatest console gaming chair you will ever experience: the ZQRacing Overdrive Series M.H.C. Gaming Office Chair.
Overview
Console gamers rejoice! Allow me to introduce to you the greatest console gaming chair you will ever experience: the ZQRacing Overdrive Series M.H.C. Gaming Office Chair. Thanks to its fully articulated and adjustable armrests, console and hand held gamers are now able to full support their arms while holding a controller. This chair is hand-made with ZQRacing's high standards and premium materials for an extremely comfortable seat that you'll never want to get out of.
Features
The ZQRacing Overdrive Series M.H.C. Gaming Office Chair is one of the most innovative gaming chairs I have ever seen, let alone had the pleasure to experience. This is the only chair that I've come across that is specially designed for console and hand held gaming thanks to its unique armrest design. Rather than having the armrests attached to the base of the seat like most gaming chairs, the M.H.C. Gaming Office Chair has a set of reinforced mounting brackets located in the rear of the back rest. This allows the armrests to move with the backrest when reclining, thus giving gamers the ability to comfortably position their arms when holding a controller or mobile device, regardless of how far back they go. In fact, the M.H.C. Gaming Office Chair will recline to an almost horizontal position and still allow gamers to position the armrests accordingly without any fear of losing balance or having the chair tip over. Combined with the chairs immaculate level of comfort, I have come very close to falling asleep while in a fully reclined position.
From the ground up, the M.H.C. Gaming Office Chair is built to be everything a console gamer needs. At its base are five dual-bearing caster wheels, with two individual wheels per caster, wrapped in soft rubber mounted on a solid mate black steel frame. The dual wheels are incredibly smooth and hold fantastic traction across all surfaces from hard floors like concrete and tiles, to softer flooring like lino and carpet. Even when rolling around on a concrete floor between my desk, work bench, and Xbox setup, the chair moved smoothly with ease and without making much of a sound. In a space where your chair needs to be mobile, having these wheels has made all the difference. Most importantly, the chair remains perfectly still when adjusting the seating position and armrests.
At the core of the chair is one of the thickest and most comfortable seats I've ever encountered. I've sat in and used more than my fair share of office chairs both at work and as a gamer, and none have lived up to the M.H.C. Gaming Office Chair. To help put things into perspective, I'm 186cm tall (6.1ft), 105kg, and have spent the last 10 years working in an office. During that time, I've used chairs from your cheap $30 desk chair, mid-range office chairs, a camping chair, a giant two-person beanbag, and even the widely popular Bathurst gaming chair for work and gaming. None of these chairs/seats come close to offering the same level of lumbar and ergonomic support, let alone comfort, that the M.H.C. Gaming Office Chair's base cushion can provide. Like the backrest, the large wide cushion is comprised of thick vegan leather, reinforced padding, and a unique stitching pattern that reinforces the chairs design to reduce wear and tear. I'd also like to point out that this stitching pattern still allows a decent amount of airflow, reducing the amount of perspiration accumulated from long periods of use. Combined with the wrap-around shape, relaxing in this chair while gaming can only be described as heaven.
The most important feature of the M.H.C. Gaming Office Chair, and the one thing that sets it apart from everything else, is the fully articulated armrests. Made from steel and wrapped in a think high-strength rubber, these armrests are specially designed to support your arms while holding a controller or other hand held device. Each armrest is mounted on a bracket that allows each rest to be rotated and extended to fit the users natural arm position. To add further comfort, each armrest includes a slight concave curve that cradles the user's arms, similar to that of the chair's backrest. This stops the arms from moving or falling off the rests unlike other chairs that normally go for a flat or convex design.
One of my favorite features of this unique armrest is how easy it is to adjust their position using only my forearm. An internal locking mechanism built into both the armrests rotation and extension brackets stops the armrest from moving out of position but with a small amount of applied pressure, they can easily be adjusted while still holding a controller with both hands. I also want to point out the ergonomic benefits of having your arms supported while using a console controller for extended periods of time. As someone who has spent years as a console gamer and who works with computers for a living, I have put a large amount of strain on my wrists resulting in shaky hands that can occasionally impact my gaming. Thanks to these highly adjustable armrests, I've been able to reduce the strain on my wrists and increase my gaming time tenfold without having to take breaks to rest. After experiencing this sort of injury first hand, I am of the firm belief that all gamers, regardless of their platform should take a moment to re-evaluate their posture while gaming. Failure to do so could lead to serious long-term problems, but having a chair that supports you the way the M.H.C. Gaming Office Chair does could mean the world of difference.
Key features
Constructed from high quality and durable Vegan PU Leather
Premium Class 4 Hydraulic Lift with 150kg weight limit
Fully articulated armrest for your gaming needs
Unique Internal frame work, tubular steel frame plus high-density mould shaping foam padding to offer greater design flexibility and comfort
Extra-large 29″ Casting Aluminium alloy wheel base with durability and stability
Full recline and height adjustable
Recommended for mobile, console and handheld gamers to for maximum comfort and support
Velvet Memory Foam Head & Neck Pillow and Ultra large Lumbar Support Cushion for Total Comfort
Two Years Warranty on Whole Chair and Lifetime Warranty on Structure (Metal Framework)
Express Service (Guaranteed Next Day Response) and Lifetime Parts Support
Assembly
If you've ever assembled flat pack furniture or office chairs before, then assembling the M.H.C. Gaming Office Chair is going to be very self-explanatory. Included in the box is everything you'll need to assemble the chair plus an extra bolt in case you lose one. While this is rather a standard inclusion for any piece of furniture that requires self-assembly, I was impressed to discover that ZQRacing offer a series of YouTube tutorials and phone support for helping people assemble their chairs. It's this level of dedication of ensuring that the user gets a high-quality product that impresses me. However, the M.H.C. Gaming Office Chair isn't like other chairs offered by ZQRacing and thus the instructions where for a more generic build. Keep in mind that the M.H.C. Gaming Office Chair is the only chair offered by ZQRacing that has its armrests attached to the back of the chair. The deviation in the instructions is only minor and still rather self-explanatory. However, I was still concerned that some people might struggle with the order that each component needed to be attached and decided to reach out to ZQRacing about my concern. The response I received was very positive and answered all of my questions without hesitation. I can confirm that while the guide I received were the standard instructions, the team at ZQRacing are currently working on a set of specialised instructions for this chair and hope to have them available soon along with some more tutorial videos.
Assembling the M.H.C. Gaming Office Chair is a breeze thanks to the high-quality parts that have been personally inspected by ZQRacing's Quality Control staff. These parts have been inspected and tested for durability, load, and other physical performance that are paramount to ensuring a high-quality product. Knowing that ZQRacing takes such care gives me more confidence in buying a product that I wouldn't normally get the opportunity to test beforehand, especially when that product is a $500+ investment. Thankfully, ZQRacing does offer product testing at their showroom and are working closely with their resellers to make more testing locations available. They also regularly attend conventions like Supernova and Oz Comic Con, where you can experience their products first hand.
One slight issue I did have during the assembly process was when it came to attaching the larger components like the backrest and armrests. While the instructions do say that assembling the M.H.C. Gaming Office Chair will take 15 minutes, trying to attach these items by yourself can be a little difficult. I wouldn't say that assembling the chair solo is impossible but having someone on hand to help line up the bolts with the holes will make a big difference. Once you've got a bolt attached to each side, the rest of the process is very straight forward and self-explanatory.
I do love how ZQRacing include a pair of white cotton gloves to wear during assembly to keep both yourself and the chair clean. The only downside is that these gloves aren't quite designed for people with big hands, such as yours truly. But if that's the worst part of the whole experience, then what do I have to complain about? The benefits and comfort of this chair easily out way any of the issues mentioned above and knowing that ZQRacing are bringing out an updated set of instructions is a positive in my book.
Final thoughts
The ZQRacing Overdrive Series M.H.C. Gaming Office Chair is unlike any other chair on the market and offers unique features that will drastically improve your gaming comfort and play time. In the time that I've spent using this chair, I've noticed significant improvements in my posture and gaming ability. The chair fits perfectly into my gaming space and is easily adjusted to suit my needs on the fly. Console gaming has never felt so relaxing and the stylish design makes me proud to show off my man cave. Better still, ZQRacing offer modular upgrades for their chairs such as coloured wheels, back support upgrades, and even multi-function attachment arms for holding your laptop and phone. I am particularly looking forward to a new cupholder attachment that ZQRacing are currently working on. Without a doubt in my mind, the M.H.C. Gaming Office Chair is the best chair a console gamer could wish for and I highly recommend making the investment.
Make sure you visit the official ZQRacing website to check this amazing chair out for yourself!
You can also check out the review for ZQRacing's Hyper Sport Series Console Gaming Office Chair, with it's built in foot rest!