XBox One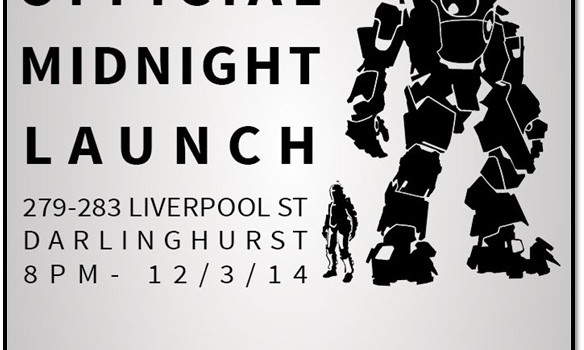 Published on March 9th, 2014 | by admin
Xbox Newsbeat: March 3 – 7
"Forza Motorsport 5" Alpinestars Car Pack Now Available
Alpinestars is bringing its signature flair to "Forza Motorsport 5" in the newest car pack for the game, providing inspiration for an all-new collection of cars for the game, each of which has been built from the ground up for the new generation.
The Alpinestars Car Pack includes ten amazing vehicles for Forza 5 players to collect, race, and customise.  Fans of vintage American muscle can power their way past in the competition in the 1965 Ford Mustang GT Coupe while speed demons can chase new lap records in the 2011 Radical SR8 RX or the 2012 Ultimate GTR720. Featuring track-bred racers, luxury sedans, classic cruisers, and more, the Alpinestars Car Pack's well-rounded selection has something to please car fans of every stripe.
Founded in 1963, Alpinestars began manufacturing hiking and ski boots but quickly found a niche in developing high performance protective gear for automotive and motorcycle racing. Over the years, Alpinestars has become a trusted brand in action sport clothing for MotoGP, Motocross, Formula One and NASCAR. The brand's Nomex suits protect from flames and high heat and have been used by champions such as Fernando Alonso and Jimmie Johnson. Even Top Gear's notable Stig wears branded Alpinestars racing gear from head-to-toe.
The Alpinestars Car Pack (included as part of the Forza Motorsport 5 Car Pass) is now available for AU $13.45 and includes all ten cars, with the 1999 Toyota #3 Toyota Motorsports GT-ONE TS020 immediately accessible in your Forza Motorsport 5 garage.
For more information, visit Xbox Wire.
'Ryse: Son of Rome Mars' Chosen Pack Trailer
There's a new trailer from Crytek about the 'Mars' Chosen Pack DLC, which includes the new Survival multiplayer mode, five new multiplayer maps, and a new Gladiator Skin. The trailer can be viewed here.
Music to Your Eyes: Music Videos Come to Xbox Music on Xbox One
As music has evolved, so has our consumption of it. Once a TV staple, music videos are now primarily housed on the internet, where easy access is key. With that philosophy in mind, we're bringing that easy discoverability to your music viewing experience on Xbox One. Beginning today, we're introducing more than 92,000 music videos to Xbox Music.
Rock out to a new playlist, create a Radio stream based on your favourite artist or pick a random track from your collection with Xbox Music on Xbox One, and if the song has a music video, watch it play automatically in sharp HD on your TV. The process is simple. Find your playlist, say "Xbox Play," and watch the videos appear on screen. You don't have to spend hours tracking down videos for each song – it's all rolled into one easy step.
As always, we welcome your feedback and are continually working to improve the service all of the time. Log on to Xbox Music on Xbox One now and check out the new music videos today!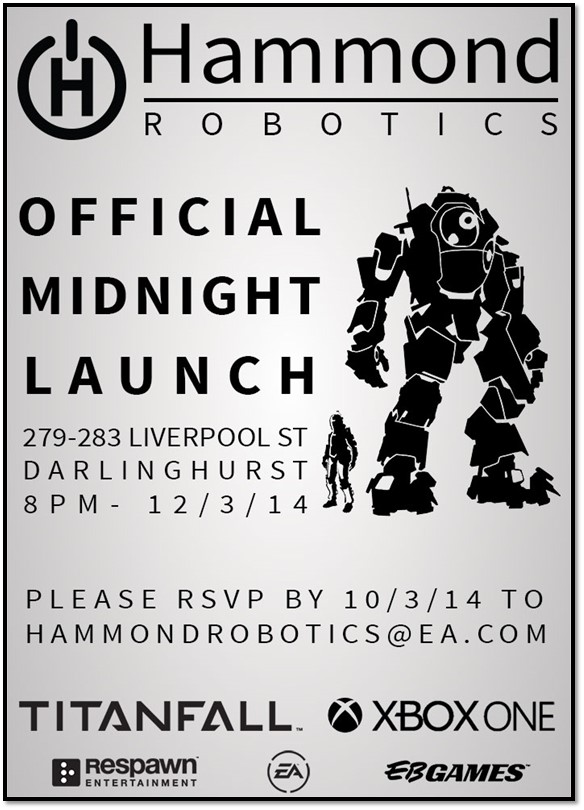 Titanfall Pop-Up Store Launch – 12th March 2014
Hammond Robotics, the premiere company for interstellar defence tech, invites you to discover what makes the iron clad Titan tick! The Titanfall Midnight Launch event will be held at Hammond Robotics' sole manufacturing plant in Sydney, Australia, on the 12th of March at 279-283 Liverpool St, Darlinghurst.
This event is open to the public from 8:00pm. To register your interest please email hammondrobotics@ea.com