PS5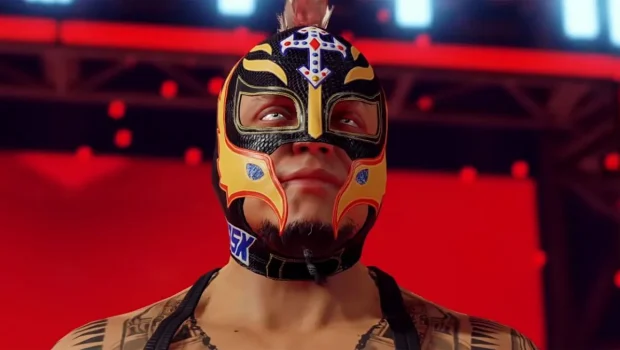 Published on March 11th, 2022 | by Paul Stuart
WWE 2K22 PS5 Review
Summary: A surprisingly strong return to the squared circle, stellar presentation, a new gameplay engine, and robust modes make WWE 2K22 the best 2K in a long time.
Following the debacle that was 'WWE 2K20' and the next year skipped, expectations were logically low for WWE 2K22…let alone on a next-gen console. Longstanding developer Yuke's jumped ship for the upcoming AEW Wrestling title, leaving Visual Concepts to fend for themselves. Rasslin' fans, surprisingly rejoice: WWE 2K22 is a very solid wrestling title, arguably the best one in the series and in a very long time.
Let's begin with WWE 2K22's most obvious strengths. Presentation is absolutely amazing. From wrestler models, movesets, depictions of arenas and fans, intros, music, camera angles and lighting…all are jaw dropping. WWE 2K22 is easily the best looking and sounding console wrestling title to date. Sure, there's the occasional texture clipping and odd graphical overlap, but nothing that could dampen the beauty that is WWE 2K22. Anyone on next-gen is going to be in love.
Shockingly – noting the horror show of WWE 2K20 – I absolutely adore the new and intuitive control scheme for 2K22. Gone is the wannabe fighting game engine replaced by a much more logical combo system which builds across/through light and heavy strikes to holds. Equal kudos for the terrific reversal system and timing windows, ones which integrate seamlessly into match flow. Finally, excellent job by Visual Concepts in implementing advanced submissions, hot tags, and battles outside the ring. So much of this were long standing warts in the WWE 2K series, but they are no longer.
Game modes and options at one's disposal are insane. The Rey Mysterio Showcase is wonderfully presented, where in game match nuance paired with actual historical footage from notable matches in real time. (Disclaimer: some of the matches selected leave a historical bit to be desired.) Mysterio's pre-match interviews describing the relevance of these matches are fantastic, with overall production value A+.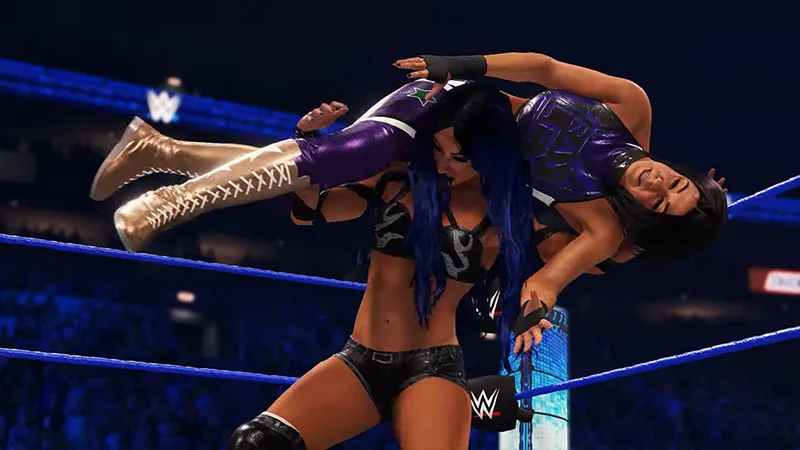 Similarly, WWE 2K22's customization options are a WWE fan's dream, from look/feel of wrestlers to any/all of their personality aspects. You want AJ Styles to do a Brock Lesnar pre/post-match celebration? You got it. Create your own guy/gal? Sure. Then there's a belt creator (including plates), Money in the Bank briefcase engine, arena designer…wow. Normally I overlook these modes in 2K titles, but they are simply so well done making them impossible to overlook. Why? Big ups for the solid templates in these designer modes that remove so much of the tediousness other titles torture us with.
MyRise career mode is a bit over-ambitious and over-the-top…but that's WWE in a nutshell, right? In a span of a couple hours, my female created character ('Iron Madison') trounced a fellow Performance Center wannabe, submitted Sasha Banks on Raw as a last second fill-in, went heel in telling off then submitting trainer Beth Phoenix, hired then fired manager Byron Saxton, let Shawn Michaels walk her through an imaginary match with Chyna, and established a rivalry with Tamina.
Surprisingly, I absolutely loved MyGM mode. Its simultaneous low barrier of entry yet high sophistication really drew me in. It was a blast strategically drafting rosters for my respective promotion, likewise meticulously developing rivalries, plot twists, heel/face turns plus maximizing promos and related mic drop moments. This mode does an excellent job in reflecting WWE booking norms, and the feedback for successful/poor decisions is spot-on for true WWE fans with perspective.
MyFaction, however, was a mixed bag. Unlike NBA 2K, the leap between player card and actual in-game execution was very awkward. There just didn't seem to be any cohesion between selecting card decks and actual wrestling matches, with the latter feeling formulaic and/or dragging on far too long for a supposedly quick hit mode geared toward card collecting. This would've been better served by the traditional card battle 2K is known for, with actual matches relegated to specific prize outcomes. It's also creepy as F signing dead people to your roster.
Holistically, WWE 2K22's hiccups were widespread, but definitely not enough to truly drag the title down. A true WWE fan will note launch rosters a far cry from actual due to recent cuts. (If that's a deal breaker for you, I suppose WWE 2K19 is readily available on PS Now…?_ Second, downloading player created wrestlers, arenas, belts, etc., was broken at time of review. This is probably a by-product of upload/download servers not active prior to launch.
Select stuff did drive me crazy. Fixable is the awful AI for tag team partners, where they simply fail to stop opposition from breaking up pins. This makes every tag match drag on far too long, as WWE 2K22 refills stamina meters for wrestlers not currently taking damage. Also, intelligent detection is anything but for matches bigger than 1-on-1. At present, it is a chore to target a specific opponent, tag a desired partner, or even face in the proper direction to re-enter the ring.
For a well-presented game, WWE 2K22's interface is atrocious. It took several attempts to successfully execute any of the game's modes, as customization menus overly finicky to confirm choices. I spent oodles of time having to re-launch said modes…to include sitting through the same cut-scenes over and over again (fake WWE PR lady is so damn annoying) then praying needed customizations were saved. Similar criticisms for the awkward social menus in MyRise that just don't work.
Finally – and for a console employing SSD – load times were simply way too long. Every match, menu selection, and story branch ended up with noticeable loading screens. This is simply unacceptable when highest end games loading times are pittance in comparison. Not sure this can be fixed.
Lesser criticisms are ones easily patched. Examples: clipping visuals, missing audio in MyRISE when wrestlers speaking, and MyGM not accepting substitutions to match selections [requiring to back out of said day]. Showcase asks for specific move sets to be executed, but can fail to acknowledge when these occur. The strong tutorial (with Drew Gulak) needs several steps more to explain critical move types (i.e. irish whips, out-of-ring tosses, overhead lifts, etc.).
I dig the indirect homage to Fire Pro Wrestling in deliberate leaning toward better matches over simply winning…and WWE 2K22 needs to embrace this via patch. MyRISE, in particular, can stand to benefit from actual wrestling acumen encouragement as it designed to literally grow a wrestler from the ground up. Put the match meter in, guys, and reward XP from it.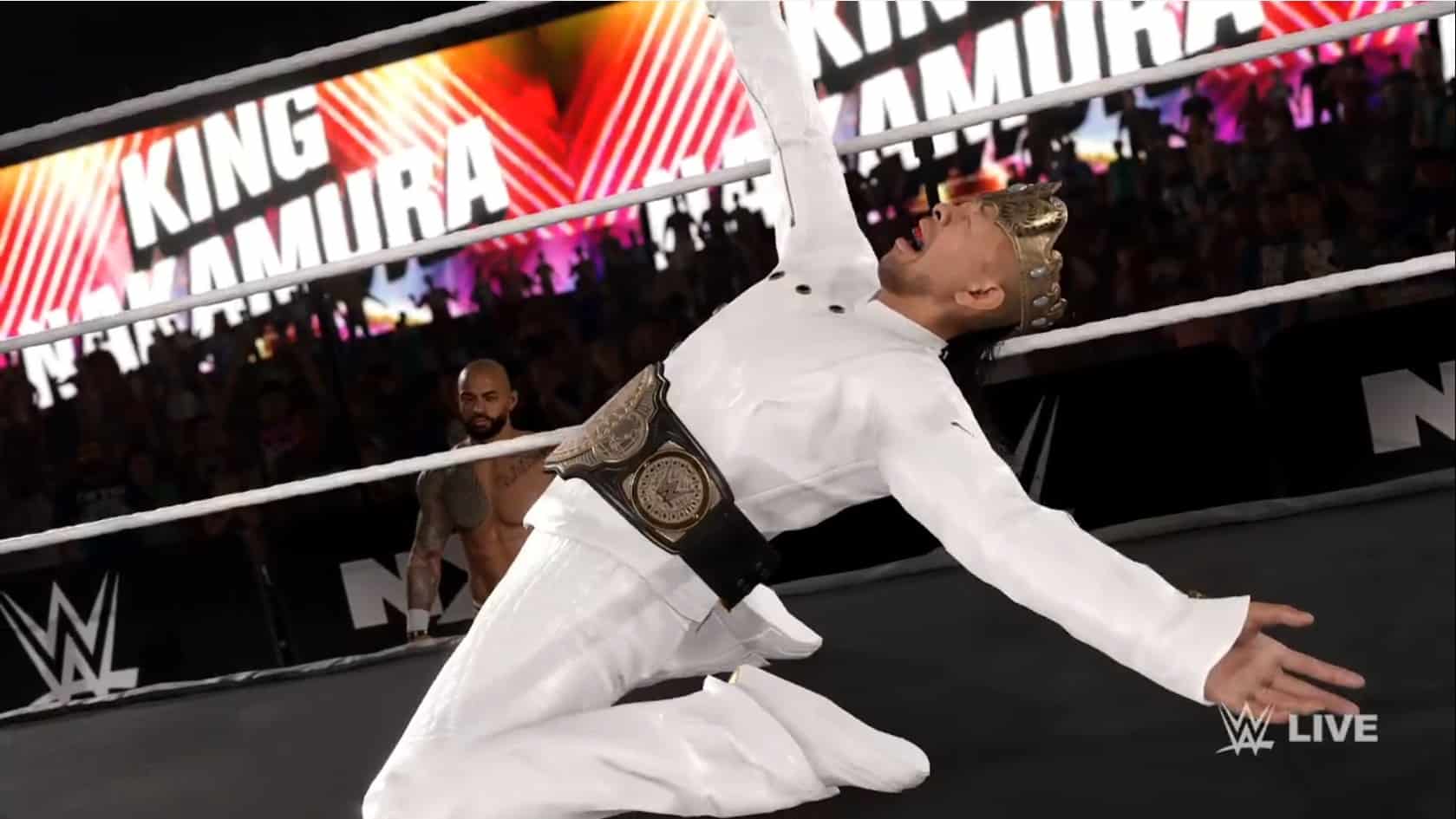 Final Thoughts
All in all, maybe it a two-year hiatus or lowered expectations, but none of these faux pas could remove the smile from my face playing WWE 2K22. It's a legitimately strong wrestling title despite these hiccups, and I expect tons of patches to make it a sounder offering with lots of replayability.
Thus and with an RKO from out of nowhere, WWE 2K22 delivers a very strong console return for the series. Picture perfect representation of the WWE experience combined with solid gameplay and modes combines for a lotta' fun. Yes, technical hiccups are widespread at launch, but none sufficient enough to reason against this a Day One purchase for rasslin' supporters.