Melbourne, Thursday 19 September 2013: Today, one of Melbourne's most iconic tourist attractions unveiled the results of an $8m, five-month refurbishment, and will officially relaunch as SEA LIFE Melbourne Aquarium on Saturday, just in time for the school holidays. The all-new attraction features a multi-million dollar, state-of-art Croc Lair exhibit, which houses a spectacular five-metre, 750kg Saltwater crocodile, named Pinjarra. It also joins a global network of conservation-focused aquariums under the SEA-LIFE flag.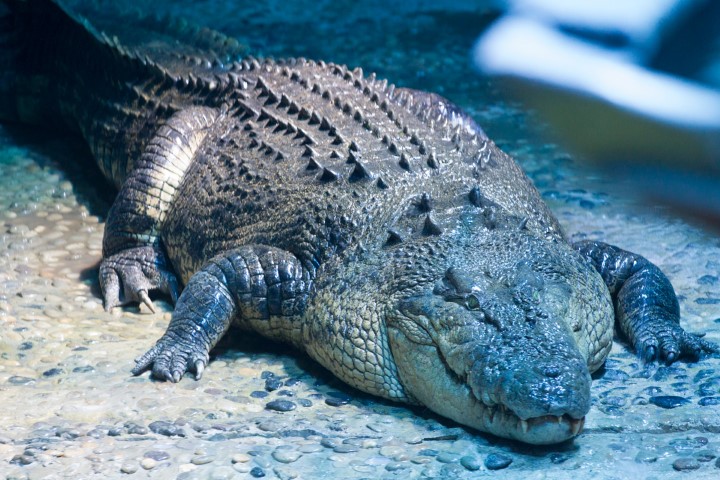 Themed to reflect the diverse landscape of the Northern Territory, Pinjarra's exhibit features a full 360 degree viewing experience across three spectacular viewing levels, giving visitors a chance to come face-to-face with one of the most feared predators in the world.
In keeping with the attraction's strong ethical and environmental values BREED, RESCUE and PROTECT, housing Pinjarra will help further educate the public on the ecological significance of the Saltwater crocodile and the need for conservation.
Exhibit Manager at SEA LIFE Melbourne Aquarium, Alison Edmunds, believes it is important to help raise public awareness and safety in natural crocodile habitats.
"We are incredibly excited to work with Pinjarra given his immense size and unique personality. Flying the world famous SEA LIFE flag has allowed us to grow and care for even more underwater species and we look forward to sharing our new world class aquarium experience with both new and loyal visitors," continued Alison Edmunds.
Edward Fuller, Merlin Entertainments Australia and New Zealand Director, says the transition from Melbourne Aquarium to SEA LIFE Melbourne Aquarium has been a labour of love and the relaunch will be a welcome boost to Melbourne's local tourism industry.
"For more than 13 years, Melbourne Aquarium has been attracting local, interstate and international visitors to our city. This latest, multi-million dollar transformation positions the aquarium on a global  scale and heralds the way for the continued growth of our strong marine conservation program. It is a very exciting time for us," added Edward Fuller.
Located right in the heart of Melbourne's CBD, visitors to the new SEA LIFE Melbourne Aquarium will be taken on an awe-inspiring journey through 12 new exciting zones of discovery, encompassing interactive animal encounters, iconic state-of-the-art displays and hundreds of new species.
A variety of activities will be on offer as the SEA LIFE Melbourne Aquarium commences work with the SEA LIFE Conservation Fund. The partnership will provide new opportunities for visitors to learn about the biology, status and conservation of native species. The Croc Lair exhibit will also offer an engaging educational space for Underwater Zoo students to learn about Pinjarra's amazing underwater world.
In addition, Croc Lair will enhance SEA LIFE Melbourne Aquarium's functions and events business by providing one of the most unique event spaces in the city.
The brand new aquatic adventures include Croc Lair, Conservation Cove, Bay of Rays, Mangroves and Rock pools, Coral Caves, Shipwreck Explorer, Mermaid Garden, Ocean Discovery, Coral Atoll, Rainforest Adventure, Seahorse Pier and Penguin Playground.
What: Launch of SEA LIFE Melbourne Aquarium, and new multi-million dollar Croc Lair exhibit.
When: From 21 September 2013
Opening hours: 9:30am – 6pm daily; last admission 5pm
Cost: Exclusive pre-book discount prices available online now via www.melbourneaquarium.com.au, from $17.