Comics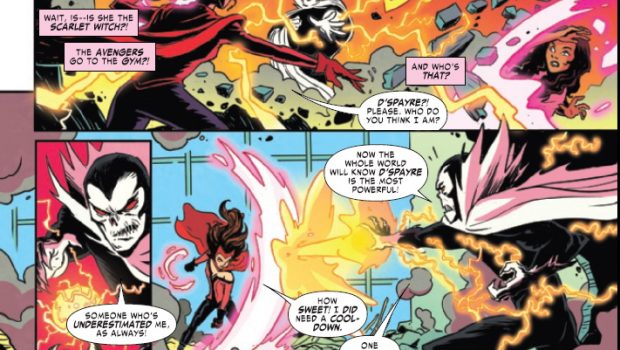 Published on March 14th, 2022 | by Tim Chuma
Women Of Marvel #1 (2022) Review
Summary: A welcome addition to last year's Women of Marvel series with some more characters you are familiar with and some that have not been in the forefront.
Following up from last year's Women of Marvel special this issue features stories with Black Cat, Scarlet Witch, Jessica Jones, Squirrel Girl, Black Widow, Shanna the She-Devil amongst others with some being split over the issue and others just being a one off.
Introduction by Gail Simone was great as she says that when she was growing up reading comics she knew there were a lot of women reading them but not many drawing. These days hopefully the balance is starting to be redressed.
Women superheroes are even featuring in their own TV shows and movies and will hopefully only grow in popularity. I have heard of most of these characters before but there were one or two I still had not seen before.
Not having to link the stories to any overall storyline helps the characters do things unique to that story or they get to do or say things you normally wouldn't see them do. I did like Black Widow having a craving for crepes as she went about her business.
If you are already on board with women superheroes you will not need any convincing to get this. For those on the fence I would recommend you have a look it anyway you might like it you don't know if you don't give it a chance.
Comic details:
Introduction by Gail Simone
Writer: Preeti Chhibber, Mirka Andolfo, Jordie Bellaire, Charlie Jane Anders, Rhianna Pratchett
Pencils: Emma Kubert
Pencils and Inks: Ann Maulina, Sumeyye Kesgin, Elenora Carlini, Zoe Thorogood, Claire Roe, Jen Bartel, Elizabetta D'Amico, Marguerite Sauvage, Alina Erofeeva
Colours: Rachelle Rosenberg, Brittnay Peer, Jordie Bellaire, Giada Marchisio, Marguerite Sauvage, Ruth Redmond
Cover Artist: Mirka Andolfo, Lauren A. Brown, Audrey Mok, Eranda Souza, Ashley Witter
Editor in Chief: C.B. Cebulksi
Editor: Sarah Brunstad
Assistant Editor: Anita Okoye
Consulting Editor: Angelique Roche
Publisher: Marvel
Published: March 09, 2022