PS4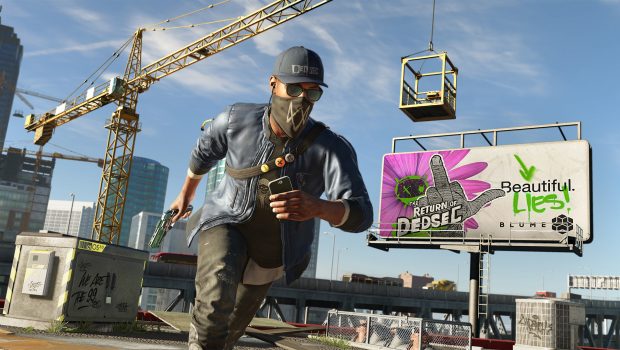 Published on November 21st, 2016 | by Tory Favro
Watch Dogs 2 PS4 Review
Summary: Watch Dogs 2 started with a bumpy launch but thankfully these issues have been addressed to give players a very enjoyable sequel on the PS4.
The long awaited successor to one of my personal favourites is here! Watch Dogs 2 has hit the stores, and Impulsegamer will dish the dirt for you!
First things first, if you have played the game before, don't expect to see Aiden Pearce in this title. For those not in the know, Aiden was the anti-hero of the first game. This time round you get to play as Retro, a recently initiated member of hacker group Dedsec. The intro sequence to this game acts as a tutorial where the members of Dedsec test Retro as he breaks into a CTOS server to wipe his civilian identity. This is a slightly confusing process, especially when you are expecting to have the same controller layout as the last game. In any case Retro (real name Marcus Holloway), wipes his identity and gets accepted into Dedsec where the fight against Blume (the company behind CTOS) is taken to the next level.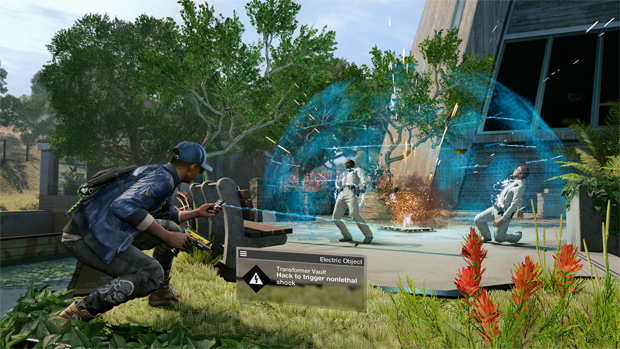 There's an interesting premise behind this title. The action has moved away from Seattle (the location for the first game), and to San Francisco where the attention to detail is off the chain. Having been lucky enough to check out the place in person, I can attest to the fact that you will see landmarks galore that you will recognise. The graphics are a real treat and well worth making your way around, which of course you can in this open environment.
I did find this gaming process to be odd. I'll be open and honest, the installation of it from the PS Store was a 29gb download that only allowed me to play until the end of the tutorial and then I had to wait yet another two days for some kind of global installation to take place. Now it wasn't literally two days, but over two days this download took, I felt utter frustration (Australia has high-speed broadband issues) and I do hope that this was due to the review code I was given. I'd be furious if this was on the finished disc product.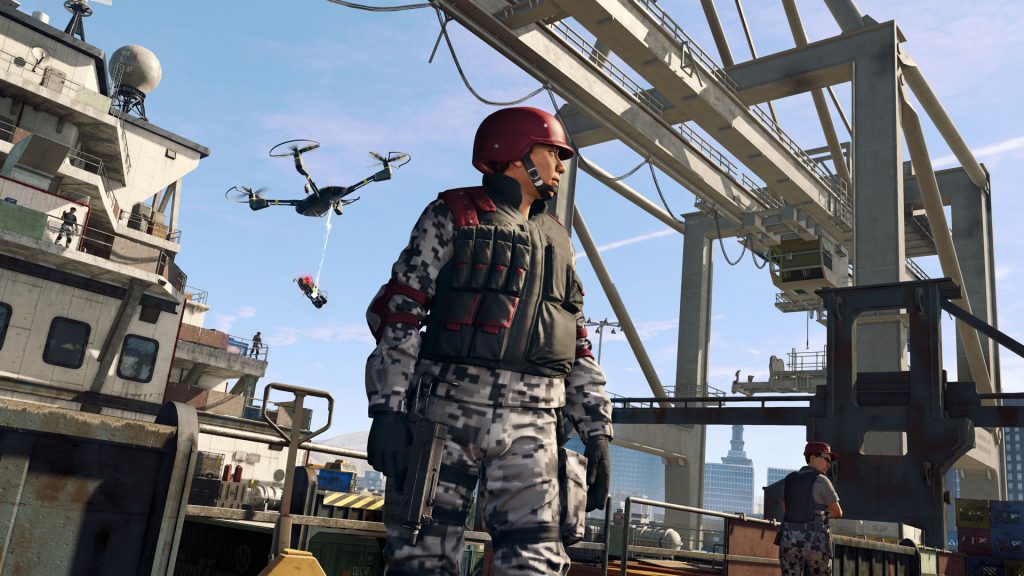 Global installation completed; the game gets real. The premise of the title is that Dedsec needs to recruit people from all around to loan their personal computing power to the needs of Dedsec so that it can take on Blume. This is done by completing the missions in the game and gaining followers that you can track. The more processing power you get, the better the fight you can take to Blume. I really liked this new approach. It's well thought out and has been done before in the real world by a project that borrows processing power in order to help out with AIDS research. True story.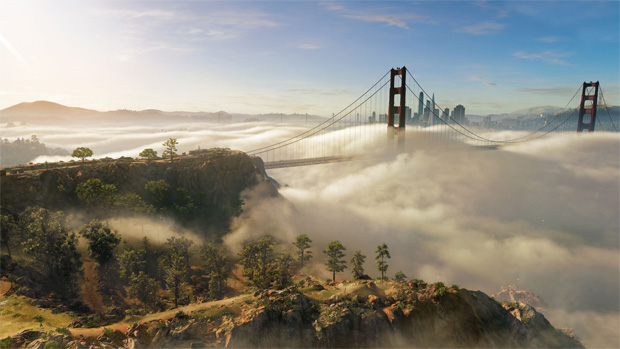 The feel of the overall game is that of a really well thought out GTA. The ability to free move around the game world, the sheer amount of side missions you can undertake, plus the somewhat natural feel to the hacking part of the game all make it a very immersive experience. Most of the cool stuff you do in the game this time comes through on Retro's phone and its apps that you use. I did find that to hamper the action initially as I was struggling with the phone and trying to get things done at the same time. The same went for hacking random people as I passed them in the street; the focus on who you are hacking at any given time is slow to move from person to person, and the process of pushing the L1 button then choosing your action somewhat intrusive. Locking onto the same person time and again I found annoying. The only reason I kept doing it was simply that "I needed the money".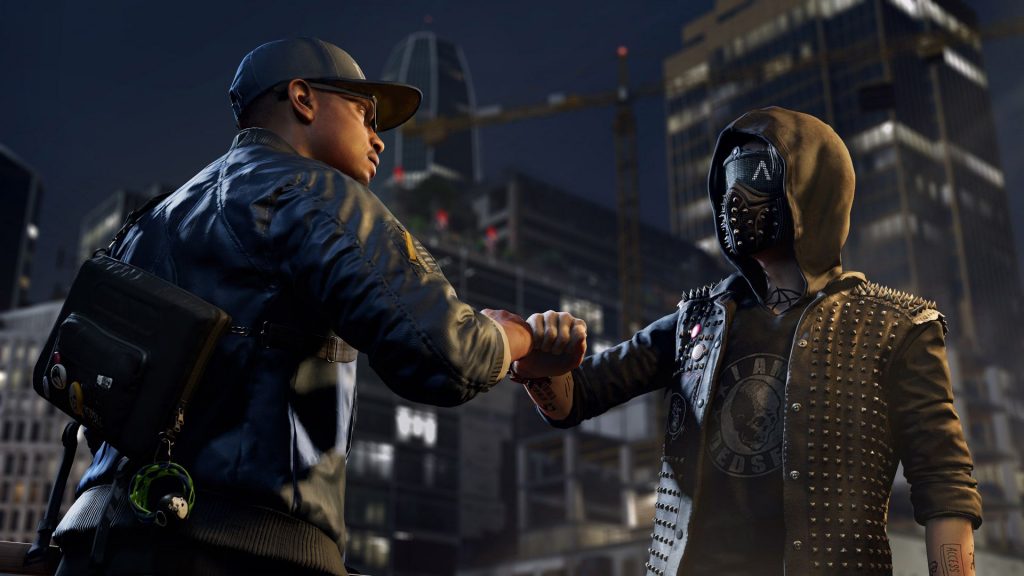 Retro doesn't seem to have the mad skills that Aiden did when it comes to the parkour; a simple R2 hold will see him making his way over most obstacles, however there is more than one time that he'll climb to a sickening height, and instead of going higher, the R2 press will see him taking a flying leap into an abyss. Not fun. Combat works well enough with basic melee attacks and weapons aiming with a decent amount of accuracy. Interestingly enough, you will make your own weapons on occasion using a 3D printer at Dedsec HQ. These range from non lethal weapons all the way through to assault guns.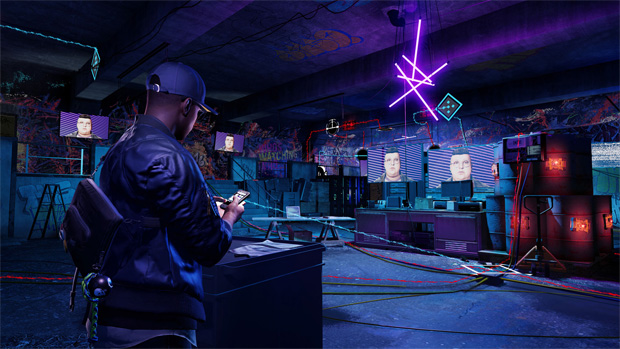 At this time of writing the online part of the game is down which is extremely disappointing. I'm at odds about this as it seems that releasing games that don't work from the get go is now the norm. Basically the component that is not working is called seamless multiplayer which would have given players the ability to jump in and out of the online action. To be honest it sounds amazing and I really wish that it would have worked. To their credit, the game does announce the issue as soon as you start it up and they've been really proactive with keeping gamers up to speed. At the time of writing there is another update downloading. I'm not even sure what that one will address.
There are so many things that will keep you playing beyond the single player campaign. All the side quests that can be undertaken will keep even experienced gamers going for a long time after the main action is completed. Your phone is a pretty amazing piece of kit with apps onboard that simulate functions such as the real life app Shazam to find new songs that might be playing nearby. There are other apps that will give you additional functionality when you are playing. It is clever but I did find the phone clunky. Then there are your RC buggy and drone that you can control and that add subtle elements to the game, and access to areas that you can hack that you cannot do on foot.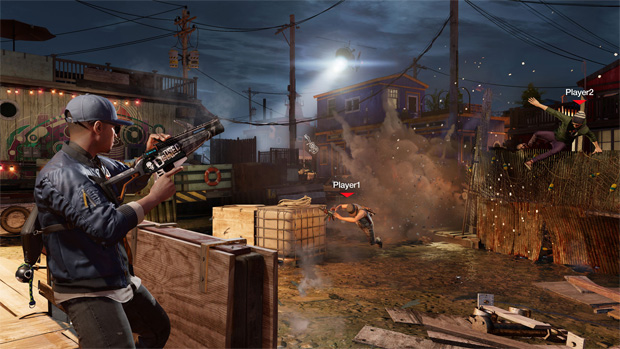 Is this game a worthy successor to the previous. I would have to say yes it is. It is a lot of fun to play with a compelling, more light-hearted story than the previous one. Also the non player characters have fairly well fleshed out back stories that are interesting and make you care about them to an extent. The action is solid, and the ability to command vehicles is fun too. All the vehicles seem to perform as you would expect them to which adds to the fun of jacking them.
Graphically the title is a treat to look at, with lots of clever detail put into the living gaming world. The soundscape is immersive and the actual audio soundtrack is great with tracks to play in vehicles, and also to actually discover as you make your way through the game.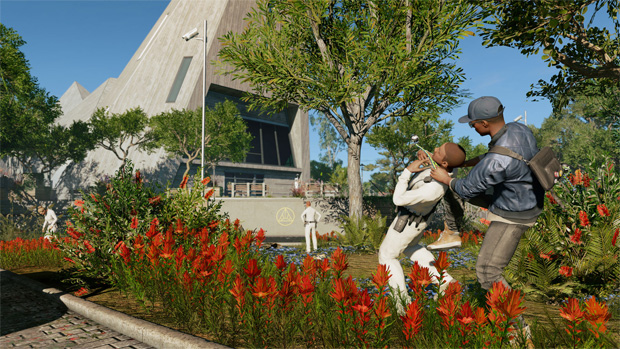 Final Thoughts?
This is a game worth getting. The main question I'd ask at this time of writing is when should you get it? With the issues experienced now, I have mixed feelings about advising buying the title until all the issues are fixed up. Stay tuned on that one, but if you can't wait then expect some downloading and a great game to enjoy after all that.
#: Since the review went live, Ubisoft have addressed the online issues and a statement can be found at https://www.impulsegamer.com/watch-dogs-2-seamless-multiplayer-statement/
Key Features
WELCOME TO THE SAN FRANCISCO BAY AREA: Explore a massive and dynamic open-world offering an incredible variety of gameplay possibilities: Hack your way through traffic through the winding streets of San Francisco or infiltrate the cutting edge offices of Silicon Valley companies.
HACKING IS YOUR WEAPON: Hack into the city's infrastructure, every connected device, and everyone's personal database. Take control of drones, cars, cranes, security robots and much more.
YOU ARE IN CTRL: Use hacking and stealth or combine hacking and your weapons to complete missions. Upgrade your hacker tools – RC cars, Quadcopter drones, 3D printed weapons and much more.
SEAMLESSLY CONNECT WITH FRIENDS: Stay connected to your friends with a brand new seamless multiplayer experience that includes both Co-op and Player vs. Player activities.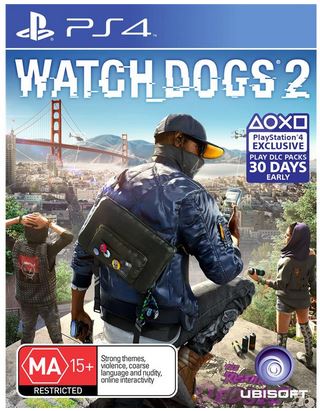 Game Details
Primary Format – Games – Playstation 4
Game Genre – Action & Adventure
Rating – MA15+
Consumer Advice – Strong themes, violence, coarse language and nudity, online interactivity
Game Developer – Ubisoft Montreal
Game Publisher – Ubisoft