PS4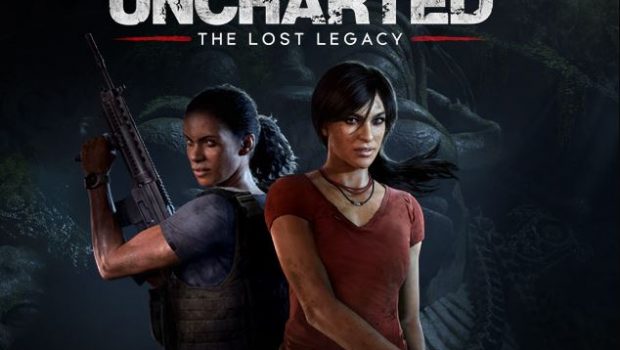 Published on August 18th, 2017 | by Admin
Uncharted: The Lost Legacy Review
Summary: Uncharted: The Lost Legacy is a great diversion of this thoroughly enjoyable franchise
One of the most anticipated PlayStation games of 2017 has arrived with Uncharted: The Lost Legacy as developer Naughty Dog deliver their next gaming blockbuster but on a slightly smaller scale. Although the game is firmly set in the Uncharted universe, Naughty Dog have changed their protagonists and given the happy ending that Nathan Drake received in the previous game, you really want him to enjoy some downtime as a father, especially after the thousands of times he almost died!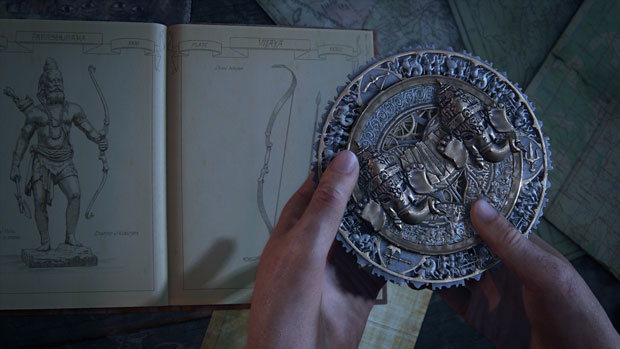 Rather Uncharted: The Lost Legacy revolves around treasure hunter Chloe Frazer voiced by the delightful Claudia Black who first appeared in Uncharted 2 and this time around is seeking the fabled Golden Tusk of Ganesh from the Hoysala Empire. Although Chloe has the smarts and wits to embark on this quest, she recruits Nadine Ross (Laura Bailey), a mercenary and former paramilitary leader from Uncharted 4 who will act her as muscle as they go head to head against the nefarious warlord Asav. This charismatic villain wants the artifact to help build his army of terror!
Like the previous games in the series, Uncharted: the Lost Legacy channels its inner Indiana Jones meets National Treasure and from the very first moments, you immediately know that you are in for a treat. I also like how Naughty Dog drop the player into the game without giving away too much of the story because when Chloe and Nadine meet for the very first time in the game, they are in a world of chaos as bullets whiz past their heads and they engage in some truly spectacular Uncharted mechanics that include running on rooftops and performing death defying leaps of faith to escape the enemy.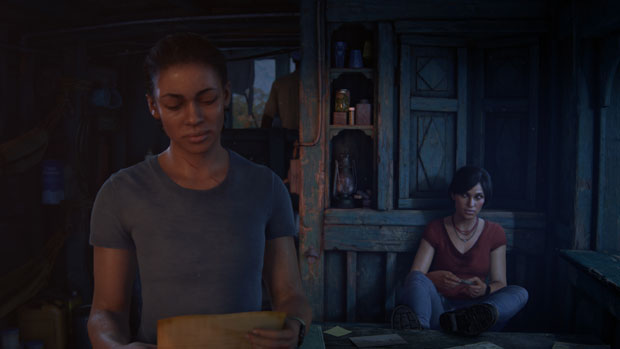 With that said, all the hallmarks from the Uncharted series are here with larger than life battles, puzzles and amazing cinematics to help progress the story, including lots of secrets for both characters. Furthermore, this incarnation of Uncharted offers the largest free-roaming level in the franchise which is massive and looks like art on the PlayStation 4.
The relationship between Chloe and Nadine is tentative at best, however as the game progresses, their so-called friendship develops, even though they are both after 50% of the treasure. Furthermore, they need to work together as a team because without this element in their relationship, neither will be able to reach the end game so to speak. The antagonist Asav reminds me of an Indiana Jones villain who is always one step behind the heroes and lets them do all the hard work while he attempts to get the upper hand in order to fund his insurgence.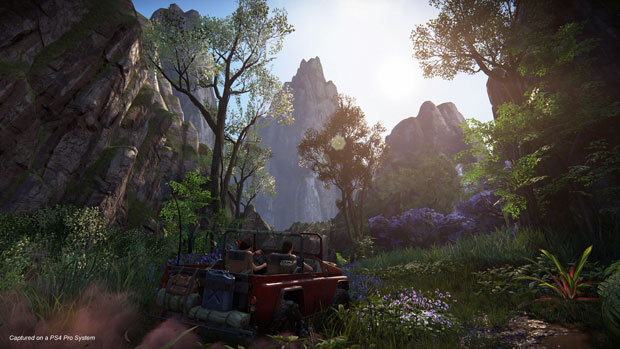 Exploring the world of Uncharted: The Lost Legacy is generally done on foot as you experience the beautiful scenery of India's mountainous Western Ghats and its hidden temples. Furthermore, you can engage in your 4×4 as you explore this rugged terrain which also makes for some excellent gameplay mechanics, not to mention its winch that is reminiscent from the previous game. Complimenting this are the great chase scenes which are really fun. Another new addition to the game is lock-picking which plays an integral part of the game as you attempt to move the analog stick until it vibrates in a certain area which does add to the overall charm of the game, especially considering that Chloe is a treasure hunter… err… thief!
Another interesting difference between Lost Legacy and the other Uncharted titles is how the hand-to-hand combat is managed. Rather than the brute force that was employed by Drake and his friends, this feels more realistic with pinpointed attacks and evades plus brutal take downs. Then you have all the weapons which is equally as enjoyable and nothing is more satisfying than taking out one of Asav's platoons with bullets flying everywhere or you can skulk around and use stealth. Some of the tougher villains and 'bosses' can be a challenge and for the most part, you do need to use brute force to take them out.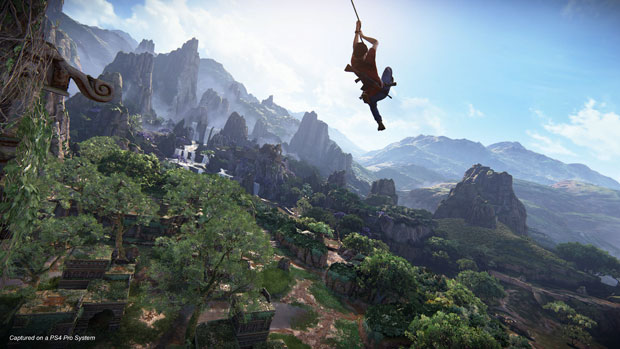 So while you climb, grapple, explore, drive, sneak around and engage in lots of gun fights, there's so much do in this game. The puzzles in the game are well thought out and not too contrived or forced… or damn difficult. They actually make sense in Lost Legacy. The game also gives hardcore fans a wide gamut of collectables to find which really helps you explore the environment as you get lost in the world of Lost Legacy. Helping with the backstory are Hoysala Tokens which help piece together the story of this empire and are littered throughout the game. However without spoiling the story, there's some truly fantastic moments and lots of surprises in Lost Legacy, including a cameo and not who you think. The last chapter of the game is just like a Hollywood movie with plenty of action scenes and a very satisfying ending.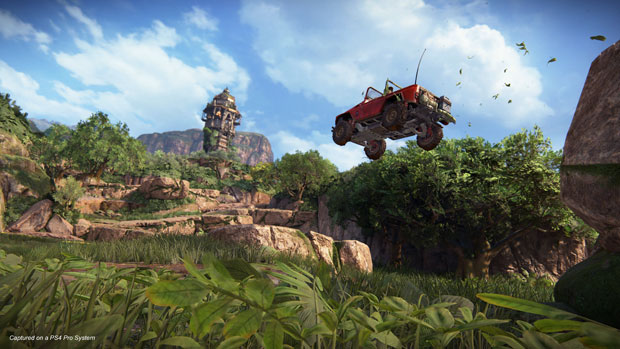 Not integral to the game, Chloe is equipped with a camera which allows you to take some truly gorgeous in-game photography. Oh, the photo mode in Lost Legacy is also quite a fun feature, especially when you can tailor Chloe's expression that made some very amusing moments for me.  Furthermore, there's a plethora of bonus features when you complete the game that include Render Modes, Gameplay Modifiers, Character Gallery, Single player Character Skins Weapon Selector, Cellphone Camera Viewer, Concept Art Galleries and Encounter Select. Multiplayer is also bursting with fun that includes access to the entire suite of multiplayer content from Uncharted 4. With 14 maps, 6 different gameplay modes, there's a ton of fun to be had. Additionally, the Lost Legacy adds a new Survival Arena Mode and for those who pre-ordered the game, you'll also get additional content that will be unlocked.
Graphics & Audio
Graphically, there is nothing I can fault about Uncharted: Lost Legacy and the attention to detail is truly insane. Naughty Dog have successfully created a living breathing environment, especially the more open-world areas and when matched with the beautiful landscapes of India, more specifically the Western Ghats, it's like your part of a postcard… but with guns. The game also has some amazing draw distances, realistic foliage and lighting to die for.
The character models are stunning and all the characters move with this real-world grace. Add in excellent facial movements which help relay a wide variety of emotions and it's easy to become invested in the plight of Chloe and Nadine. Complimenting this are the realistic explosions, weather and other effects that really create a very dynamic title on the PlayStation. On a standard PlayStation 4, the resolution is impressive but on a PS4 Pro, it gets amped to a whole new level.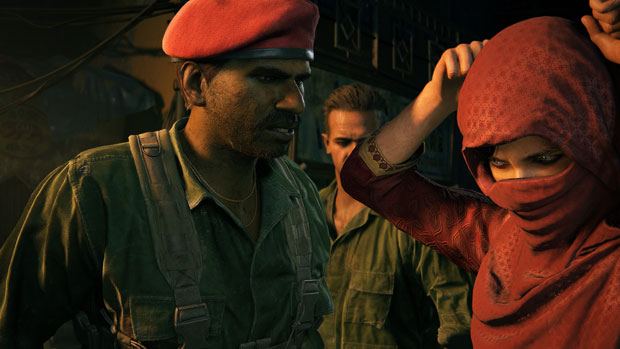 The voice acting in the game, especially Claudia Black and Laura Bailey really get into the psyche of each their characters and more importantly, the banter between the two protagonists not only feels real but there's some priceless banter as well. Add in humour and it's a real treat listening to these actors bring these Uncharted characters to life. Usman Ally is another highlight and really creates a villain you want to hate. Sound effects are flawless and the musical score helps serve as glue to bring the entire game together.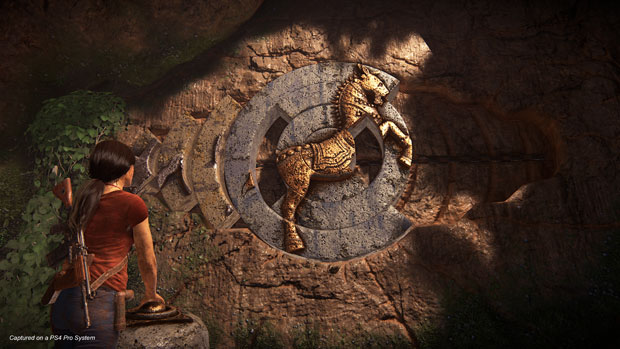 Final Thoughts?
Although not quite on the same level as the previous games in the Uncharted series, Lost Legacy is still a very worth play with some new gaming mechanics added and truly impressive graphics. The only letdown of the game is that it does feel a little similar to the previous Uncharted games which is not a bad thing. Thankfully the protagonists are both interesting and fun, however Chloe is really the star of Uncharted: The Lost Legacy and given her mysterious history, I wonder if we'll see more of her?
Recommended!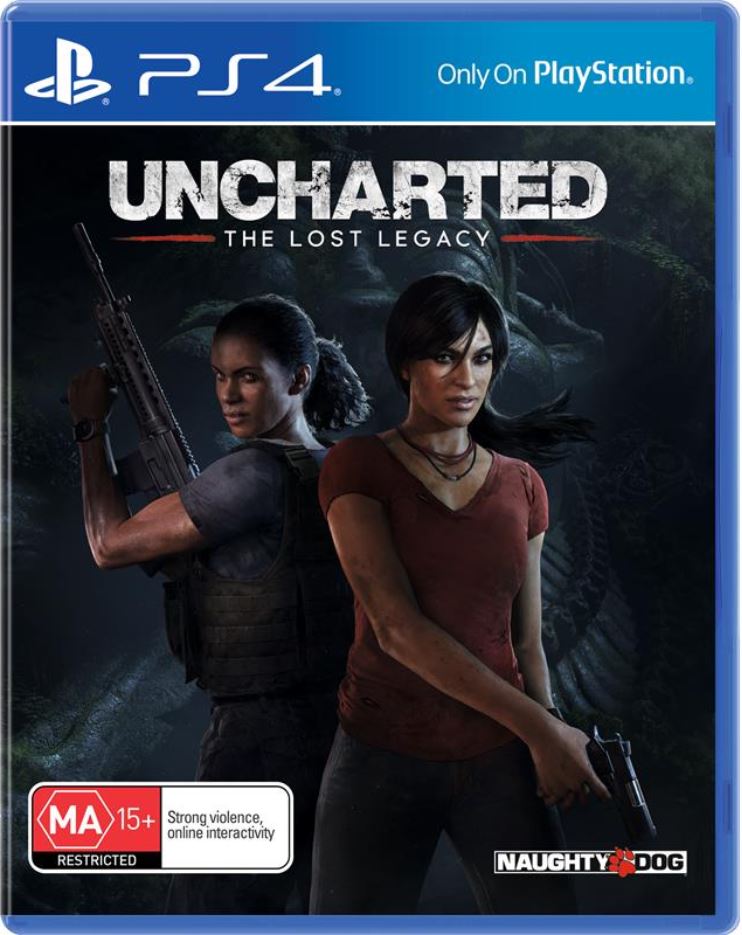 Game Details
Primary Format – Games – Playstation 4
Game Genre – Action & Adventure
Rating – MA15+
Consumer Advice – Strong violence, online interactivity
Game Developer – Naughty Dog
Game Publisher – Sony Interactive Entertainment