Comics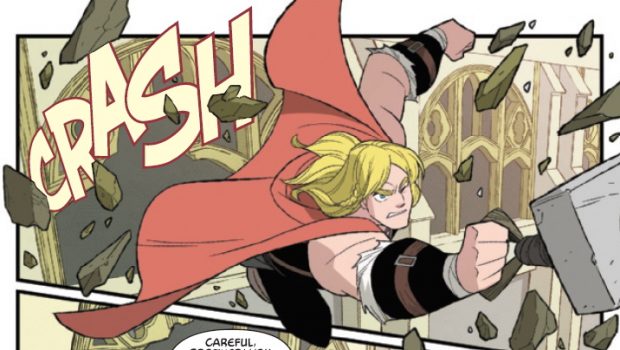 Published on March 11th, 2021 | by Tim Chuma
Thor & Loki: Double Trouble #1 (2021) Review
Summary: A fun looking series ideal for the casual fan of these characters with no need to do a bunch of prior reading.
Stories of Loki playing tricks on Thor are well known from Norse mythology but they don't go into it as much in the Marvel Cinematic Universe (considering one of the stories ends with Loki's mouth sewn shut they would not work well), so it was great to see this story in the same style as the SPIDER-MAN & VENOM: DOUBLE TROUBLE comic.
The art style is cute but the characters are well drawn and there is always something interesting to look at. I did this show this one to an artist friend of mine as it reminded me of her style.
I did like the story as you do get a sense that Loki plays tricks on Thor a lot, who is such a knucklehead that he ends up going along with it every time even when he knows it is not the right thing to do.
Thor is good for making Loki face the consequences of his actions and if he was really doing something dangerous Odin would have already banished him by this point. It does seem to be a different continuity than the movies in this case.
If you enjoyed these characters in the movies and want something fun to get into that you don't have to read all the connecting stories then I would recommend this one.
Comic details:
Writer: Mariko Tamaki
Penciler: G Gurihiru
Cover Artist: G Gurihiru
Publisher: Marvel
Published: March 10, 2021