Comics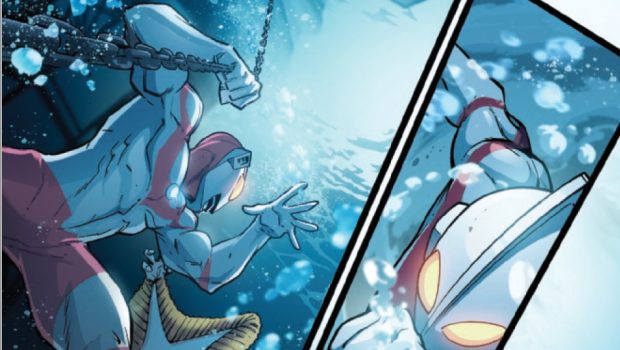 Published on March 22nd, 2021 | by Tim Chuma
The Trials of Ultraman #1 (2021) Review
Summary: Worth a look if you have heard of Ultraman but not actually seen any of the stories he is in. Easy to pick up and does not expect you do know what happened in the previous series.
4
Quit dumping your kaiju into our dimension!
While Ultraman fights a giant kaiju attacking an oil rig and afterwards Shin Hayata the man who is linked to him almost drowns, the organisation behind him finally comes clean what they have been doing for the last 50 years with the Kaiju. It seems the K-Rays they have been using to send the kaiju to another dimension are just sending the problem someplace else and now the people who live there are getting upset. Some nefarious persons wan to exploit the situation closer to home also.
I had read the first Ultraman comic of the previous storyline and then had not picked it up again. I thought it was still going but obviously they wanted to finish it early.
If you are a fan of Ultraman and kaiju I would recommend it and you don't really need to know what happened in the previous stories to get what is going on here.
Some great monster designs here and for fans of manga you would have seen a lot of similar stories already.
I didn't really know what the second story was related to until later when I remembered the bit about the K-Ray sending the kaiju to another dimension and they show what happens in that other dimension.
Worth a look if you like kaiju stuff or stories with a lot of action.
Comic details:
Writer: Matthew Groom, Kyle Higgins
Penciler: Francesco Manna
Cover Artist: Arthur Adams
Publisher: Marvel
Published: March 17, 2021