Blu-ray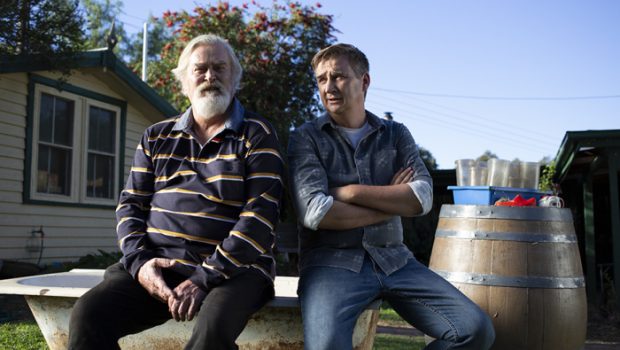 Published on April 1st, 2019 | by Natalie Salvo
The Merger Blu-ray Review
Summary: A true blue Aussie comedy about mateship and footy. Damian Callinan's film adaptation of his one-man show has a quiet, understated charm.
Australians let us all rejoice for we all love our sports. The comedy film, "The Merger," knows this and celebrates this part of our culture. The result is a well-intentioned look at how people from all walks of life can come together for a good game of footy.
This film – directed by "Backyard Ashes'" Mark Grentell – first began as a one-man show that comedian Damian Callinan wrote and performed live. I never saw this show and it is difficult to imagine how he managed to play so many characters. In the movie, Callinan plays Troy Carrington, a former footy player who has become a recluse. His fall from grace, which saw him stripped of his revered sportsman status and become the town pariah, came about because his protesting saw the town's timber mill shut down.
The premise here is that the small, regional town of Bodgy Creek has hit the skids. The local footy team doesn't have enough players. It looks like they will have to merge with another local team so that they may have a big enough group and access to an adequate club house.
Enter Carrington who has a plan to assemble a new squad using some of the resettled refugees who also live in the local community. The ace up their sleeves is the star player and Syrian refugee, Sayyid (Fayssal Bazzi "Down Under"). Local lad, Neil Barlow (Rafferty Grierson) who recently lost his Dad, decides to follow Carrington and the club around and make a light-hearted documentary.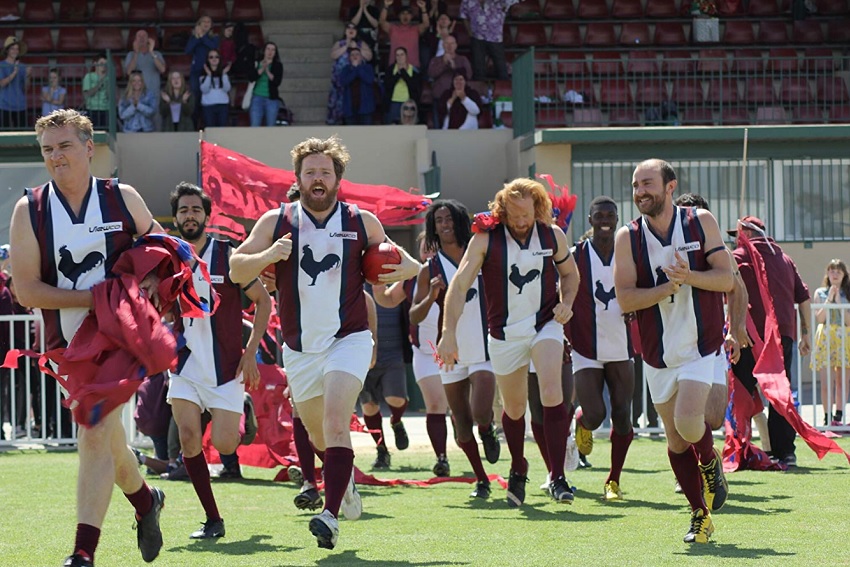 The process isn't all lollipops and rainbows. The club's president (John Howard) is a racist bigot. This is despite the fact that his daughter-in-law (Kate Mulvany) leads the refugee resettlement centre. There is also a flimsy love story arc between the latter and Carrington.
This film is a buddy movie about a rag-tag bunch of misfits. Even though things focus on the AFL, the charming nature of this story means it could appeal more broadly. Some of the jokes are quite funny, while others occasionally miss the mark. The dialogue can be quirky at times and a tad clichéd at other moments. This film is a romp through cultural differences and the coming of acceptance. The actors in the squad have a jovial and lovely chemistry.
The soundtrack is excellent. It is chock full of true blue Aussie talent like Paul Kelly, Archie Roach and Daddy Cool. The bonus features are adequate and include a short making of featurette and trailer. Fans of Australian comedy will enjoy the cameos from the likes of: Nick Cody, Ben Knight and Aaron Gocs. Other fans may enjoy the sun-kissed scenes shot in Wagga Wagga.
"The Merger" isn't the kind of film that will sweep the Oscars and nor does it try to be. Instead this has a nice, understated charm and is ultimately an Australian story, which tackles some heady issues with a deft hand and a comedic touch. This is quintessential Aussie humour that shows how mateship can prevail when it comes to a good game being played by equally good sports.
Blu-ray Details
Director – Mark Grentell
Actors – Damian Callinan, John Howard, Kate Mulvany, Fayssal Bazzi, Rafferty Grierson
Film Genre – Australian Cinema
Label – Umbrella Entertainment
Audio – English (Dolby Digital 5.1)
Subtitles – English for the hearing impaired
Running Time – 103
Aspect ratio – 1.78:1
Region Coding – B (Blu-Ray)
TV Standard – HD
Rating – M
Consumer Advice – Coarse language
Year of Release – 2018
Primary Format – Movies/TV – Blu-Ray