Films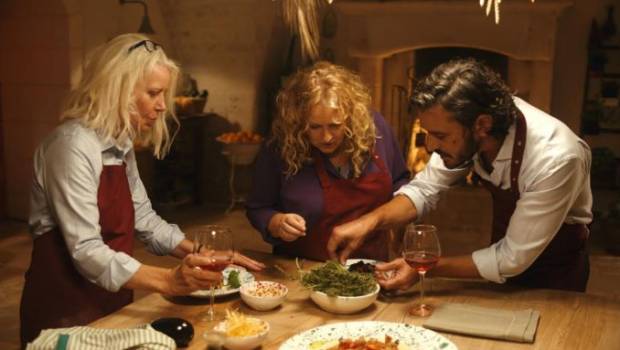 Published on February 3rd, 2021 | by Natalie Salvo
The Food Club (Madklubben) Film Review
Summary: This is a predictable offering that is like Sex & the City and Eat, Pray, Love for mature women. The lack of sugar or spice will leave you hungry for something more fulfilling.
It seems that if you want to discover yourself and la dolce vita you must go on a trip to Italy. "The Food Club (Madklubben)" is a film that captures this premise by sitting somewhere between "Eat, Pray, Love" and "Sex & the City" for mature women. The result is a dish that includes some good ingredients but a taste that is lacking in sugar or spice.
Barbara Topsøe-Rothenborg directs this film. Anne-Marie Olesen writes the screenplay and the proceedings are in Danish with English subtitles. The story centres around three long-time female friends who travel to Italy after Marie (Kirsten Olesen) is given this present for Christmas. The three women are all single. Marie has been married for 44 years but she is unceremoniously dumped by her husband on Christmas Eve for a younger woman.
Stina Ekblad plays Berling, a Samantha-like character. She loves to flirt outrageously, embraces the single life and has a fractured relationship with her daughter. Vanja (the adorable, Kirsten Lehfeldt) is a widower who still longs for her late husband. All three women discover that it's never too late to make some changes and embrace a better version of themselves (and in turn, their lives).
The story is predominantly set and shot in Puglia, in the south of Italy. The beautiful villages provide luscious backdrops and a vibrant atmosphere, particularly when compared to the protagonists' cold homes. There are plenty of shots of sumptuous food and this food porn could appeal to those who enjoyed "Julie & Julia." For my money, it left me longing for travel and dining out, something almost impossible in these Covid times.
The films styles itself as being a feel-good and uplifting one. It also tends to sit more on the dramatic side of the fence. There are some minor mishaps and misadventures but these "jokes" tend to fall as flat as an unrisen soufflé. This could be a case of cultural clashes or it may just be bland, in my view.
The primary cast (Ekblad, Olesen and Lehfeldt) share a good chemistry with each other. They also offer up strong performances. Two of the supporting characters: sanctimonious health freaks (Mia Lyhne and Rasmus Botoft) are more irritating than anything. The leading men including hunky host, Alessandro (Michele Venitucci) and affable class member, Jacob (Troels Lyby) are great additions.
"The Food Club" is a pleasant little slice of escapism. Its gentle nature and quaint atmosphere may appeal to viewers wanting some light entertainment. But the predictable storyline and overreliance on bored tropes will leave you hungry for something more fulfilling.