Books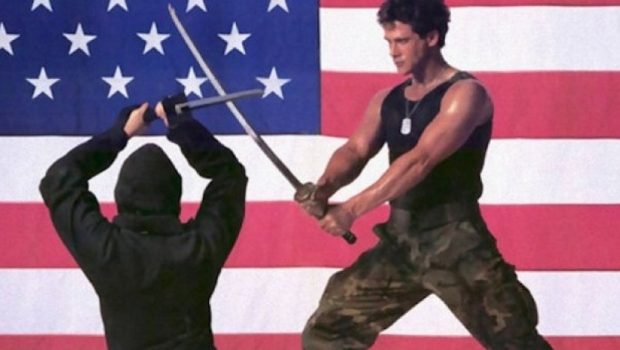 Published on June 5th, 2022 | by Tim Chuma
The Cannon Film Guide Volume II (1985–1987) Review
Summary: While the movies in the first volume were more fun, this one does have a lot more movies from Cannon you maybe have not seen or heard about. A worthy purchase.
5
Chuck vs Ninjas round 2
I had enjoyed volume one of the Cannon Film Guide and this book is more of a continuation of that book rather than a follow-up and there is going to be a volume III in the future. This book covers the period of 1985 to 1987 where Cannon was making a lot more films but also spending a lot more money and having trouble with their finances due to taking money from films they had sold to make more films when they were not sure if any of them would actually be hits.
There are quite a few more films featured in this volume from this period with some of them included here like the American Ninja and Delta Force movies that came out before or after the time period of the volume for the sake of keeping them all together.
As with the previous volume I reviewed this book by reading it in a way you would if you were interested in it, reading about the movies you have actually seen or have an interest in. It is not really something you read all in one go or straight through it is more of a reference book with more information about each of the productions with some interviews from key people from behind the scenes and some of the actors even if not the main ones on a lot of them.
This volume certainly does have more movies featured in it that I have not seen and a more diverse range of movies as Cannon was making a lot of movies by this stage. They do mention the films the company merely distributed and did not actually make.
Quite a few of the bigger movies already got some coverage in the Electric Boogaloo documentary but not in the long-form format that is shown here. The main big sections in this volume seem to be around the American Ninja and Delta Force series and also the three Tobe Hooper movies (Lifeforce, Invaders From Mars, The Texas Chainsaw Massacre 2).
I did enjoy the interviews as they went into some interesting parts of the production that had not really been covered and some of the people would not have been too keen to talk about some of these movies after so long.
What surprised me is that people said they enjoyed their time on the movies or at least had a lot of memories and used their experience in other work as it was a unique experience working on a Cannon film. It is best for you to find out the interview stuff by reading the book but I did enjoy the Nicholas Cage in American Ninja "what if", Menahem Golan eating cat food and Wings Hauser getting Norman Mailer to apologise on set of Tough Guys Don't Dance.
Overall I enjoyed this book even if the movies featured in the first volume were more fun as I personally liked them a lot more. It also seemed like the bigger movies in this volume had already been written about a lot so there was not really as much you could say about them that was that new.
If you enjoyed the first volume of the film guide then definitely consider picking this one up. Even if you haven't read it and have an interest in 1980s action cinema I would recommend this as it is an excellent reference and starting point to look up a lot of the other Cannon films you have not seen.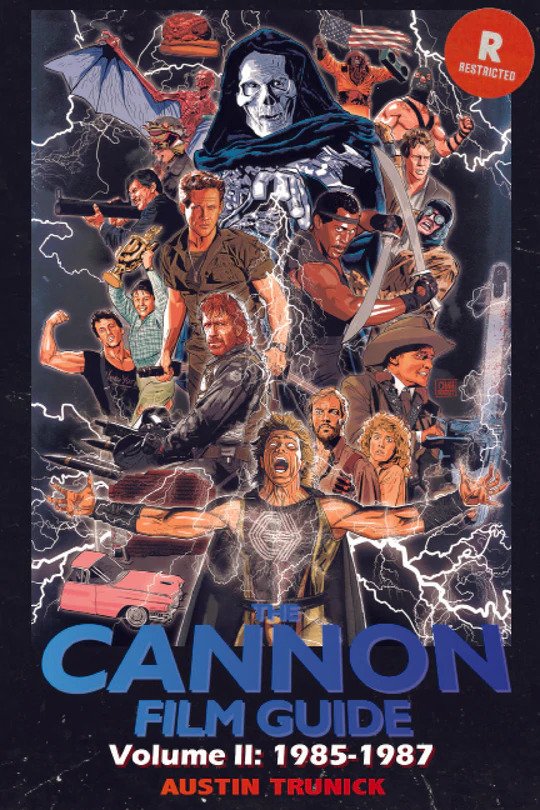 Book details:
Author: Austin Trunick
Publisher: BearManor Media
Format: soft cover, 1018 pages, 6×9 (Black & White)
ISBN: 978-1-62933-888-0
Films featured
The Ambassador, Maria's Lovers, Hot Resort, Hot Chili, The Assisi Underground, Rappin', Ordeal by Innocence, Deja Vu, Lifeforce, Thunder Alley, American Ninja, American Ninja 2: The Confrontation, American Ninja 3: Blood Hunt, American Ninja 4: The Annihilation, American Ninja 5, Invasion USA, King Solomon's Mines/Allan Quartermain and the Lost City of Gold, Fool for Love, Runaway Train, The Delta Force, The Delta Force 2: Colombian Connection, The Delta Force 3: The Killing, Game, The Naked Cage, America 3000, P.O.W The Escape, Murphy's Law, Dangerously Close, Invaders From Mars, Robotech: The Movie, Detective School Dropouts/Dutch Treat, Salome, The Texas Chainsaw Massacre 2, Otello, Avenging Force, The Berlin Affair, Camorra (A Story of Streets, Women and Crime), 52 Pick-Up, Firewalker, Duet for One, Assassination, Over the Top, Number One with a Bullet, Down Twisted, Street Smart, The Hanoi Hilton, Aladdin, The Barbarians, Too Much: The Robot with a Heart, Superman IV: The Quest for Peace, Masters of the Universe, Penitentiary III, Tough Guys Don't Dance, Surrender, Dancers, Barfly, Under Cover, Three Kinds of Heat
Including interviews with:
Mario Van Peebles, Arnold Schmidt, Nick Maley, Michael Dudikoff, Sam Firstenberg, Mike Stone, Judie Aronson, Steven Lambert, Larry Poindexter, Cedric Sundstrom, James Bruner, Kyle T Heffner, Brian Gendece, William Wallace, Jon Epstein, Lisa London, Chuck Wagner, Kathleen Wilhoite, Carey Lowell, James Karen, Hunter Carson, Lorin Dreyfuss, Bill Moseley, Bill Johnson, Melody Anderson, Robert Anderson, Robert Gosnell, Jan Gan Boyd, David Mendenhall, Thom Mathews, Eva LaRue, Michael Berryman, Gary Goddard, William Stout, Rober Duncan McNeill, Chelsea Field, Anthony De Longis, Leon Isaac Kennedy, Wings Hauser, John Beford Lloyd, Sarah Kernochan, David Neidorf, Lucinda Dickey
Bonus! Trailers
The Ambassador
Maria's Lovers
Hot Resort
Hot Chili
The Assisi Underground
Rappin'
Ordeal by Innocence
Deja Vu
Lifeforce
Thunder Alley
Americian Ninja
American Ninja 2: The Confrontation
American Ninja 3: Blood Hunt
American Ninja 4: The Annilhilation
American Ninja 5
Invasion USA
King Solomon's Mines
Allan Quartermain and the Lost City of Gold
Fool for Love
Runaway Train
The Delta Force
The Delta Force 2: Colombian Connection
The Delta Force 3: The Killing Game
The Naked Cage
America 3000
P.O.W The Escape
Murphy's Law
Dangerously Close
Invaders From Mars
Robotech: The Movie
Detective School Dropouts
Dutch Treat
Salome
The Texas Chainsaw Massacre 2
Otello
Avenging Force
The Berlin Affair
Camorra (A Story of Streets, Women and Crime)
52 Pick-Up
Firewalker
Duet for One
Assassination
Over the Top
Number One with a Bullet
Down Twisted
Street Smart
The Hanoi Hilton
Aladdin
The Barbarians
Too Much: The Robot with a Heart
Superman IV: The Quest for Peace
Masters of the Universe
Penitentiary III
Tough Guys Don't Dance
Surrender
Dancers
Barfly
Under Cover
Three Kinds of Heat