Books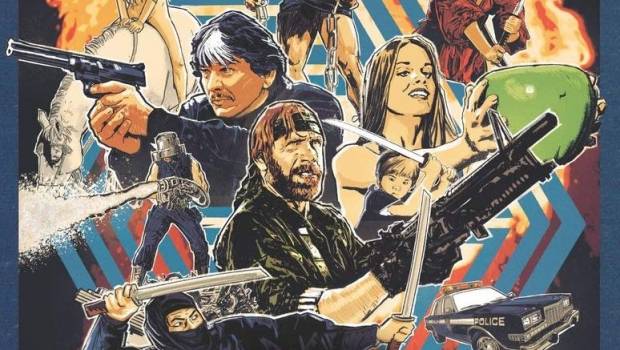 Published on July 6th, 2020 | by Tim Chuma
The Cannon Film Guide: Volume I, 1980-1984 (2020) Review
Summary: An epic tome of genre cinema from the 80s and a worthwhile addition to your shelf even if you are not really into these movies for the behind the scenes stories.
5
Only a ninja can stop a ninja!
If you grew up in the 80s and early 90s you would have seen many films released by Cannon Films in the video store released by this company as they made 200 films over their lifetime and licenced hundreds of others. Most famous for the works of Chuck Norris, Charles Bronson, Cho Kosugi and Jean Claude Van Damne amongst others. This book covers the first four years of the company from 1980 to 1984.
There is already a documentary film about Cannon Films but it was very broad in its coverage as they had to cover a lot of ground and fit it into a reasonable running time.
For big guide books like this you are not really meant to read them from cover to cover unless you really want to. What I did was read about the films I already knew and wanted to find out more about and I have the other ones to go back and look at later when I have seen the movies. That is why you get a reference book like this as the searching for information and insights on the movie has already been done for you.
When I heard of this book I thought it was going to be something like the old Videohound series where they list hundreds of movies with a short blurb and review in one. It is not that it is much better as there are in depth pieces on each movie with some even having an interview with people who worked on the movie in question. I will not spoil some of the things revealed in these interviews as they are some of the best parts of the book that you deserve to find out for yourself.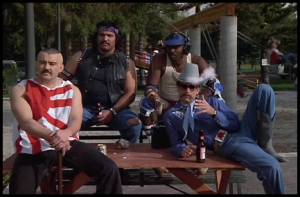 Only and ninja can stop a ninja so you can throw this book at any pesky ninjas as at least a hundred pages of it is devoted to the ninja films of Sho Kosugi. The Death Wish sequels get their own combined chapter as do Breakin' and Breakin' 2: Electric Boogaloo and the first two Missing in Action films. Some of these movies came out very close together as they started working on the next movie as soon as they finished the last movie. Breakin' 2 was made back to back with Ninja III: The Domination.
While it would be best if you are a fan of 80s genre movies to get the most out of this book, I would recommend it to fans of film in general especially the interviews as there are a lot of interesting stories and also you will find out a lot of the business of movie making. The movie industry is still a business and you have to make money out of your product.
Also what I liked about seeing some of the movies discussed is that seeing them in print makes them seem more serious and worthy than a lot of them have been treated in the past. They were never trying to be something they were not and helped a lot of people get into the industry as Cannon Films took chances on new directors, stunt people and writers.
An epic tome to sit proudly on your movie shelf and I am looking forward to the next instalment in the series.
Book details:
Author: Austin Trunick, Sam Firstenberg (Foreword)
Hardcover: 558 pages
Publisher: BearManor Media (June 15, 2020)
Bonus trailers!
Missing in Action (1984)
Death Wish II (1982)
Enter the Ninja (1980)
Revenge of the Ninja (1983)
Ninja III: The Domination (1984)
Breakin' 2: Electric Boogaloo (1984)
Hercules (1983)
Bolero (1984)