Books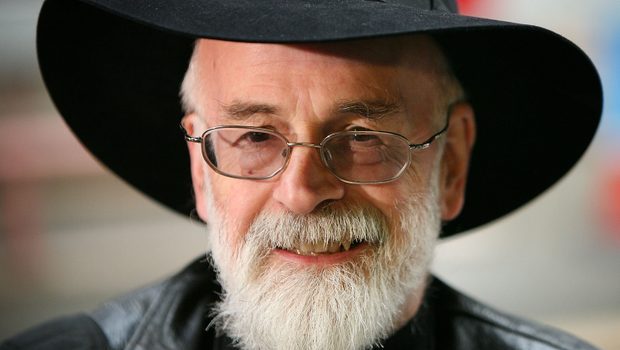 Published on October 18th, 2022 | by Tim Chuma
Terry Pratchett: A Life With Footnotes (2022) Review
Summary: Recommended not just to fans of the Discworld series but also to people who enjoy finding out about the process of writing in general and how much effort goes into it. A much missed author still.
The Official Biography
Rob Wilkins, Sir Terry Pratchett's personal assistant and now head of the author's literary estate tells the story of the author's life based on notes (the footnotes) that were completed before the author's death in 2015.
While I have only read bits and pieces of Terry Pratchett's work (I did find out in this book Only You Can Save Mankind means I read him way earlier than I though I did), I know a lot of people who are really big fans of his work. The old chestnut "the writer for other writers" applies here as the author's experience working as a journalist and as PR for a nuclear power organisation meant that he had a working class approach to writing as "work".
Roughly half the book is dedicated to Terry Pratchett's life before he had published any Discworld novel. From his early days in a cottage with no power and loose roof tiles, to repeatedly "rescuing" the schools set of encyclopedia from the skip bin (much to the headmaster's disapproval) and his early attendance at a science fiction convention that led to him being published while still in his teens.
I had heard that he had worked at the Central Electricity Generating Board (CEGB) as a writer at a nuclear power plant, but had assumed it was something to do with technical writing. The biography goes into detail that it was a full PR role that at one point involved staging a train crash into a nuclear flask with fish and chip lunch for the guests and an audience of millions.
What surprised me is that there really wasn't a lot about the Discworld books in this book outside of the writing of them and they were careful not to spoil anything in those books as they obviously want you to buy all of them. It certainly will make the experience more enjoyable if you are a fan but I would still recommend it to people who are interested in finding more out about the process of writing. In particular the hard slog Terry Pratchett endured working as a journalist for several newspapers leading him to faint from stress in the end of one role "get this body out of here!" TGTC* (Too good to check). Also the one time Terry rang up a student journalist to offer an interview just to see if she was really ready for it (which was very funny, but mean).
While Terry Pratchett did cross paths with celebrities and other famous writers he never seemed that fussed about them and even joked with JK Rowling about "Harry Potter Toilet Brush Holders" in their meeting. Even the name Harry Potter is censored at certain points in this book. I also liked the things they left in it just to annoy Neil Gaiman although they were really good friends.
Towards the end the book it does get sad as you would expect as Terry Pratchett died way too young from such a cruel illness. I ended up having to just go straight to bed after I read the last part of the book it was too sad. He was able to raise awareness of Alzheimer's and I did watch the documentary where he went to Dignitas to watch the assisted dying patient.
I had not seen the "Shaking Hands with Death" lecture and it is revealed Tony Robinson was never originally meant to read it, but had turned up for a private meeting and they liked his read of it so much they let him do it.
This took me much longer to read than it should have as I was constantly going to look up things mentioned in it or see if things like the Hinkley Point  accident got a mention in UK Hansard. Also I wanted to stretch it out so I could spend more time with the author. There will be no doubt years' worth of podcast and fan content that people will be able to get from this book.
For the first time they actually say what unfinished books were destroyed by running over them with a steamroller. It is for the best they were as the last couple of books were such a struggle and it is best just to enjoy what actually we have and not what was never to be.
The best book of this year for me and that includes the one where the British nuked a tank and then that tank went on to be used in the Vietnam War.
Book details:
Written by Rob Wilkins
Published: 5 October 2022
ISBN: 9780857526649
Imprint: Doubleday
Format: Trade Paperback
Pages: 448
RRP: $35.00
Categories: Biography