Events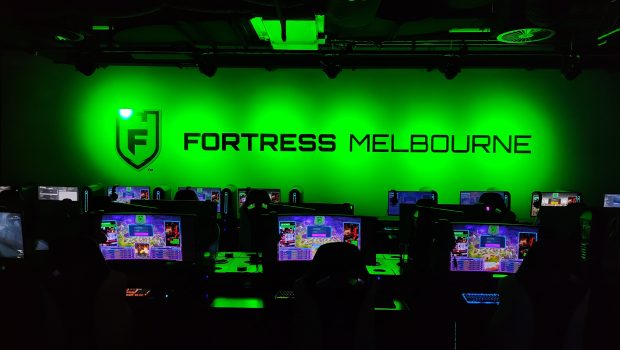 Published on March 28th, 2021 | by Nathan Misa
Still standing: How Fortress Melbourne is back in the game for 2021
ImpulseGamer recently had the welcome opportunity to attend a guided tour of Fortress Melbourne, Australia's biggest esports venue, just over one year after we attended one of its official launch events – before COVID-19 unceremoniously locked everything and everyone down across the country.
With Melbourne's mega gaming hub well and truly re-opened for business and restrictions back to a minimum, Fortress is in a prime position to bring in the large in-person crowds it more than deserved last year. Speaking with their leadership team, the response from the local and national gaming community has been stellar, and the 2021 is certainly jam-packed with much more to look forward to.
"From Jan 1, we've been back in business seven days a week," Fortress Melbourne CEO and co-founder Jon Satterley told ImpulseGamer. "Especially here in the Tavern, it's been incredible. We're now at a point on Fridays and Saturday nights where we're at maximum capacity. The LAN Lounge is full, which has been awesome, and our big social nights have been fantastic."
"The snap lockdown put us back a month, in terms of our week-on-week growth," Satterley continued. "We were very lucky, given that for many businesses that was the straw that broke the camel's back. But the team as a whole are feeling pretty positive about the future of Fortress."
Walking through the 200-seat Alienware Arena, LAN Lounge, and their 160-PC tournament-ready gaming stations while soaking in the hustle and bustle of the Tavern for myself, it's easy to see the appeal of the space as a regular social gathering that extends beyond hardcore esports gaming.
It's a drawcard the team hasn't let the uncertainty of imminent lockdown prevent; the venue has played host to numerous free movie sessions and board game nights since reopening, with the bar and the handcrafted statues of the venue's official mascots – Carina the Warrior, Jim the Troll, Vela the Sorceress – proving to be fitting companions for the growing number of dungeons and flagons.
Of course, Fortress's comeback could not have come without hardship – and a lot of hard work. Satterley puts it more eloquently. "What is that classic axiom or saying? 'Necessity is the mother of invention.' For the first month or so when we were forcibly closed, it was just a mad scramble to survive. Nobody knew what was happening. There was a lot of dealing with suppliers, utility bills… then we were huddling the team and saying, 'how can we get busy and channel our energies?'"
If you've even paid casual attention to Fortress's calendar, you'll get a good sense of their effort. 
"I think one part of the COVID situation was it gave everyone a focus and a fire in their belly to do something. Our people just worked like crazy; we knew we had things in this venue we hadn't properly explored and developed because we were so focused on the physical experience of pouring beers and getting food out – we realised we had all this amazing production equipment. Hence, we moved all of our energy towards esports and tournaments."
Supported by its partners in Alienware and Dell and other sponsorships from NVIDIA, Fortress has run dozens of online tournaments and competitions, its most prominent being around Riot Games' free-to-play multiplayer first-person hero shooter, Valorant. "Rise of Valor was our big Valorant tournament that was amazing and went beautifully," Satterley explained. "We've also done trivia nights, a program called Shots Fired – we just flexed our muscles in areas, prior to lockdown, we didn't have any muscles in and walked away from it creating new pillars for the business."
A big part of Fortress's success in hosting, promoting and running virtual tournaments during lockdown, according to Satterley, was its strong partnerships. "What was also marvellous was the huge support from Alienware and Dell. They didn't sign up for Fortress to be closed, and they had a right to modify their commitment, but they doubled down and it was extraordinary.
"We were able to repay that commitment to us by making Alienware integral to the online activations we did, and we were just trucking out prizes and making good on our promise to reward people for participating. In the online sense, we felt like Fortress delivered a great product made good on the promise to set prizes up. One guy even won a $9,000 PC rig! It felt like a great thing we did and was just another great take-away from a pretty dismal time for all."
But Melbourne CBD activity still has a long way to go before it reaches its pre-COVID numbers, something Satterley admits will be their main challenge to overcome. "The weekdays have been quieter than we would have like. Uni's haven't come back like they should have, no international tourists and students; that day-time trade we expected is just not around. That's got to improve."
For Satterley, the continuing plan to increase their numbers centers around its ability to start hosting in-house events again, and with Melbourne back on-track, the Fortress team have finally been able to plan ahead. "We couldn't book events in November and December due to lockdown, and you need two or three months in advance to get an event off the ground, "said Satterley. "For the always-on crowd, we've got some exciting announcements and big every-week tournaments and esports coming to Fortress in May. That's how we're going to re-launch the Arena and get things bustling again."
After exploring Arcade Alley, a sneak peak at its state-of-art streamer pods and a few friendly matches of Super Smash Bros. Ultimate in one of their cosy VIP booths, it's easy to be impressed with the Fortress of today as a convenient meeting place for social gaming – right in the CBD. But Satterley promises the future is only going to prove more irresistible for Melbourne's gaming community.
"We're about to announce Fortress House Cup, a giant event running for more than 20 weeks in-venue and online, featuring the best games, prizes, professional casting every Saturday from the venue. If it works, it could be the biggest thing in games in Australia for the year. We're also deep into negotiations to build Fortress Sydney and Adelaide, conversations over the country and even some overseas – so that's another really exciting development." 
With COVID-19 restrictions lifted from March 26 in Melbourne, Fortress is officially able to host its full capability of patrons without the need for masks, and with PAX Australia now confirmed, it's likely the venue will be a natural meeting point for local and interstate visitors on the horizon.
"We're just carrying on, serving great food and drink, catering for the Melbourne market and just getting better at it," Satterley concludes. "Learning from mistakes, getting good reviews – some bad – and learning from them too. It's all positive; we're just so grateful and happy to be back in business."
Fortress Melbourne covers 2,700 square metres across two levels, and is the biggest esports venue in the Southern Hemisphere. Located in the heart of the CBD in Emporium, Fortress boasts a purpose-built esports arena and 160 high-range gaming PCs, a dedicated LAN lounge, casual console gaming suites and state-of-the-art streamer pods to rent out. The venue is open seven days a week until late. To learn more about Fortress Melbourne, check out their official website and events pages here.