Events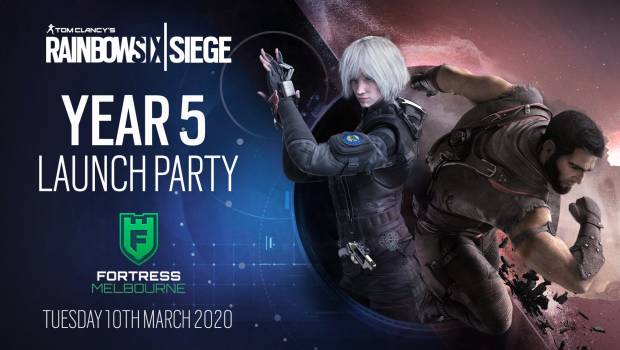 Published on March 10th, 2020 | by Nathan Misa
Rainbow Six Siege: Operation Void Edge impressions – Breach into the Madness
ImpulseGamer had the opportunity to play the newly released Year 5, Season 1 of Rainbow Six Siege at the ANZ launch party, courtesy of Ubisoft Australia and hosted in the Alienware Arena at Fortress Melbourne, Australia's biggest esports venue. The following is our impressions of the highly anticipated Operation Void Edge and Melbourne's new mega gaming venue, slightly ahead of its official opening on March 13.
Void Edge is upon us, and Fortress Melbourne is opening. This Siege fanboy searching for a gaming lounge to flex on the local Pro League competition (okay, maybe learn from them) couldn't be happier.
Usually I'm enjoying my favourite tactical multiplayer shooter on a comfy couch and a big TV, but the Fortress Melbourne crew and Ubisoft Australia went above and beyond to kick off the launch of the new operation with style for some lucky early attendees.
I got to play new operators Oryx and Iana on the newly reworked Oregon map on some very high-end Alienware PCs, alongside and against some of ANZ's best Pro League players and Siege enthusiasts. Being a PS4 player, I had nothing on these guys and their insanely tuned twitch-like reflexes, but that didn't stop me from getting a good handle of the new characters. Oryx is definitely a new favourite, with his Remah Dash ability and its similarities to another mainstay of mine, Sledge. Smashing through soft walls and shocking enemies was immensely fun; even with the 10 point health drop-off, Oryx proved key to setting up nail-biting comebacks and standing a chance against aggressive attacker players not used to a Defender capable of such deadly surprises. His side ability to climb up through broken hatches or hang for intel is also brilliant.
Iana is an attacker that will best suit more patient, team-oriented players who like to take the role of intel gatherer. Her hologram, the Gemini, was fun to deploy and scout ahead without worrying about getting fragged, though you can't use weapons or secondary gadgets while controlling it. It's purely used for information and baiting, and I am looking forward to tricking more impatient foes with it.
The reworked map of Oregon was also available to play and I have to say, I was initially not as enthusiastic about it getting an overhaul given how highly it's come to be regarded by the community. However, a lot of the changes are for the better, such as the laundry latch being moved, a new staircase connecting the basement with the western part of the map, and upstairs kids room now connected to the attic. Most changes I encountered made the approach on the attacking side more interesting, and gave a lot more opportunities to pounce on foes while on the defender's side, too.
In between all the call outs, failed Sledge rushes (I'm guilty of it) and plays with the new ops, Ubisoft Esports and Brand Manager Shane Bailey and the hard-working Siege ANZ crew also managed to secure some Siege trivia with none other than Mozzie voice actor Martin Cropping, who belted out his iconic lines and tested the knowledge of the room with some great loot and prizes – let's just say I'm glad I played Road to SI 2020!
Fortress Melbourne proved the perfect venue to host Ubisoft Australia's Rainbow Six Siege launch party, fitting in over 100 visitors to jump into some high-octane competitive matches (and silly plays) and enjoy some fun banter. Around 30 PCs with cutting-edge hardware were set up to comfortably cater to the crowd, and show off the best plays on the big screen – and this was only one part of the sprawling venue set to blow the Melbourne gaming community's collective minds on 13 March.
If you're big on esports of any kind or even just social gaming with friends across a wide range of titles (not just Siege), Fortress is looking like the place to be in Melbourne.
Operation Void Edge, Season 1 of Rainbow Six Siege's Year 5 content roadmap, is now available in Australia and worldwide, with Operators Iana and Oryx available 7 days early to Season Pass holders. They are available to purchase for in-game renown or purchased credits after the early-access period ends. Stay tuned for ImpulseGamer's full review of Void Edge later this month.
Fortress Melbourne is set to officially open Friday, 13 March with gaming icon Stephanie 'Hex' Bendixsen on-site to gift $30 Fortress vouchers to the first 100 people. Located in the heart of the CBD near Emporium, it covers 2,700 square metres across two levels, and is the biggest esports venue in the Southern Hemisphere. Fortress boasts a purpose-built esports arena and 160 high-range gaming PCs, a dedicated LAN lounge, casual console gaming suites and a high-performance esports Bootcamp room, with multiple big screens across the venue for spectators to enjoy the live broadcasts and competitive tournaments alongside players.