Comics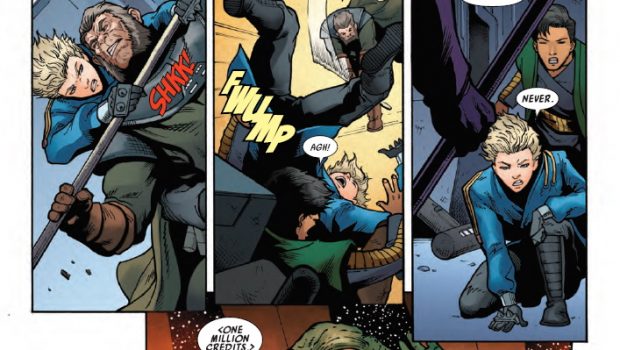 Published on July 18th, 2021 | by Tim Chuma
Star Wars: Doctor Aphra #12 (2020) Review
Summary: Dr Aphra gets in another sticky situation. How will she escape this time?
Dr Aphra and Sana are finally at the Crimson Dawn auction for Han Solo but have jumped out of the frying pan into the fire. Most of the people there not only have some sort of beef with Dr Aphra but also with each other and they will stab each other in the back at the slightest provocation.
The stories in the other comics are starting to cross over now and I had to stop reading the War of the Bounty Hunters to go see what happened in this one.
Dr Aphra is scared that one particular person will turn up that she does not want to see but still has a job to do. They are not even there to participate in the auction just to scope it out.
Even though you know nothing bad is going to happen to Dr Aphra, it is still exciting to see how this story is going to play out.
You don't really need to get this one if you are only following the main War of the Bounty Hunters story, but it does help fill in some of the back story that you don't get with just the main comic or the main Star Wars series.
Comic details:
Writer: Alyssa Wong
Penciler: Minkyu Jung
Cover Artist: Sara Pichelli
Publisher: Marvel
Published: July 14, 2021