Comics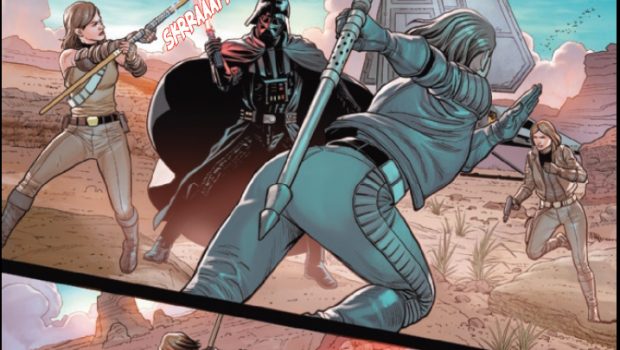 Published on January 16th, 2023 | by Tim Chuma
Star Wars: Darth Vader #30 Review (2020)
Summary: This is still a thing apparently. If you are still reading it at this point you don't need my advice.
Sabé has gone missing and Padme's handmaidens are looking for her fearing the worst when one of their number is captured by Vader. They follow and confront on him on a planet revealing their plan to get her back to which he tells them to put up or shut up. Then something happens none of them expect and there is another turn.
While I did rage quit this series around issue 16 after they went to Exegol I have not been blind to what has been going on in the wider storyline. Especially since somehow I "accidentally" several times and repeatedly seem to be still being sent copies of it I will read the occasional one to see what is going on but not review it.
Sabe is the main character along with Darth Vader and seems to be doing his bidding to the point that the other handmaidens are concerned she has gone missing. There is something else in play and no doubt it will be resolved in the events of the Hidden Empire.
And another thing…
*** INCOMING TRANSMISSION ***
Emperor Palpatine: ULIMITED SEMEN! So anyway, I was hanging out on Exegol having a gang bang with my clones wondering what to do now that Vader has rejected me and does not want to become the greatest leather daddy in the galaxy when…
DARTH VADER: STOP THIS NONSENSE! LEAVE THESE NICE COMIC BOOK READING PEOPLE ALONE!
Emperor Palaptine: No! I want to finish my anecdote! Maybe zap some more people in the wiener with my lighting!
DARTH VADER: NO! WE HAVE TALKED ABOUT THIS! YOU GO TO YOUR ROOM OR YOU DON'T GET YOUR CUSTARD!
Emperor Palaptine: Noooooo! Do not want!
DARTH VADER: OK COMIC BOOK READING PEOPLE, GOOD BYE!
*** TRANSMISSION ENDS ***
It's alright, read it if you want to read it, otherwise do not. Certainly might help to understand the events of the Hidden Empire story but they do not seem to be making it as necessary to understanding what is going on as it was in War of the Bounty Hunters.
Comic details:
Writer: Greg Pak
Penciler: Luke Ross
Cover Artist: R Rahzzah
Publisher: Marvel
Published: January 11, 2023