Comics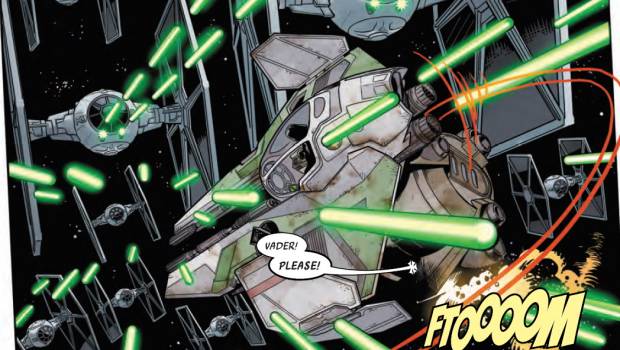 Published on February 12th, 2021 | by Tim Chuma
Star Wars: Darth Vader #10 (2020) Review
Summary: Darth Vader goes to Exegol finally, except their is another giant beastie in the way. Again!
After taking the Sith assassin Ochi hostage and heading towards Exegol, Vader faces an even bigger opponent in the unknown regions and the Umbaran arrives with three Star Destroyers to finish the job. Darth Vader does a good job fighting against them, but in the end chooses to face off against the giant beastie and goes into the red mist.
For a series that already has had a lot of action this one seems to be more of a filler story even though there are a lot things going on at once it seems.
The Unknown Regions are called that for a reason as they are just too dangerous to explore even with the resources of the Empire or the High Republic apart from a couple of cases. The name Skywalker originates in these regions from how they used to navigate them.
Given the giant beasts Vader has taken on in this series already it is strange that the Umbaran thinks Vader has "no chance" of escape from the giant monster and the red nebula. Even with the "no use of the Force" rule Palpatine has put on you know Vader will eventually get jack of it and cheat.
There are some alternate timelines on display here from the visions and I am not sure how this will go but you still know Vader will survive or there would be no Return of the Jedi.
If you are already on board with this series then I would recommend this one. For anyone else maybe go back and read the earlier stories in the series as it is getting a bit late to get into it now.
Comic details:
Writer: Greg Pak
Penciler: Raffaele Ienco
Cover Artist: Aaron Kuder
Publisher: Marvel
Published: February 10, 2021