XBox One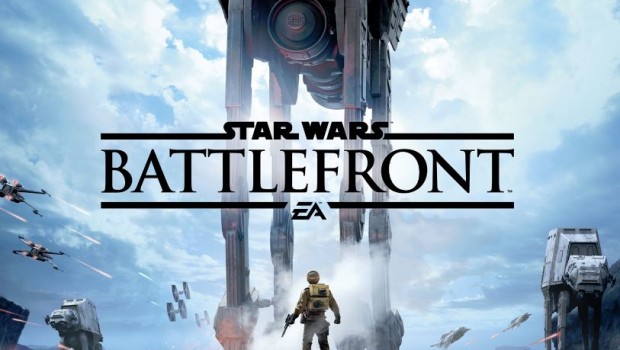 Published on November 25th, 2015 | by James Wright
Star Wars Battlefront Review
Summary: Star Wars Battlefront takes Battlefront to the world of Star Wars and gives players an authentic sci-fi experience!
With the end of 2015 almost upon us, there is one game that's been buzzing through the gaming community and that's Star Wars Battlefront. So with Star Wars The Force Awakens being released on the 17th of December, what better way to celebrate the launch of the new Star Wars films with this enjoyable sci-fi experience that is based in one of the universe's that we all know and love, the universe of George Lucas' Star Wars.
At its core Star Wars Battlefront is a multiplayer game that is built upon the backbone of the Battlefront engine but is firmly set in the Star Wars universe which not only successfully creates all the characters, weapons and environments from this franchise but you also get to control the spectacular vehicles and space crafts like racing speederbikes through the forest of Endor to flying X-Wings and the legendary Millennium Falcon which made the Kessell run in less than twelve parsecs which creates one of the most immersive Star Wars experiences to date.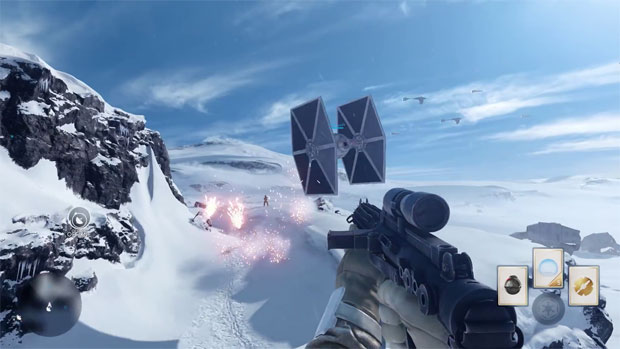 So while it does feel like a Battlefront game, the developers have tweaked the mechanics to give it that "Star Wars" feel, particularly how it handles the multiplayer aspect with up to forty players that can at times be quite chaotic. It also supports a levelling system and although there are no character classes perse, the game does allow you to customise your character so you can lean towards a Jedi or something more Rogue-like such as Han Solo. However before jumping into the game, you first need to select your Avatar and choose which Star Wars-esq weapons and equipment you wish to take into the gaming world.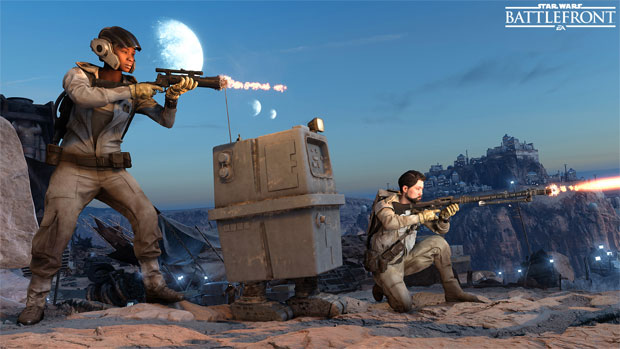 In terms of gaming modes, Star Wars Battlefront boasts a handful that include Blast, Cargo, Drop Zone, Fighter Squadron, Droid Run, Hero Hunt, Heroes vs Villains, Supremacy and Walker Assault. Blast is basically a team death match mode (10v10), Cargo has parallels to capture the flag, Drop Zone requires players to capture certain modes on the map with Fighter Squadron an awesome dogfight mode that allows players to fly X-Wings, Tie Fighters and even the Millennium Falcon and Boba Fett's Slave One. Droid Run pits six rebels against six imperials in order to capture and hold GNK Power Droids.
On the other hand, you have Hero Hunt which allows one player to control a hero, whereas everyone else is a trooper, Heroes vs Villains (6v6) requires players to kill the heroes on each of the sides with 3 players on each team controlling a hero with the remaining regular characters. Supremacy requires players to control and take over certain areas in the game and finally we have Walker Assault that pits the rebels against the powerful AT-AT's. All in all, I really could not fault these modes and they were very fun and exciting to play, particularly with all the Star Wars regalia, sound effects and music.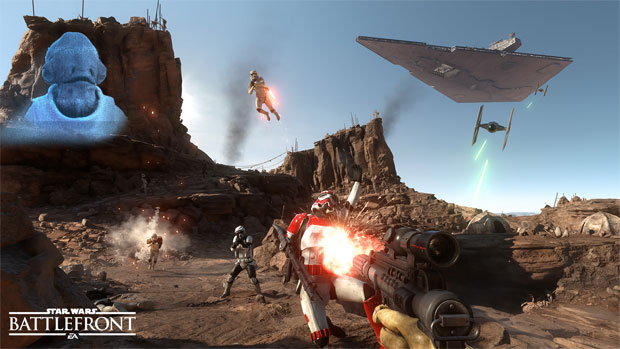 When it comes to gaming worlds, Star Wars Battlefront boasts four planets that include Endor, Hoth, Tatooine and Sullust which gives you around half a dozen maps. Obviously EA have plans for additional content such as the Battle of Jakku which will be released in December. So jumping into the action, it doesn't take long to get into multiplayer experience and action but if you're familiar with other online games like Battlefront or Call of Duty, the mechanics work quite well and even though the choice of weapons is limited, I had a ball working with my team in order to defeat our enemies.
However where this game adds something unique into the title is with the ability to control one of eight legendary "hero" characters from the franchise. So at certain times in the game (or none at all), players get to control these heroes which includes Luke Skywalker, Princess Leia, Han Solo (The Rebels) or Darth Vader, Emperor Palpatine and Boba Fett (The Imperials) which really gives your team a true advantage. So while the Jedi's have their force abilities and of course a lightsabre, other characters like Boba Fett has access to his jetpack that adds another layer of strategy to the game. So yeah, I really enjoyed playing the heroes and Star Wars Battlefront in general!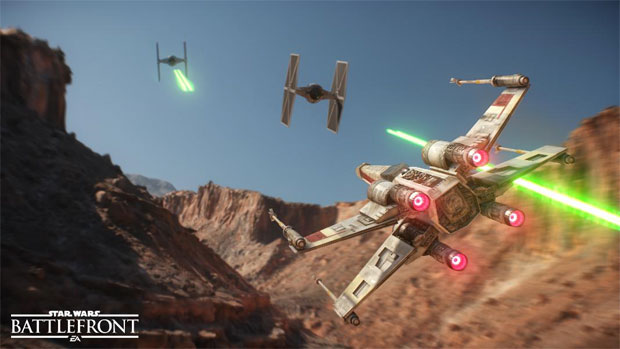 Graphics/Audio
On the graphical front, Star Wars Battlefront is oozing with Star Wars lore and successfully recreates this universe from the ground up on the Xbox One. Although using the Battlefront engine, the developers successfully use this base to create a whole world rich in Star Wars themes and mythology. Whether it's the planet of Endor with its lush forests and greenery or the deserts of Tattooine, everything looks how it would in the Star Wars universe.
Character design is another highlight which boasts some excellent detail and texture quality. Furthermore, vehicle design also falls into this category and whether it's the powerful AT-AT's or the iconic Millennium Falcon, the game is a true labour of love to this franchise. However you cannot beat the world of Endor which is easily one of the best multiplayer worlds in a long time, especially with the dense forests and Ewoks running around.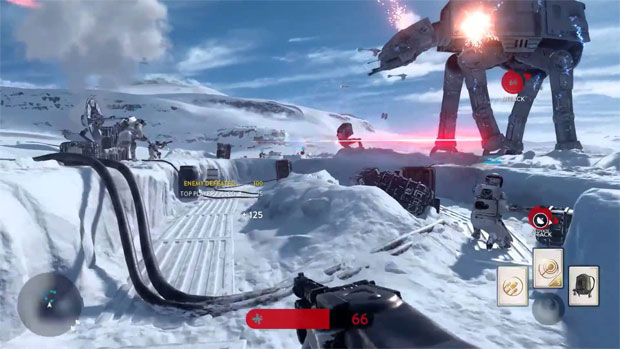 Besides the amazing graphics, Star Wars Battlefront boasts the sound and music from the films which really helps draw the player in. The iconic music is a must for any game and Star Wars Battlefront definitely uses this to its advantage. Voice acting is equally as professional and once again adds another layer of realism to this fictional universe.
Final Thoughts?
At the end of the day, Star Wars Battlefront is a great visit into this universe that heavily focuses on multiplayer and succeeds on this level. However with such a flawless gaming engine, it's also a shame that the game does feature a way to enjoy this title as a solo-player with a strong story and an adventure of your own. Nonetheless, it's still a great multiplayer experience on quite a few levels with some excellent level design, graphics and gameplay.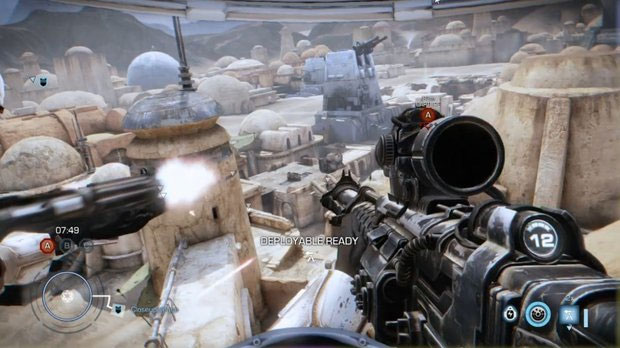 Key Features
The Most Immersive and Photorealistic Interactive Entertainment Experience
Visit classic planets from the original Star Wars™ trilogy, detailed with an unprecedented amount of realism and sense of authenticity that will transport you to a galaxy far, far away
Experience amazing digital replicas of the original Star Wars movie models, brought to lifelike fidelity by DICE's use of photogrammetry technology
Ground-based Combat on a Galactic Scale
Engage in epic battles on iconic planets including Hoth, Endor, and Tatooine. Also, bring the fight to the previously unexplored planet, Sullust.
Pilot a diverse set of ground-based vehicles including nimble speeder bikes, massive AT-ATs, and more
Master the Battlefront with Iconic Star Wars Characters
Play as some of the most memorable characters in the Star Wars universe including Darth Vader and Boba Fett
Encounter a variety of beloved characters from the original trilogy such as C-3PO and R2-D2
Take to the Skies in Epic Star Wars Dog Fights
Pilot the Millennium Falcon, X-wings, TIE fighters, and more of your favorite vehicles in exhilarating aerial combat
Made for Jedi and Padawans Alike
Battle alongside your friends online or in offline split-screen Co-op mode
Seamlessly swap between 1st person and 3rd person views