XBox One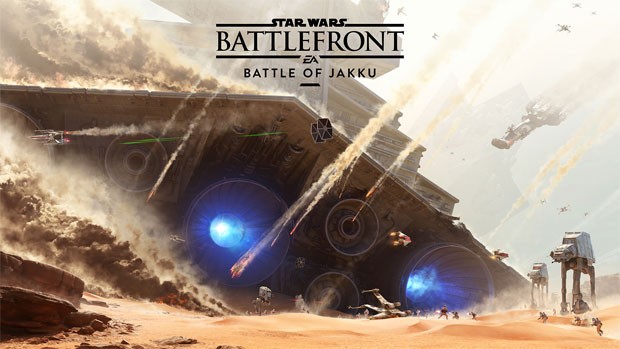 Published on December 5th, 2015 | by James Wright
Star Wars Battlefront Battle of Jakku DLC Review
Summary: Star Wars Battlefront The Battle of Jakku is a free DLC that gives the game a new mode and two maps to expand your multiplayer fun!
The first DLC of Star Wars Battlefront follows the events after Return of the Jedi and bridges the latest film, The Force Awakens as it is set on the planet of Jakku which was the Imperials last stand. So if you haven't been living in a Wompa cave, this world will be familiar because some of the trailers from Star Wars the Force Awakens feature this desert planet with crashed Star Destroyers but unlike the movie, this new area takes place 29 years before the latest film as the Rebels have the Imperials on the run.
Also coming to this DLC is a new mode called Turning Point which is a 40-player map (20 vs 20) as gamers can align themselves to either the Rebels or the Imperials forces. This gameplay mode is similar to Walker Assault as it gives the Rebels the upper hand with both teams trying to hold their capture points which can be difficult for the Imperials due to their limited resources but the when it comes to the last checkpoint, things do get more balanced. Communicating is a key to success and what I enjoyed about this mode was the intensity and of course the main map itself, Graveyard of Giants.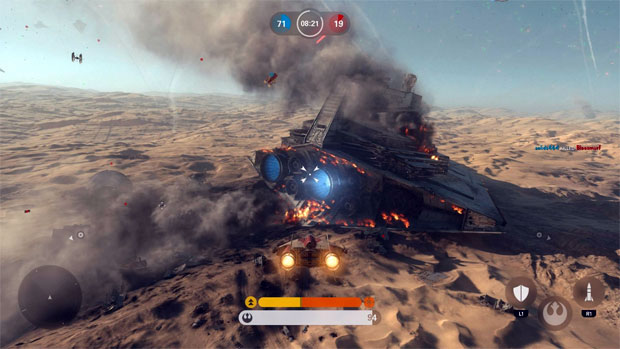 The developers should be commended in creating such a detailed world and no matter where you look, you always see something happening. The skies have the massive Star Destroyers above you as you see the battles take place in the heavens, whereas the land that also boasts downed ships is like a world torn asunder but with heavily steeped in Star Wars memorabilia. Apart from Turning Point, this map can also be used for Fighter Squadron, Supremacy and Walker Assault. However my favourite element was Fighter Squadron on this map due to the size and freedom of flying around. Once again, kudos to the developers!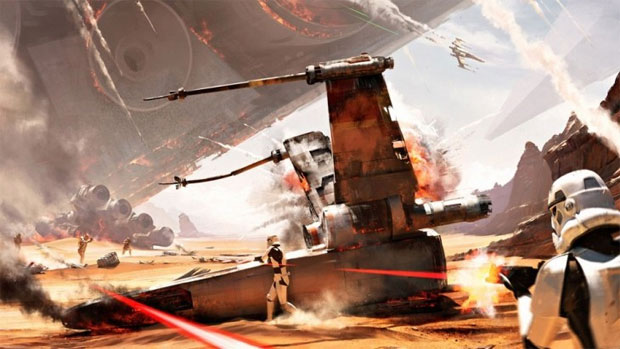 The other map is the Goazan Badlands which is considerably smaller than Graveyard of Giants and ideal for less players (still looks just as good) and allows you to play modes Blast, Cargo, Droid Run, Drop Zone, Hero Hunt, and Heroes vs. Villains which works really well. Using the environment to your advantage is the key, particularly the battle strewn areas with all the wreckage.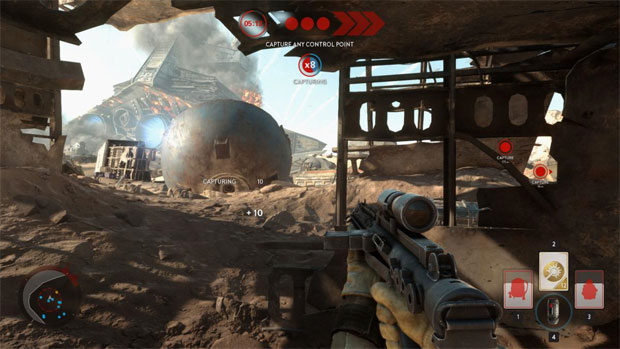 Final Thoughts?
Considering that Battle of Jakku is a free DLC for gamers, it's definitely worth grabbing because even though there was some criticism about the lack of gameplay modes in the main game, this adds another layer of complexity to the game, particularly from an Imperial standpoint. So grab your controller or keyboard and get transported to the world of Jakku in this thoroughly entertaining DLC for Star Wars Battlefront.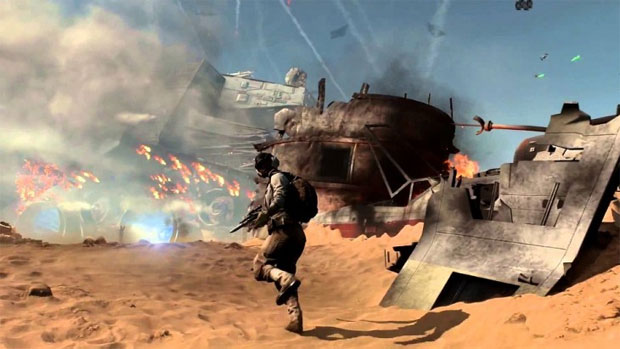 Key Features
Experience the events that created the massive, battle-scarred landscape of Jakku shown in Star Wars™: The Force Awakens™
2 new maps set on the all-new planet of Jakku
New Turning Point game mode
Available December 1st, 2015 for those that pre-ordered Star Wars™ Battlefront™
Available as a free download to all players on December 8th, 2015