Comics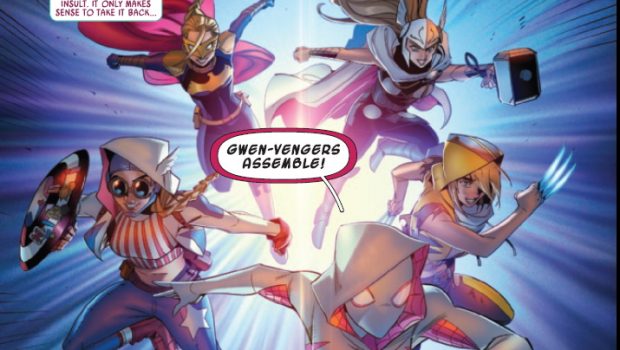 Published on August 29th, 2022 | by Tim Chuma
Spider-Gwen: Gwenverse #5 (2022) Review
Summary: Wraps everything up nicely for this short series. At this point I would wait until all parts are released as a collected issue if you want to read this.
All the different Gwens from the different mulitverses that Spider-Gwen has met up with while trying to work out what is happening to the timeline go up against the cause of all the trouble, the villain Finale. They finally work out a strategy that may work, but are they willing to pay the price?
I had dipped out on this for a bit so wanted to see how it finished at least. They sure managed to pack a lot into these series and it is kind of sad they will not going back to any of the characters for now as it definitely ended the storyline in a way they could not.
While the What If Myles Morales was more satisfying in terms of the conclusion, this series had a lot of interesting ideas and hopefully we get to see more of multiverse Spider-Gwen in the future.
This is only a short series so I would wait for the trade paperback to come out now and then buy all of these together.
Comic details:
Writer: Tim Seeley
Penciler: Jodi Nishijima
Cover Artist: David Nakayama
Publisher: Marvel
Published: August 24, 2022