XBox One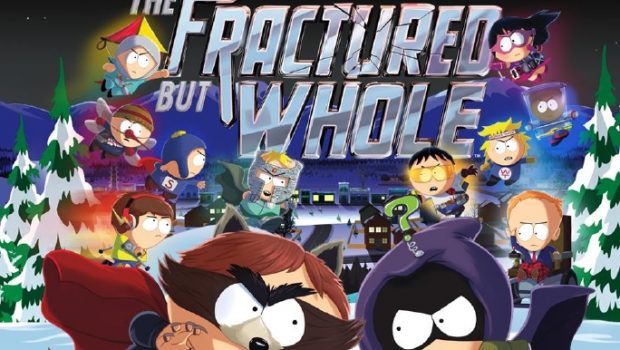 Published on October 19th, 2017 | by Lyla Saudi
South Park The Fractured But Whole Review
Summary: A well written slick action RPG that is full gross-out humour but lacking the layers of the South Park jokes and laugh out loud moments we loved from the original.
It's time again to 'head on down to South Park and have yourself a time'. With creators Matt Stone and Trey Parkers fingerprints all over this game, 'The Fractured but(t) Whole' presents an authentic recreation of the infamous TV show complete with writing and voice acting which makes you feel like a part of a series of extended episodes.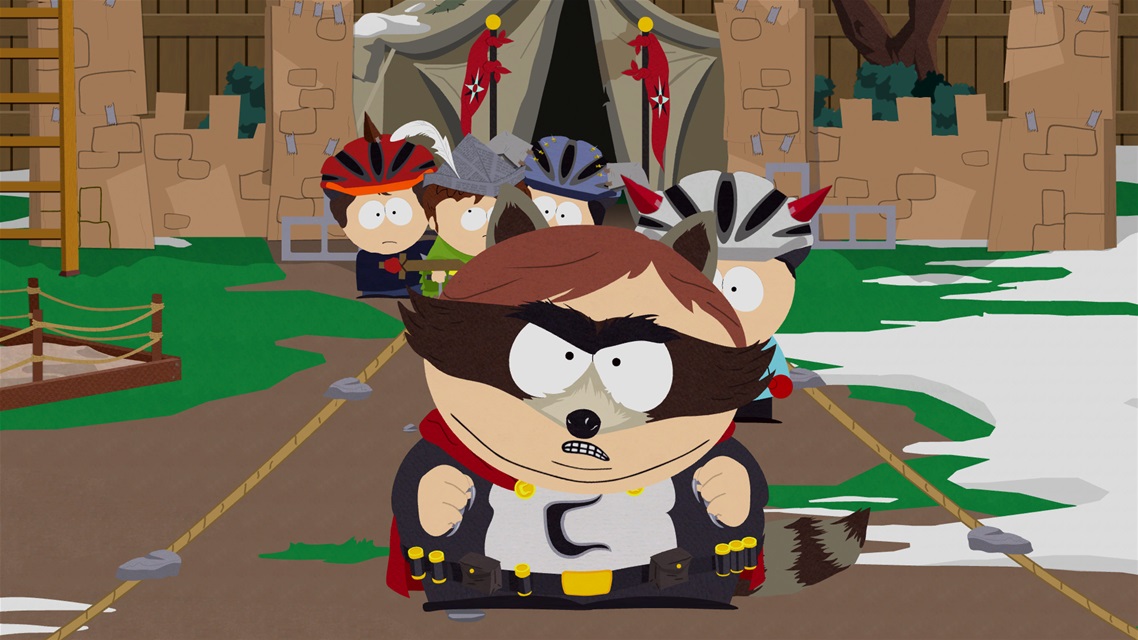 The game follows on from the original South Park game, 'The Stick of Truth', in every way. Presenting a slick evolution of the turn based RPG game style which was much adored by fans. However, while the original was laden with references from 15 years of the classic series, The Fractured But Whole presents a far more 'generic' experience with less inside jokes and throwback memories, replaced with fart jokes and shock (homoerotic) humour. While this makes the game more open to non-South Park fans, the hardcore among us are left feeling a little empty, with a desire to return to 'The Stick of Truth' to help Lemmywinks or the Underpants Gnomes one more time.
It starts with a missing cat, but soon Eric Cartman's alter ego 'the Coon', and his superhero buddies find themselves the only hope to rid South Park of its dark underbelly of crime. And while a noble cause exists, in true South Park fashion the much more important quests are to battle other rival superhero groups, gain 'Coonstagram' (instagram) followers, and become smothered in fame and fortune.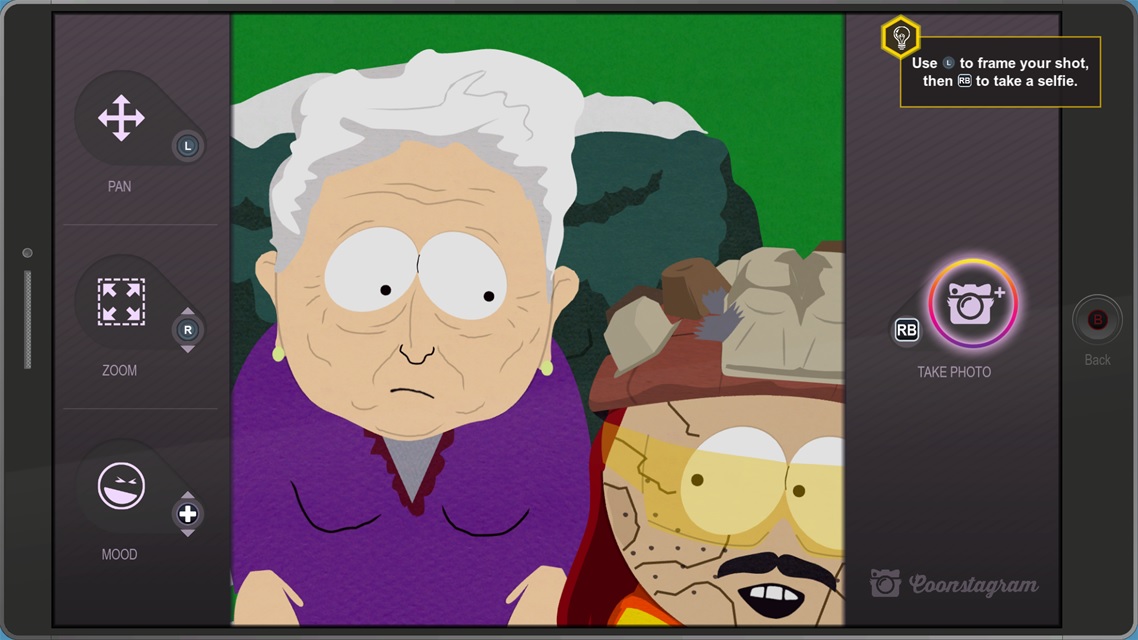 Creating your superhero, complete with a funny Cartman style back story, and South Park style kryptonite (think Crab People). You will also choose the level of difficulty based on skin colour (but don't worry this doesn't affect combat, just every other aspect of your life). From here you will explore environments, interact with objects (including pooping in people's toilets), complete quests for fame, and of course engage in turn-based RPG combat.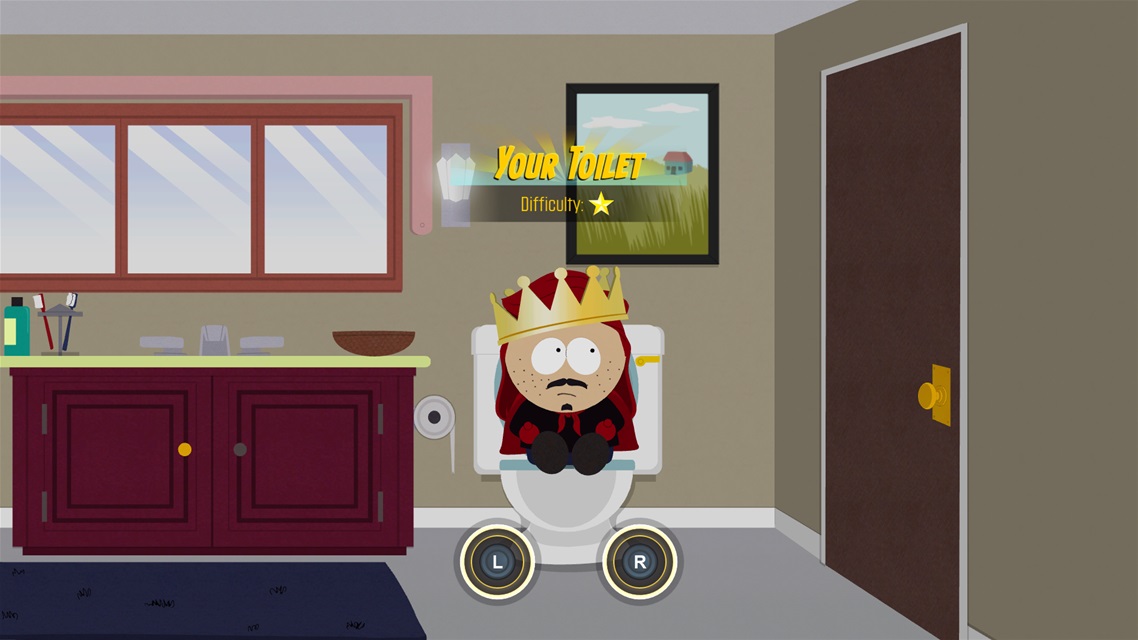 The superhero team, and their unique powers and combat animations, provides depth, variety, and challenge to keep you entertained. And while enemies (like wine drunk Randy, who was a notable highlight) can attack and ambush you at any point of the game, I liked how you could wiggle around enough to whack them first to give you the 'combat advantage' of having the first turn. Combat takes a significant (and upgraded) step forward in both challenge and substance, by using a combat grid to highlight different squares depending on the character and their power ability.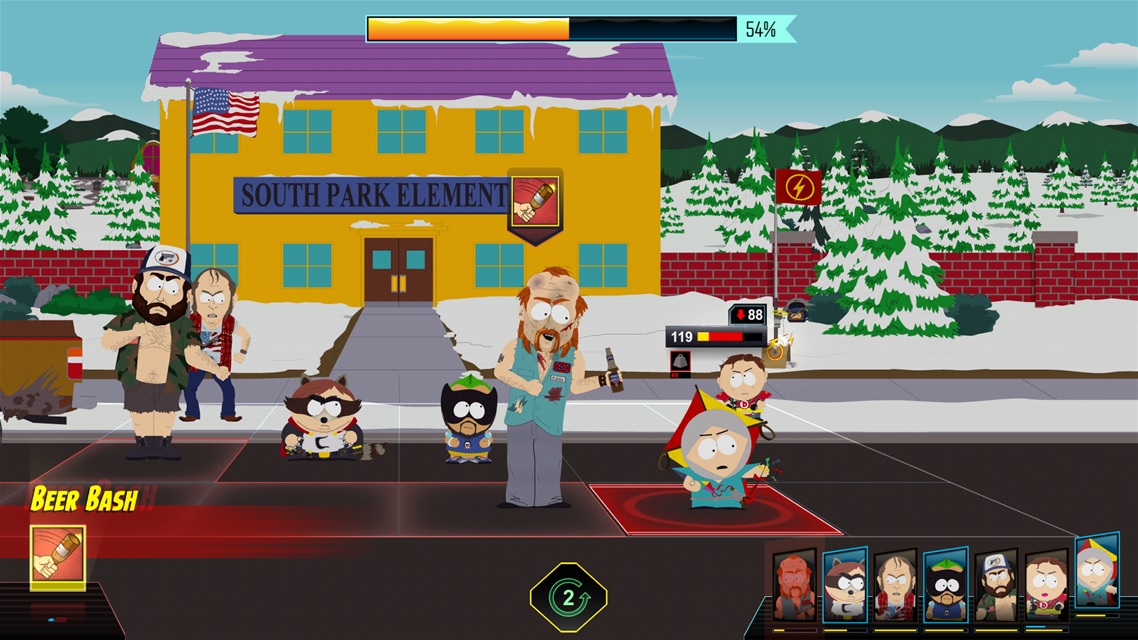 The rest of the game involves a variety standard RPG primary and side quests (like finding food ingredients for Morgan Freeman) to encourage you to explore South Park and engage in battles for dominance. And while the individuality of each fight keeps the game moving and the player engaged, the re-use of the town setting from the original game makes the exploration experience less exciting the second time around.
Graphics and Audio
The voice acting is flawless and the graphics are beautifully animated in the famous 2D South Park style but I found the text and icons used on the map to be a bit on the small (squinting) side. The dialogue is entertaining throughout, remains unique and clever, and is the clear highlight of the game. Every battle and quest is full of banter and is customised based on your superhero background and party makeup.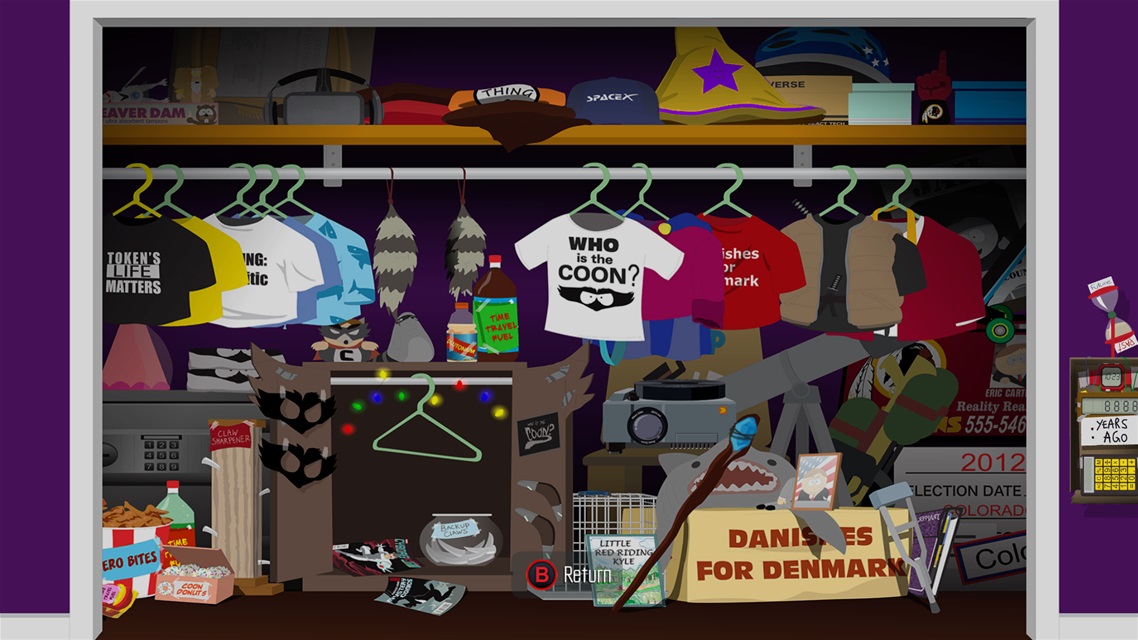 Final Thoughts?
The Superhero context and Civil War setting between rival superheroes is excellent and I especially liked how there are modern references to online and social media.  And while the game presents a slick RPG experience, dynamic combat, and plenty to explore and do, the focus on more generic fart jokes and lack of depth of South Park 'history' jokes leaves the game feeling more video game generic, and less South Park specific.
Game Details
Title: South Park: The Fractured But Whole
Publisher: Ubisoft
Developer: Ubisoft, Ubisoft San Francisco, South Park Digital Studios LLC
Genre: Role-playing Video Game
Rating: R 18+
Platforms: PS4, Xbox One, PC