Blu-ray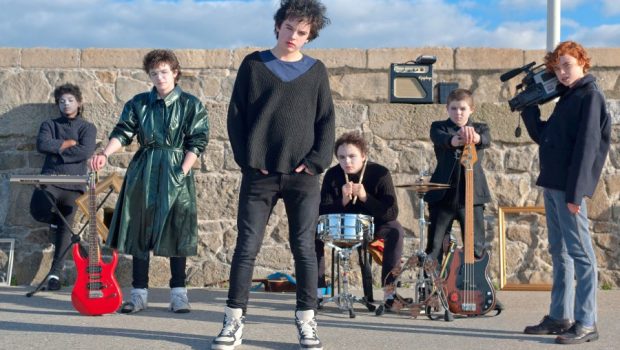 Published on November 28th, 2016 | by Natalie Salvo
Sing Street Blu-ray Review
Summary: "Sing Street" is an exuberant, coming-of-age musical film. It's so fun it will leave you singing its praises.
"Sing Street" is a feel-good musical about the in-between days found nestled between childhood and adulthood. The film is an optimistic one set in Dublin in the 1980s. It was a halcyon time in the post-punk era where a kid could start a band by picking up an instrument and people across the world were falling in love with and saying they wanted their MTV! much like this film- it was a colourful time indeed.
This story is a semi-autobiographical one by writer and director, John Carney. The latter is no stranger to the world of music as he was formerly a member of Glen Hansard's group, The Frames and the pair had a hit film in 2006 with "Once." Carney is almost like an Irish Cameron Crowe here because "Sing Street" certainly has some things in common with "Almost Famous" even if the protagonist in this film is an aspiring musician rather than a rock journalist.
Ferdia Walsh-Peelo stars as Conor, an idealistic dreamer and sensitive, arty kid. Conor's parents are suffering from money problems and the disintegration of their marriage. To save money, Conor is moved from his elite private school to a Christian Brothers one. This move means that Conor is sometimes subjected to abuse and taunts by the local bully and a mean-spirited teacher/brother.
Conor meets the gorgeous, aspiring model Raphina (Lucy Boynton) but he realises she is more worldlier than he is and that she is also out of his league. In order to impress the girl Conor decides he will form a band with a ragtag group of misfits he has befriended at school. Conor's brother, Brendan (Jack Reynor) is a stoner and music fan who serves as his brother's musical mentor much like Zooey Deschanel was when she coached her on-screen brother William in "Almost Famous." The soundtrack is also excellent with the likes of The Cure, Hall & Oates and A-HA featuring quite prominently.
The band make big strides writing their own songs and producing their own music videos. Their sound is a kind of teen angst-fuelled pop one that is influenced by the music and looks of the time including new wave and the romantics. The young actors all put in excellent performances in "Sing Street" with Conor quite often resembling a young Robert Smith of The Cure fame. Boynton and Walsh-Peelo also share a noteworthy chemistry as young lovers. The special features are satisfactory and include a few making of featurettes with Carny as well as Adam Levine plus videos of the cast auditions.
"Sing Street" is an exuberant romp and dramedy that is cut from the same cloth as one of John Hughes' coming-of-age stories. The film is like a love letter to the craft of song writing and the characters are so darned likeable that you will be rooting for them all to succeed and hit the charts sometime soon. "Sing Street" is ultimately an accessible, multi-faceted story that is so fun to watch it will leave you singing its praises.