Comics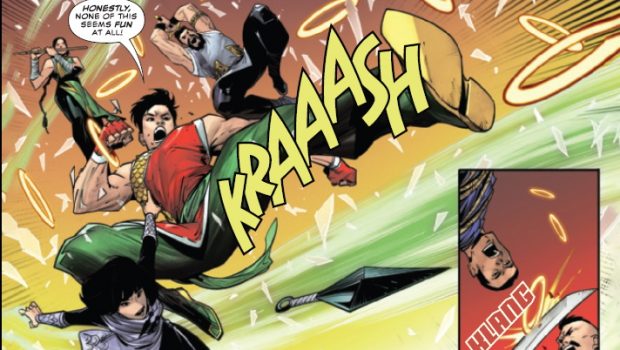 Published on January 8th, 2023 | by Tim Chuma
Shang-Chi: Master Of The Ten Rings #1 Review (2023)
Summary: A good introduction to this character if you have never seen a story with him before or just want to read an issue without a bunch of backstory to learn.
Due to a series of events involving the bones of his father and a resurrection ceremony Shang-Chi ends up stuck in the past and the only person who can help him is a younger version of his father. He already knows his father will turn out evil but does he really know why he ended up that way?
I have enjoyed stories by this author before such as the Superman Smashes the Klan re-imagining and Dragon Hoops so this one is a good one for people to introduce themselves to the character if you haven't been following the main story. I had stepped out for a while and it had been very confusing when I came back in so this is a perfect place to come in if you just want to see what this character is about.
All of Shang-Chi's siblings are involved at the start so there is no running around and there is somewhat of a reunion with a younger version of his father. The writer does this sort of story well as I remembered from the other works of his I have seen.
I would recommend this one if you are a fan of this character or want to just try out a story with this character without having to catch up on a whole lot backstory to work out what is going on.
Comic details:
Writer: Gene Leung Yang
Penciler: Michael Yg
Cover Artist: Jim Cheung
Publisher: Marvel
Published: January 04, 2023