PS4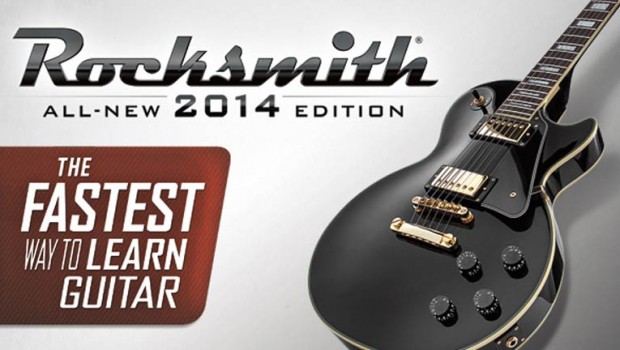 Published on November 28th, 2014 | by Admin
Rocksmith 2014 Edition PS4 Review
Summary: Rocksmith 2014 Edition is the perfect way for both non-gamers and gamers to master the guitar on the PlayStation 4
Rocksmith 2014 Edition
Format – PlayStation 4
Genre – Music
Rating – M
Game Developer – Ubisoft San Francisco
Game Publisher – Ubisoft
Reviewer – Peter Bourke
Unlike Guitar Hero which has almost become a distant memory in the gaming world, Rocksmith was actually a video game that taught gamers and mainstream folk how to learn to play the guitar. By plugging any real guitar or bass into the USB attachment, this piece of edutainment would then recognise the instruments in order to teach people the various skills and techniques needed to play and quite possibly master the guitar. Sure, the previous instalments had a few flaws and you did need to invest your time, especially for those who never played a guitar before but it actually worked and worked quite well.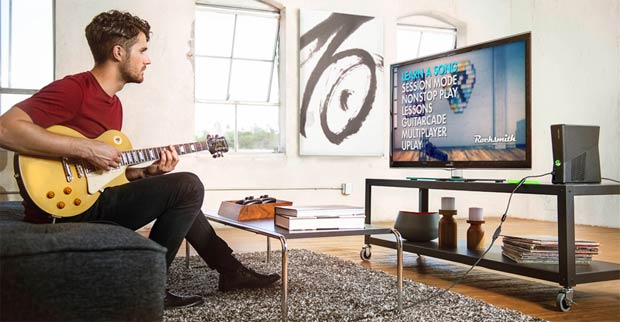 However with these slight issues, Ubisoft San Francisco have redesigned Rocksmith for the PlayStation 4 (reviewed) and the XBox One to not only make it a more streamlined and faster experience but give additional techniques to help players master the guitar. You also have over 50 hit songs at your disposal from artists such as the Arctic Monkeys, Queen, Muse, Boston, Slayer, Foo Fighters and Aerosmith to name a few and with practice and more practice, you'll be jamming to your heart's content.  With that said, I've played the previous Rocksmith game before on the PlayStation 3 and the new title is far superior in terms of its navigation, especially with its tutorial videos so Ubisoft San Francisco definitely listened to some of the issues of the other games.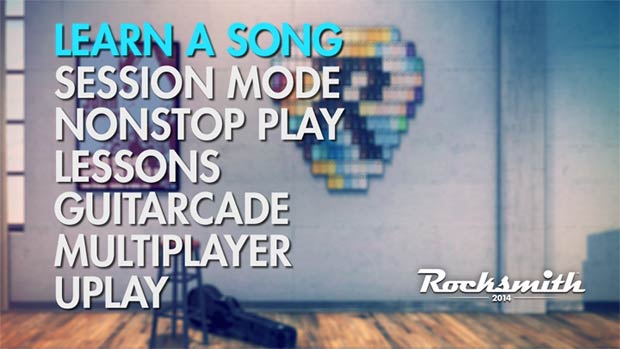 Another interesting aspect to Rocksmith 2014 Edition is that if you owned previous DLC content, you can re-import these libraries into the current version and although session modes and all the various guitar tools are still included, they look far superior in glorious 1080p. Ubisoft also plans to release additional musical content for Rocksmith 2014 on both the PlayStation 4 and XBox One with over hundreds of songs available now. That's definitely a great commitment from Ubisoft.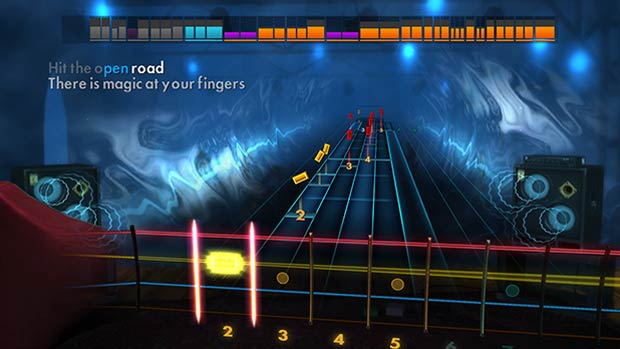 To help you fine-tune your skills, Rocksmith 2014 offers a fun guitarcade mode that includes some retro type mini-games to help you master your guitar skills. Sure, they are a little basic and at times reminiscent of Guitarhero but the games are quite fun and once again assist in your overall guitar experience. Another cool aspect of the game is the session mode which allows you to customise the tracks with your own unique music style. The PS4 version even allows you to share your session modes or guitarcade to the internet.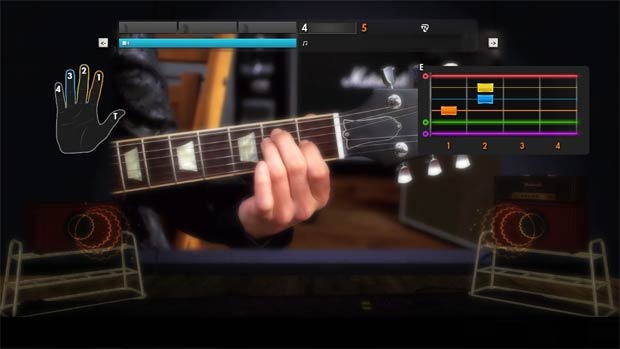 When you do start playing, the title offers gamers a variety of difficulty levels from beginner (myself) to experienced (my brother) which allows the game to tailor its experience and you can even choose whether you want to play lead, rhythm of bass as well. I also like how Rocksmith does offer suggestions in order to improve your guitar playing which definitely assisted me quite a bit. Once you have moved away from tutorials, Learn a Song Mode is the next stage that focuses on certain aspects of the song in order to assist the player in mastering the track.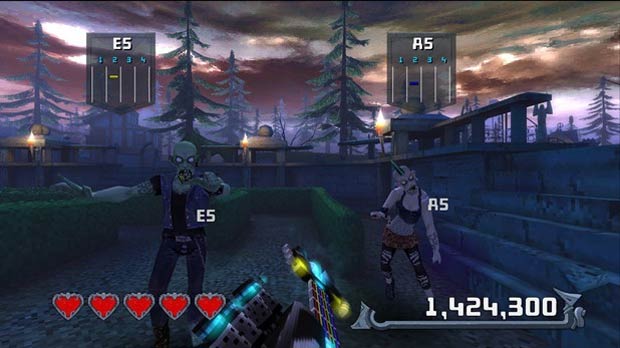 In terms of connectivity, connecting an external guitar to the Rocksmith on the PS4 is very easy. You simply connect the included dongle and then plug your electric guitar or bass into this unit and presto, you can almost start playing. You do need to the tune the guitar but after practice this does get easier and sometimes I did find some lag and interference issues which thankfully doesn't affect the overall experience. The PS4 version also supports the remote play feature for the PS Vita but we found this feature very lacking as it doesn't really interact with the game at all as you need to connect your guitar to an external amp. Nonetheless, Rocksmith 2014 for PS4 is quite a decent release, especially for those gamers interested in mastering the guitar.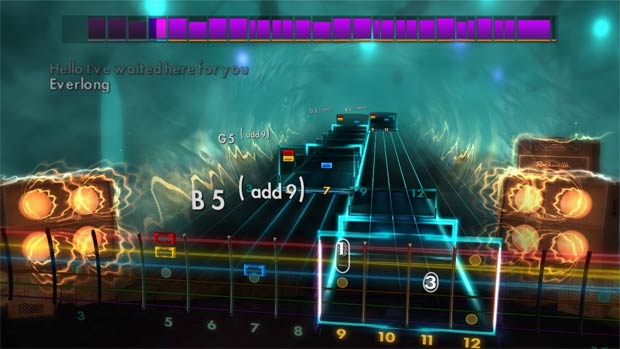 Final Thoughts?
Rocksmith 2014 Edition is definitely a more streamlined game on the PlayStation 4 that has been fine-tuned for this console. It's definitely faster and a more flawless experience than previous instalments and I love the fact that you can share your music experience with the world. It features a great tracklist and more importantly, you can access your previously owned DLC as you attempt to be the best damn guitar player possible. However patience is the key to success with Rocksmith!
Key Features
A proven method to learn guitar fast.
National research studies have found that Rocksmith is the fastest way to learn guitar. Over 95% of players have improved their guitar skills. Whether you're a beginner touching a guitar for the first time, or a seasoned player mastering your sound, Rocksmith gets you results, fast.
A reimagined experience.
Redesigned menus and in-game interfaces are now clear, smooth, and blazing fast. It's never been easier to play along and get feedback on your performance as you go.
Learn your favourite songs.
Select from over 50 hit tracks, ranging from alternative rock, to heavy metal, to classic rock, and more. You will learn to play your favourite songs, step-by-step and note-for-note, with tutorials along the way. Rocksmith 2014 Edition is also backward compatible with the songs you have from the original Rocksmith.
Designed for ease and speed.
Features are now more accessible and flexible than ever. A new fully-customizable Riff Repeater lets you select your section, difficulty, and speed on-the-fly. Master Mode has been revamped to make learning by memory more approachable. Or jump into over 10 new and improved Guitarcade mini-games to hone your skills.
An authentic guitar playing experience.
Rocksmith 2014 Edition includes new tunings, techniques, effects, amps, pedals and tones for an unprecedented degree of accuracy and a deeper level of guitar learning than ever before.
Learn to jam with Session Mode.
Session Mode lets you experience playing alongside a virtual band. Choose your own combination of instruments to follow your lead. With on-screen prompts and objectives that motivate learning and improvement, you can enjoy the feeling of jamming whether you're a beginner or advanced player.
Capture your licks with all-new recording options.
Use the integrated streaming and capture features on the PlayStation® 4 system and Xbox One® to share and record your best performances. Whether it's a great Session mode run with your virtual band or showing off your favourite custom tone from Tone Designer, you can now record and share your work with ease.
Import your current-gen DLC library.
Players will be able to use their existing DLC purchases across their Xbox 360® and Xbox One® or across their PlayStation® 3 systems and PlayStation® 4 systems without having to repurchase content or pay additional licensing costs. Upgrade without leaving your favourite songs behind and continue to grow your library with access to the over 300 songs available for purchase. New DLC is regularly added to the store and will continue to be cross-compatible.
Improved visual fidelity.
Rocksmith 2014 Edition will feature 1080p HD graphics for greater clarity and visual quality compared to the original releases on the Xbox 360® and PlayStation® 3 system. Players will be able to learn songs and follow along with sharper graphics than ever before. Video lessons have also been updated with higher resolution versions.
Get Plugged in
Rocksmith 2014 Edition is compatible with the original Rocksmith Real Tone Cable that plugs any real guitar** directly into your PlayStation® 4 system or Xbox One®.
Exclusive next-gen Rocksmith 2014 feature
Exclusive to Rocksmith 2014 for the PlayStation® 4 system is Remote Play. With Remote Play players will be able to view songs at a locked mastery level without any input required on their PlayStation® Vita systems. This mode is perfect for players looking to review a song in its entirety or to play along with a song without feedback or scoring.
**Requires 1/4″ output jack.