Blu-ray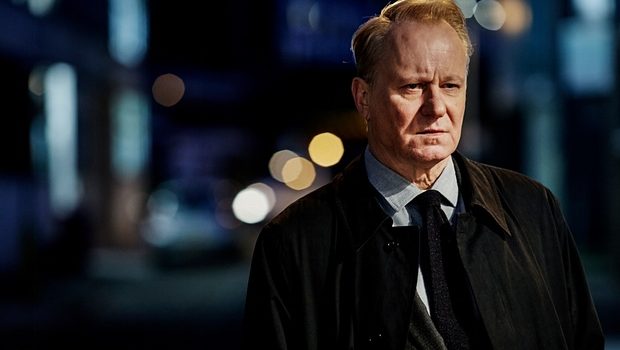 Published on August 13th, 2017 | by Natalie Salvo
River Blu-ray Review
Summary: "River" is an ambitious police drama that draws together a number of important themes and issues. This gives the series real heart and makes it very watchable.
River deep, mountain high. This song lyric could apply to the TV series "River" because it's an ambitious crime show. It's one that is made by the same production company as "Broadchurch" and it should impress fans of that crime drama. "River" is ultimately a thought-proving and complex series that will keep you guessing about its titular character and those he meets until the very end.
This series is written and created by Abi Morgan ("The Iron Lady.") Stellan Skarsgård stars as a police detective named John River. He's a grumpy old man and bookish workaholic. He has had a long working relationship with a policewoman called Jackie 'Stevie' Stevenson (Nicola Walker.) She is River's complete opposite and is a playful, worldly and funny woman who loves seventies disco music. Stevie is brutally murdered but she remains a constant companion by River's side.
It turns out that Stevie is one of several manifests that River sees. They don't appear like ghosts or apparitions, just like regular characters. But it is obvious that only River can see and speak to them. Across the six episodes, River invests lots of time and energy into Stevie's murder investigation and slowly learns a lot about his former colleague and partner, a woman he thought he knew.
River's boss (Lesley Manville) and new colleague (Adeel Akhtar) are concerned about the detective's mental health because he actually witnessed Stevie getting killed. The former orders a psychiatric assessment by a therapist (Georgina Rich.) River is initially uncertain about therapy but it is obvious that seeing these manifests means that he has a mental illness of some sort. The manifests are generally individuals from his own unsolved murder cases but there are also some strange exchanges between River and a 19th century criminal (Eddie Marsan) who is supposed to represent the darker aspects of River's personality.
This series has some great acting in it. Skarsgård really helps to carry the proceedings while Walker helps bring an understated warmth and charm to Stevie. This gives the program an added depth and weight that is missing from your average police procedural. "River" also explores the issues of pain, loss and shame. The special features are disappointing however, and include three very short featurettes with brief cast and crew interviews.
"River" is an exciting and slick police drama that is well-told and resolved. It's a show that tackles a number of different things and manages to touch on some complicated elements yet draws these all together very well. This series is ultimately a nuanced and engrossing one that is a portrait of a brilliant detective's fragile mind and proves that it is more than your average day in the office.
Blu-ray Details
Actors – Stellan Skarsgård, Nicola Walker, Adeel Akhtar, Georgina Rich, Lesley Manville, Owen Teale
Film Genre – TV Drama
Label – ABC
Audio – English (DTS-HD 5.1)
Running Time – 350
Aspect Ratio – 1.78:1
Region Coding – B (Blu-Ray)
TV Standard – HD
Rating – MA15+
Consumer Advice – Strong violence
Year of Release – 2015
Primary Format – Movies/TV – Blu-Ray