Switch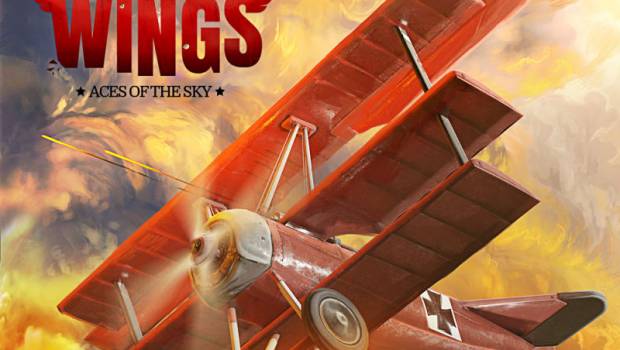 Published on May 25th, 2020 | by Paul Stuart
Red Wings: Aces of the Sky Switch Review
Summary: Yet another arcade flight simulator that fails to properly take-off.
Confession: I'm in love with World War 1 flight games. There's something so utterly crazy and awesome about open air cockpit dogfights…and the incredible engineering that even made them possible. The legend of Manfred von Richthofen, the famed Sopwith Camel…and – of course – zeppelins!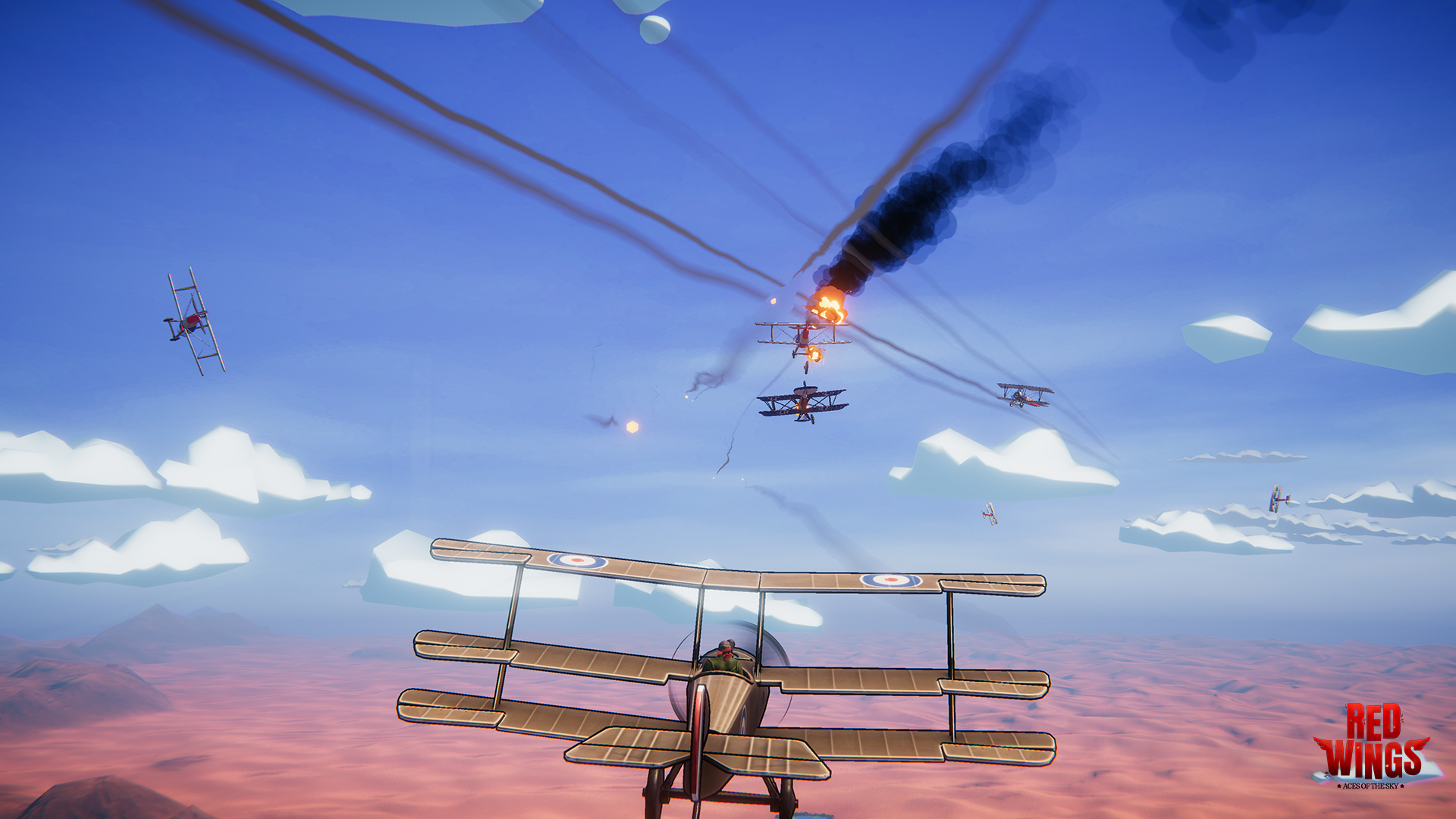 Red Wings: Aces of the Sky  is a noble attempt to capture the spirit of this era and the Great War. Presentation-wise, it can be beautiful. Polish developer All-in Games clearly invested considerable time and effort on the terrific cel shade cut screens also a stellar soundtrack. Also cool is the opportunity to select from either side (Entente Powers or the Triple Alliance) in the campaign, both presented historically accurate. Go gunning in 10 different planes and oodles of missions for/against the aforementioned Richthofen, better known as 'The Red Baron.'
The decision to go arcade was a smart one, especially for the Switch where a plethora of menus and on-screen items is never a good idea. With dozens of missions, there is something for everyone. Dogfights, refueling challenges, weather balloon hunts, bombing runs, etc. Red Wings is easy to get into, and all missions are fairly straightforward.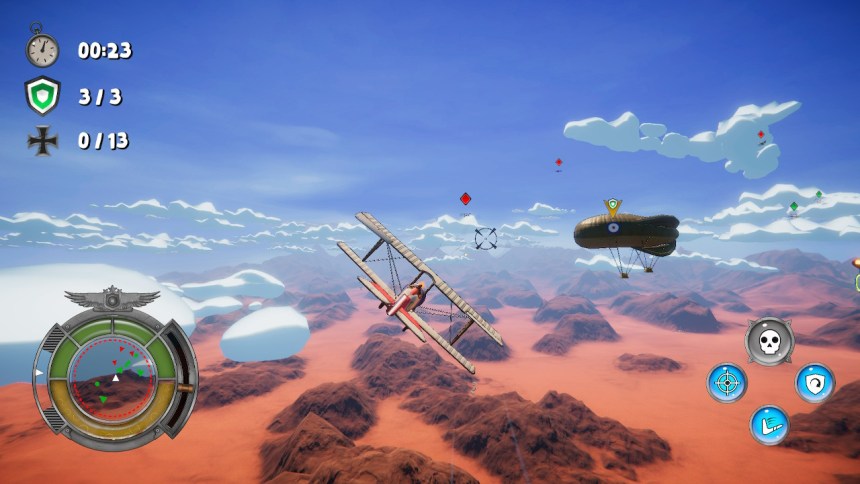 My biggest criticism of Red Wings is one that plagues many attempts at flight simulators: the awful heads up display (HUD). What results is trying to locate versus realistically chase and avoid enemy pilots, immediately eliminating any semblance of actual dogfight. In Red Wings, you'll expend considerable time and frustration simply locating enemy planes and/or mission objects. There is zero indicator if enemies are above or below you.
Also – and while the intent solid – Red Wings' skill tree system feels continuously awkward. Barrel roll and quick turn skills – for example – instead resemble arcade fighter special moves versus flying tactics. Pilot quick kills (via a pistol at close range upon a weakened adversary) is rarely exciting, as it so difficult to track opponents due to the aforementioned HUD. I dig the repair/refuel rings…but good like finding them.
Another critique lies in how Red Wings portrays altitude. Yes, there's an altimeter, but on-screen graphics are poor at distinguishing differences in height (especially in night missions). In exception to an on-screen warning to pull up, it really does feel as if one is flying blind.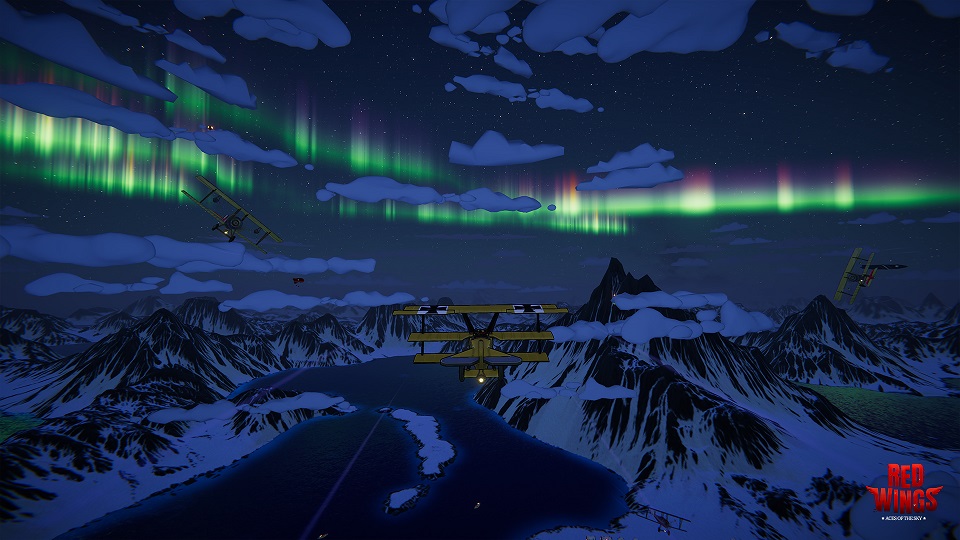 Don't get me wrong: I don't expect miracles on an arcade, historical flying game…for the Switch…and via a new, independent developer. I did – however – hope for a deeper sense of immersion when in flight. Despite the diversity in missions, monotony sets in quickly stemming from the interface and execution. There's little allure to go back to Red Wings, unless you're a true completionist trying to finish flawed missions in record time (to acquire maximum upgrade points).
Again, it would not be fair to place these criticism upon Red Wings without acknowledging them but one of dozens of attempts at this genre with an identity crisis. A rare bright spot is 'Rogue Aces,' an over-simplistic but deliberate period flying fighter title that know what it is…and isn't. And I keep going back to it for this reason.
Final Thoughts
Well intended but average in execution, Red Wings: Aces of the Sky is a noble also flawed attempt at an arcade WW1 flight shooter. Despite occasionally beautiful visuals and audio, execution is sorely lacking.