Blu-ray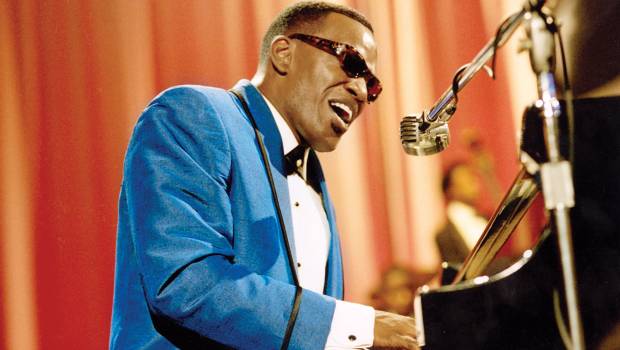 Published on December 28th, 2020 | by Natalie Salvo
Ray Blu-ray Review
Summary: This bio-pic is a moving tribute to Ray Charles' extraordinary life. Jamie Foxx's performance is stellar and the music will have you hooked. Don't mess around!
James Brown was the soul man; Billy Joel the piano man; and Ray Charles was a Blues Brother. It's fair to say the latter was also a charismatic chameleon who could tickle the ivories with a soulful spirit. The film, "Ray" captures this wonderful character and all-round cool cat in an intriguing – if long – biopic.
The film was a labour of love for director Taylor Hackford ("An Officer & a Gentleman") who had toiled away at it for some time. Things paid off in the end. The result is a rich and complex look at Charles' life, from his childhood in Florida through to playing jazz clubs, encountering racism, and his eventual rise to superstardom.
It's easy to see why Jamie Foxx won an Oscar for his work here. He has got Charles' mannerisms completely down pat: from his softly-spoken, gravelly voice through to his skittish movements. Foxx also plays the piano so he is very convincing in that regard. This is despite the fact the filmmaker chose to use Charles' own vocals for the actor to lip-sync to.
This film is full of all the major beats in Charles' life and his big hits like: "I've got a Woman," "Georgia On my Mind," "Mess Around" and "Hit the Road, Jack." It means that the film should engage both old and new fans alike. The fusing of different genres: R & B, Gospel and Soul means the music is still thrilling to listen to. It's easy to see why Charles is revered and considered such a seminal artist.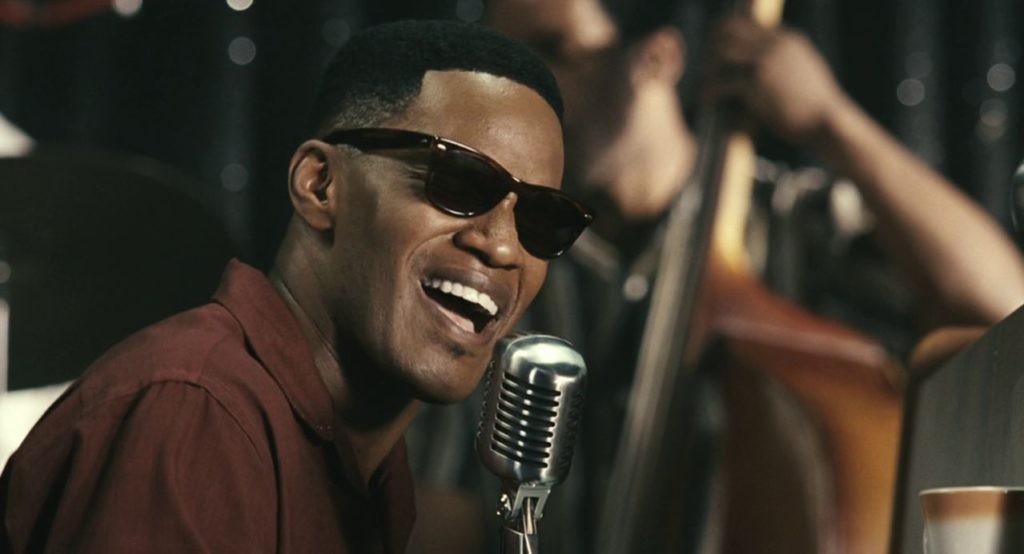 There are many women who play an important role in Charles' life and therefore in this film. There is his tough, no-nonsense mother Aretha (an excellent, Sharon Warren) who dolls out tough love to her son. Charles would witness his brother drown and would eventually become blind as a boy. The former was something he never forgave himself for. Aretha is a self-sufficient woman and she teaches Ray this trait; as well as perseverance and not to be defined by his disability.
Charles wife, Della Bea Robinson (Kerry Washington) also plays an important role. A gospel singer herself, the pair would be married for around two decades until Charles hit rock bottom due to drug addiction. He had many affairs with different women and fathered around a dozen children (though they don't appear here). The "Mrs Ray Charles" of the road and former Raelette, Marjorie (an enraged Regina King) also plays a pivotal role. The actors all put in strong performances.
The Blu-ray edition includes a swathe of exciting bonus material. This includes featurettes, commentary with Hackford, a trailer and deleted scenes. The featurette, "The Music of Ray" is provided in HD while the remaining material is in standard definition. All are a joy to watch.
"Ray" is an uplifting bio-pic that is a detailed look at one extraordinary artist. The film is ambitious and tries to tackle a lot of ground during its two and a half hour runtime. In the end it will leave you with a great appreciation for this smooth and soulful artist, and his deep and soulful love songs.
Blu-ray Details
Film Genre Drama
Label Umbrella Entertainment
Audio English (DTS HD Master Audio 5.1)
Aspect ratio 1.77:1
Region Coding B
TV Standard HD
Rating M
Consumer Advice Mature themes and drug use
Year of Release 2004
Primary Format – Movies/TV Blu-Ray