Switch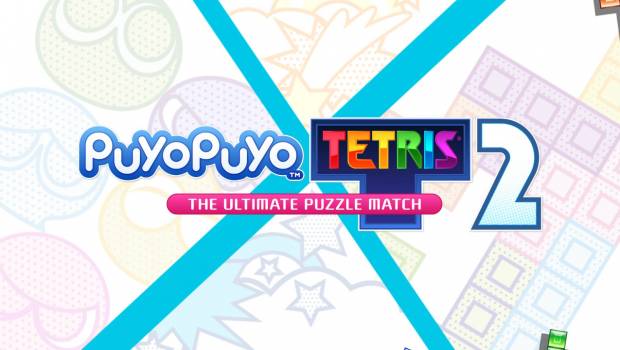 Published on December 14th, 2020 | by Hugh Mitchell
Puyo Puyo Tetris 2 Review (Nintendo Switch)
Summary: Puyo Puyo Tetris 2 doesn't do much to differentiate itself from the original, which isn't a bad thing in my eyes.
If you think about it, Puyo Puyo Tetris 2 is kind of an analogy about the duality of the cosmic state of being. Tetrominos are rigid, uniform, sterile, metallic structures that can only achieve a state of completeness when structured to form a single, perfect line; they thrive on order. Puyos on the other hand, are soft, round, squishy life forms that find satisfaction gathered together in clusters of like-minded individuals and thrive amongst the tumbling chaos of multiple groups achieving completeness together. I don't know where I'm going with this, but I couldn't think of anything to write for the intro paragraph for this Puyo Puyo Tetris 2 review, except that it's very similar to the first game and still extremely delightful. Read on to find out more, I promise to ease up on the cosmic metaphors.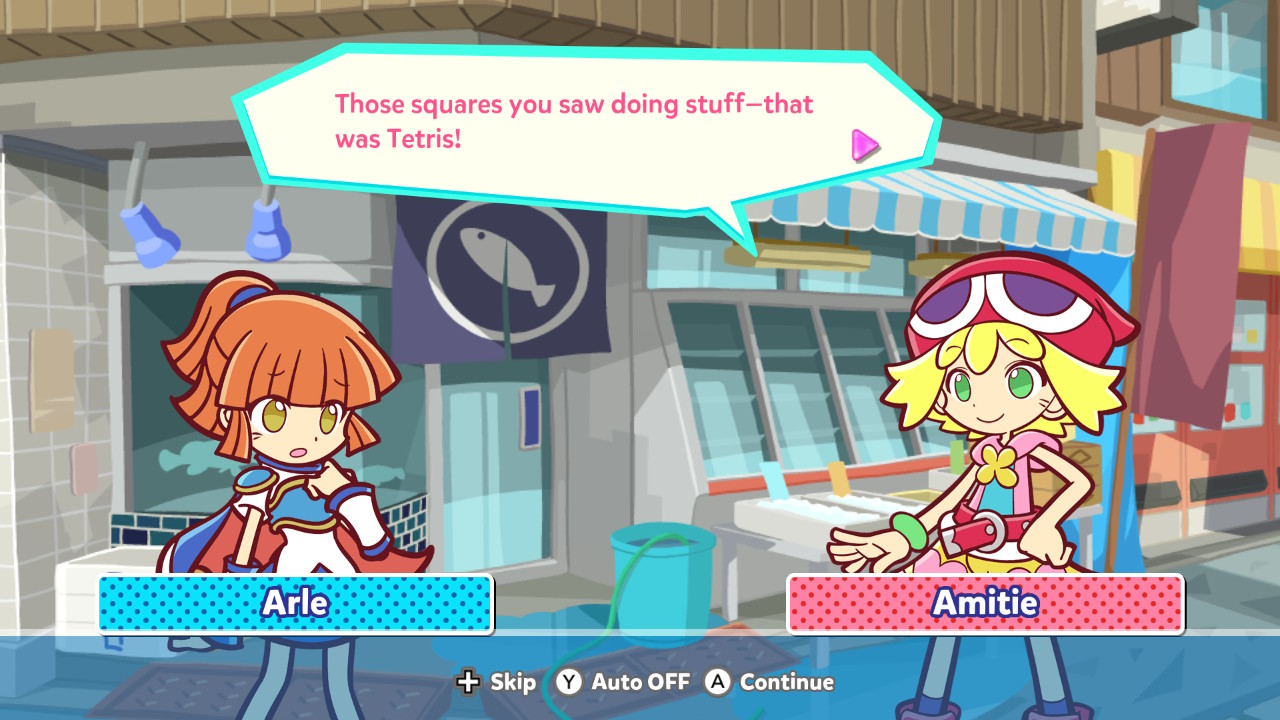 Puyo Puyo Tetris 2 is the sequel to 2014's colourful puzzler of the same name, which actually didn't see a release on the Nintendo Switch until 2017. You can read our review of the original Puyo Puyo Tetris here, but the long and short of it is that you can play both Puyo Puyo and Tetris together in a single bombastic, joyous package. There's a LONG, ludicrous storyline that features a wacky cast of wonderful characters, plus a boatload of fun game modes that utilise a huge array of different rules to combine both Puyo Puyo and Tetris.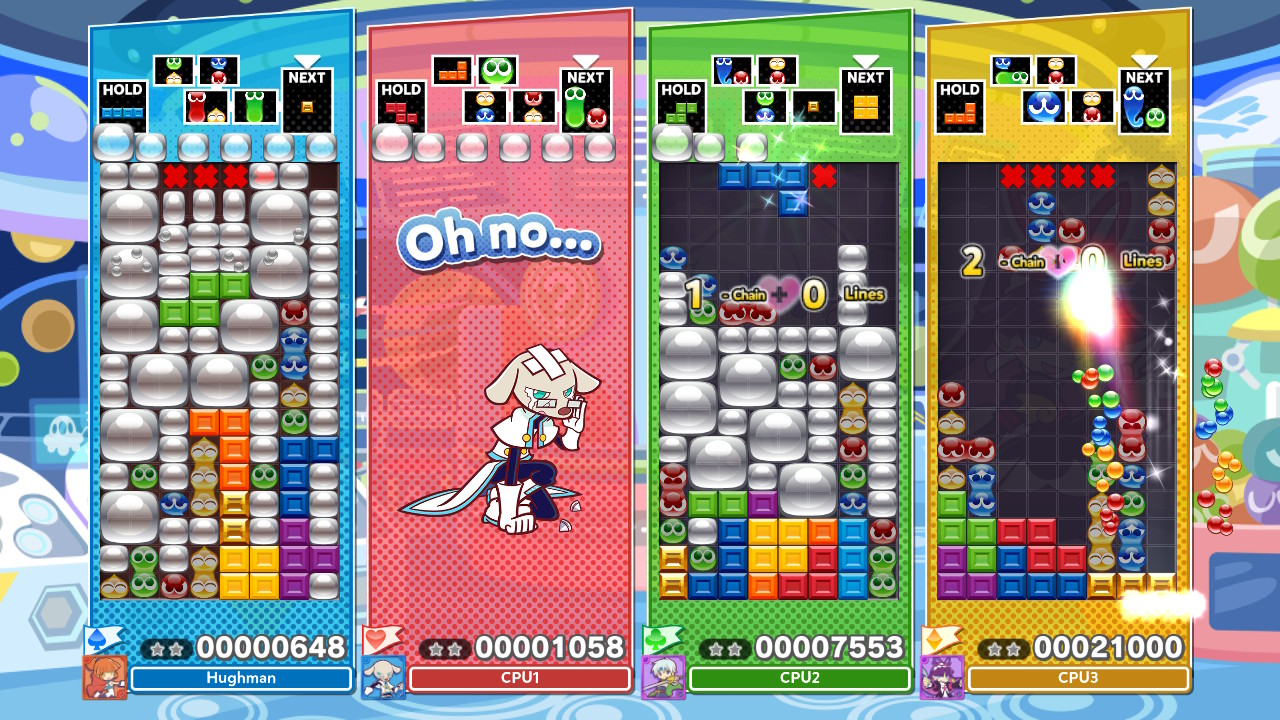 This same description applies to Puyo Puyo Tetris 2 as well. There's a LONG story mode that picks up after the ending of the original (though you really don't need to play the first game to enjoy this story) plus a whole heap of new ways to play both Puyo Puyo and Tetris. Puyo Puyo Tetris 2 also looks borderline identical to the first game and has an excellent soundtrack that complements the original OST as well.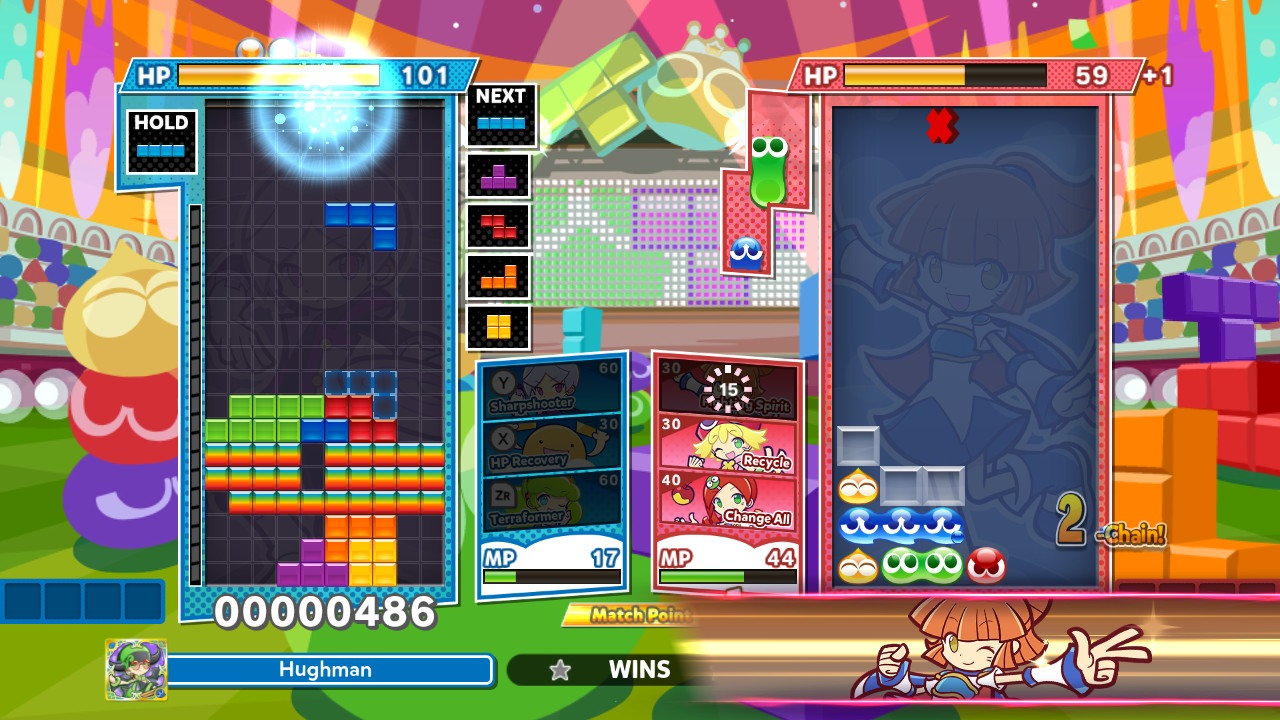 So what exactly is new in Puyo Puyo Tetris 2? The most notable addition is a new game mode called 'Skill Battle' where players select a team of three characters, each with different skills, HP and MP values, and go face to face against other players or AI boss characters in the story mode. These teams can also be outfitted with a variety of different items that are collected throughout the story mode that provide stat bonuses and various other attribute buffs. It's a fun game mode with a decent amount of depth to the customisation and team-building theory crafting, which will really shine in online PVP matches where you'll need both an exceptional team and Puyo/Tetris skills to stand up to the competition.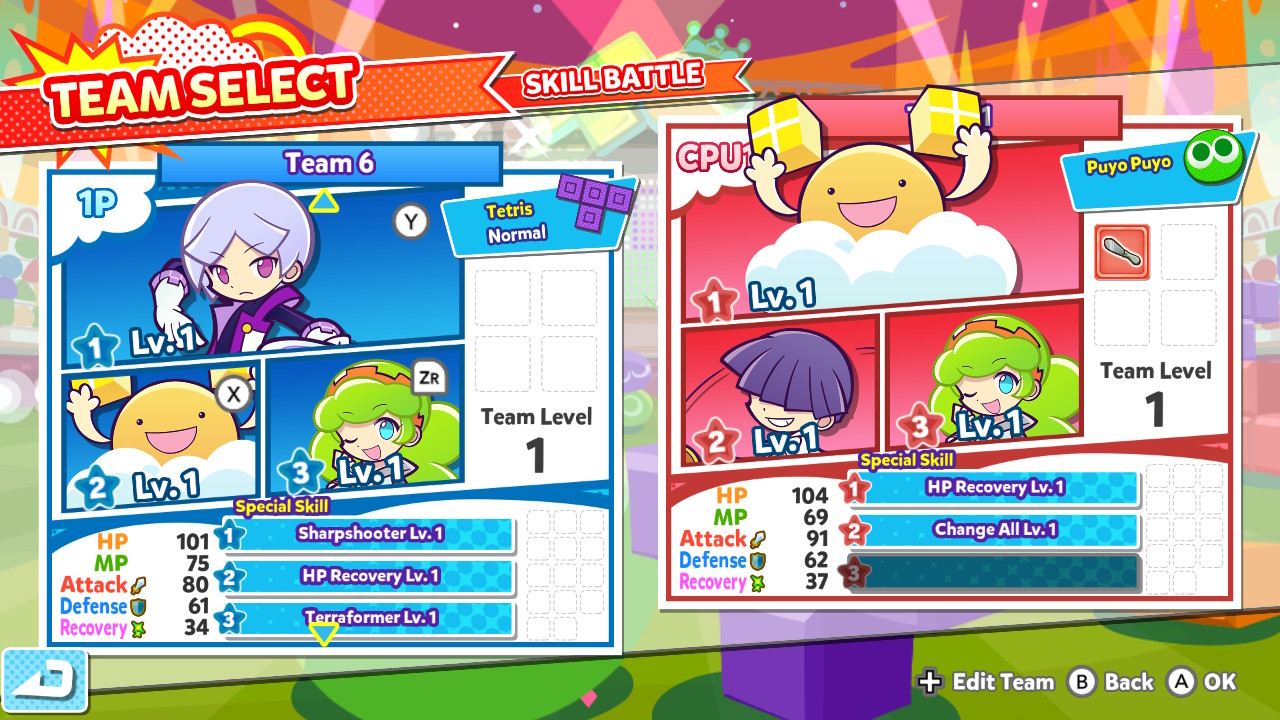 Similar to the original Puyo Puyo Tetris, the story in this sequel is equally as nonsensical and joyously whimsical. All the main characters have been struck by amnesia and reunited within the same reality by a mysterious being that causes havoc wherever they go. The narrative isn't overly compelling, but the story mode is a great way for new players to become accustomed to both Puyo Puyo and Tetris, while also introducing players to the many different rule variations featured in Puyo Puyo Tetris 2. Also, just like the first game, the difficulty ramps up exponentially as you progress through the campaign, so while it may start out deceptively easy, rest assured there is plenty of challenge waiting for you in the later half of the campaign.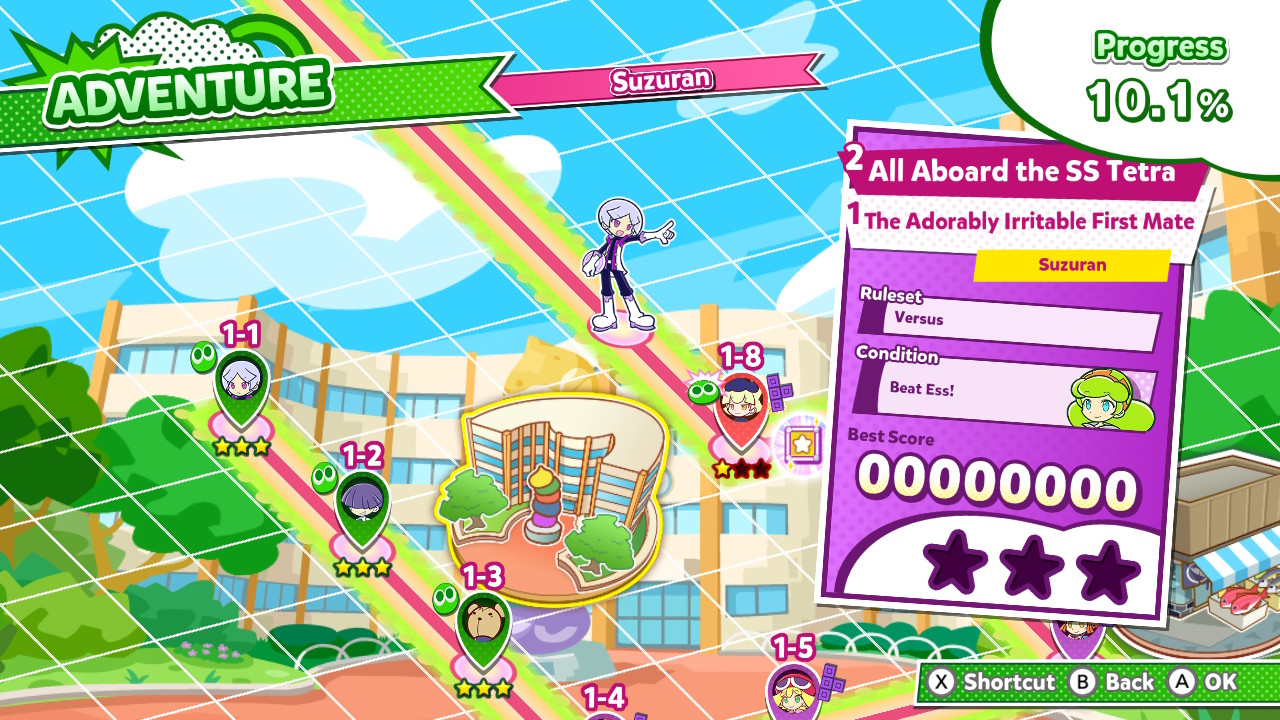 Puyo Puyo Tetris 2 is best enjoyed with friends, and the Switch seems like it was designed with this game in mind. There are a huge variety of different online and offline game modes, rulesets and options that allow you to customise your play session and apply appropriate handicaps or accessibility configurations for individual players, so no matter the skill level of the player, everyone can have a great time together. I have fond memories of playing the original Puyo Puyo Tetris on the Switch with my partner as we travelled across Italy on the train – it's so simple and fun to quickly snap off the Joy Cons, prop up the kickstand and get into a co-operative match against an AI opponent.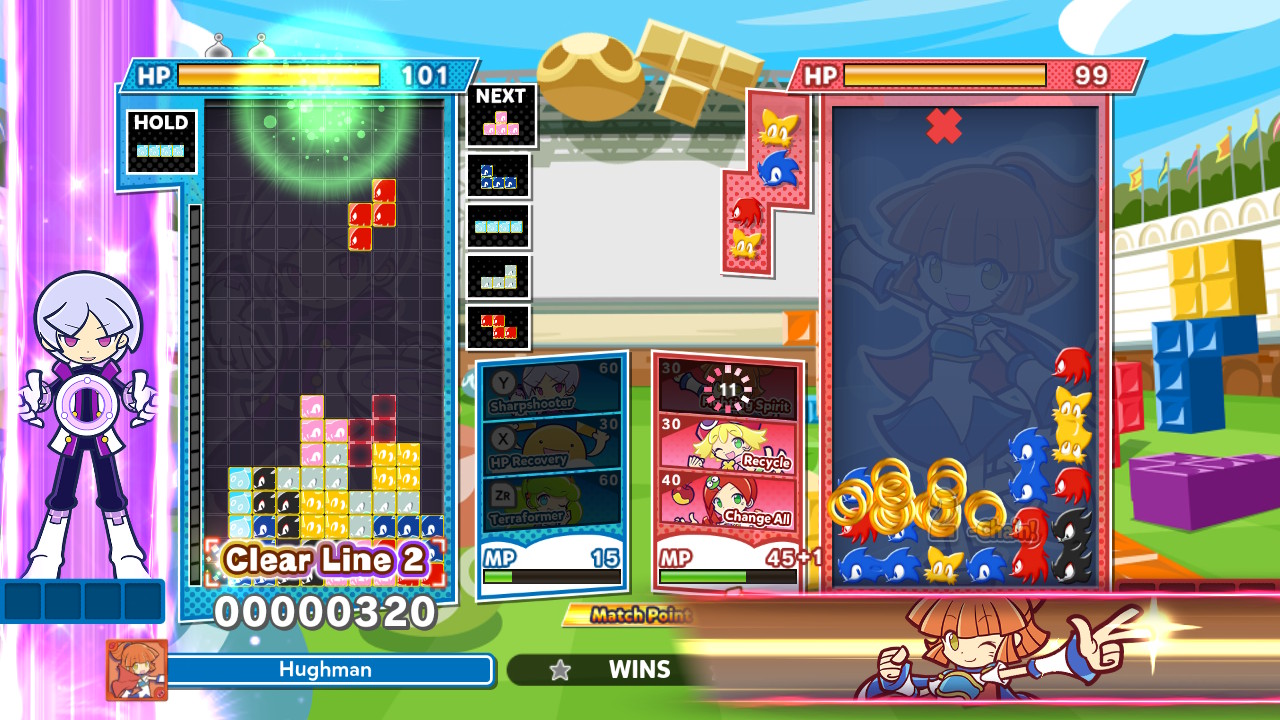 Final Thoughts?
If there's one underlying message to take away from this review, it's that Puyo Puyo Tetris 2 is very similar to the original game, and for that I adore it. The biggest new addition is the new 'Skill Battle' mode, which adds a nice layer of depth to the Puyo/Tetris battle system and gives you more incentive to play through the new story to collect . Aside from that, the graphics, audio and gameplay remains largely untouched. Some people may criticise Puyo Puyo Tetris 2 for its lack of innovation, but for me, I just wanted a reason to play some more Puyo Puyo Tetris, and a new story mode and energised online community is good enough to get my tick of approval.