Switch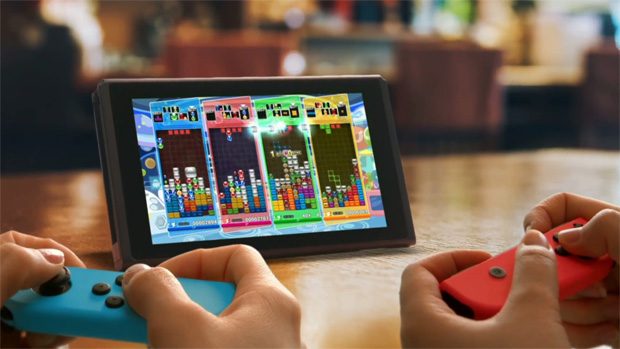 Published on April 30th, 2017 | by Admin
Puyo Puyo Tetris Review (Nintendo Switch)
Summary: Sure, Puyo Puyo Tetris is... well Tetris... but by the gaming gods, it's a very enjoyable experience with more twists than a Game of Thrones episode and also supports some intense multiplayer!
What happens when you combine Puyo Puyo with Tetris? The answer is Puyo Puyo Tetris which allows up to four players to compete in some truly crazy party game antics. Sure, these two franchises have been around the block (even on other formats) but combining these two series on the new Nintendo Switch platforms works on so many levels. Whether you're playing the game solo on the train, playing with a friend on an airplane or joining in on the mayhem on the TV with the family, Puyo Puyo Tetris is fast fun and is bursting with colourful graphics plus some very clever puzzle strategies, particularly when it comes to multiplayer.
Another highlight of this game is that you can play locally with up to 3-players and the Joy-Cons work quite well as you attempt to outwit your friends. There are also a handful modes of play that include solo, competitive, adventure, local and online. If you have never played these games before, the Puyo Puyo Tetris does offer a tutorial but considering how easy the gaming mechanics are, most people will be able to jump straight into the title. So the learning curve is quite low and the controls are well tuned for the Nintendo Switch.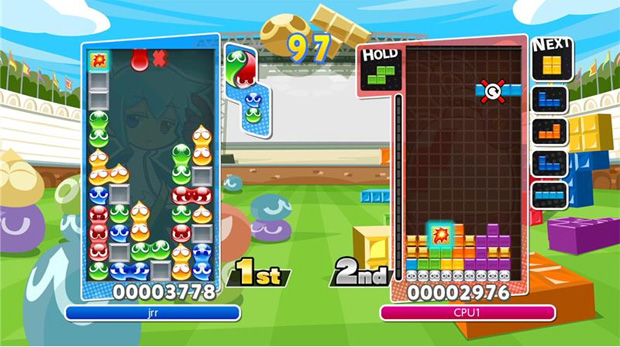 At its core, the game merges both blobs (Puyo Puyo) and blocks (Tetris) which requires you match colours, shapes or both. However while you play, things slowly become more challenging, not to mention faster and if you fail to match the colours or shapes, these blocks and blobs eventually reach the top of the screen and when that happens, it's game over man! Apart from the classic Puyo Puyo and Tetris mechanics, this game also shares your prowess (or not) with other players online, including the ability of using your points won in the game to unlock a variety of skins, music and even stages which really increases the replay value of this title.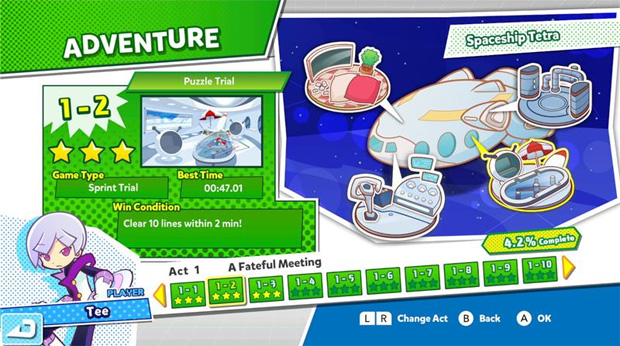 However one of the smartest features of this game is the swap mode which basically switches between the two games and can make things quite a challenge and thankfully a fun one. It even has a fusion mode that joins the two games together and these little changes really up the ante and enjoyment factor of this game, not to mention replay value. Needless to say, this game was made for the Nintendo Switch (even though it's available on other consoles) and is one fun party game for this console due to the portability aspect and easy of multiplayer aspect.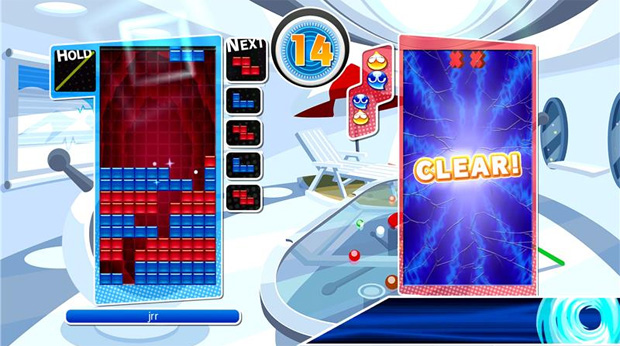 Graphics & Audio
Graphically, Puyo Puyo Tetris successfully channels the colour schemes from both franchises and is quite a vibrant looking title on the Nintendo Switch. Sure, it's quite basic, however with the inclusion of background themes and anime inspired characters, not to mention some snazzy special effects and Puyo Puyo Tetris definitely keeps your attention. To add to the graphics are the MIDI inspired musical tunes and sound effects which not only pays homage to the puzzle games from last century but tweaks it for this medium. All in all, it's a fun strategic game with colorful graphics that when mixed with the sound effects, creates this retro game meets 21st century gaming.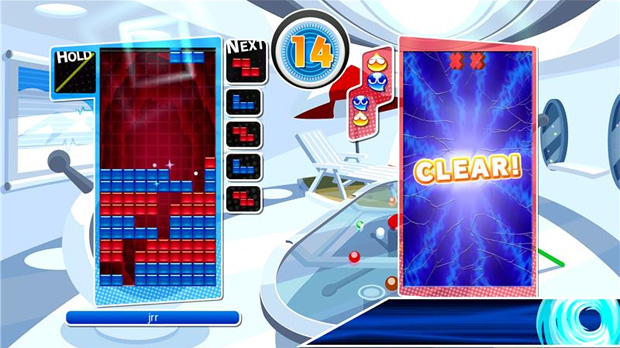 Final Thoughts?
What can I say? I really LOVED Puyo Puyo Tetris and given the limited amount of titles on the Nintendo Switch, especially for multiplayer chaos, this game delivers that fun title that can be played in short or long bursts. It's also a title where you can return many times and long after the blockbuster titles like Zelda Breath of the Wind or Splatoon 2 are forgotten, you'll definitely be coming back to this game as each time you play is different but where it works is with other people!
So what are you waiting for? Go check out Puyo Puyo Tetris now!
Game Details
Primary Format – Games – Nintendo Switch
Game Genre – Puzzle
Rating – M
Consumer Advice – Very mild themes and violence, online interactivity
Game Developer – SEGA
Game Publisher – SEGA