Blu-ray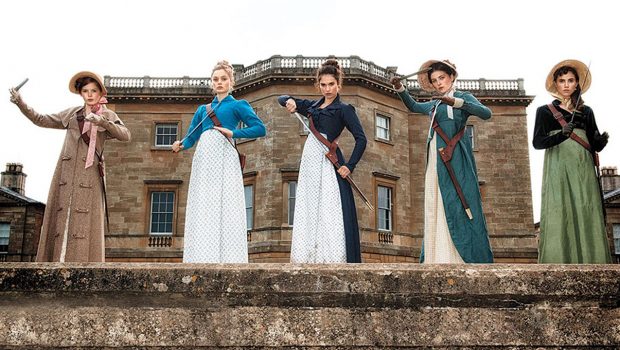 Published on July 4th, 2016 | by Natalie Salvo
Pride & Prejudice & Zombies Blu-ray Review
Summary: "Pride & Prejudice & Zombies" is an overly simplistic rendering of one very hard task- adapting and staying true to an Austen novel while trying to present a thread about a zombie apocalypse. It has its moments but at other points it's quite jarring & could make you lose your head.
"Pride & Prejudice & Zombies" is not for the faint-hearted or the Jane Austen purist. The film is an adaption of the successful, mash-up novel by Seth Grahame-Smith. While it has some enjoyable and indeed agreeable moments, the basic ingredients are too much like chalk and cheese. This means they could never really combine in any kind of effective manner.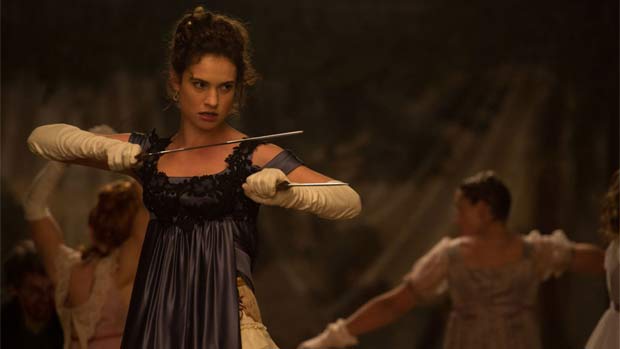 The story begins by cannibalising Austen's famous opening line. It states: "It is a truth universally acknowledged that a zombie in possession of brains wants more brains." The plot is once again set in Hertfordshire, England in the 19th century. While it uses many of Austen's major plot points and tries to include some of her witty observations about class, pride, love and prejudice, it can be very jarring to watch rather genteel manners at one moment and then zombie slaying battles at another.
The film is directed by Burr Steers who also doubles as the screenwriter. It stars Lily James ("Downton Abbey" and "Cinderella") as the strong-willed, Elizabeth Bennett. In this case, Elizabeth seems more like a Lara Croft-inspired character as she engages in a series of battles and fights. To wit, the proposal by the haughty Fitzwilliam Darcy (a brooding Sam Riley whose performance here isn't a patch on "Control") descends into a full-blown, physical fight rather than a war of words.
This quaint English society is under threat of an impending zombie apocalypse. So while the single and available Bennet sisters are preoccupied with the prospect of marriage, they are also bad-ass girls and highly-skilled warriors. It means that instead of confining themselves to the refined talents of singing, piano playing and sewing, they are also seen cleaning, readying and wielding their weapons like muskets, knives, etc.
The Bennet parents are well-played here by the dry Charles Dance and the cheeky, Sally Phillips (some people will remember her as the foul-mouthed Shazza in "Bridget Jones's Diary.") Another fine performance comes courtesy of "Doctor Who's" Matt Smith who plays the hapless and idiotic Parson Collins for its full comedic value. The woman he frequently speaks of, Lady Catherine de Bourgh (Lena Headey) is seen here as both a wealthy and influential woman and the zombie-slaying aunt of the military investigator, Fitzwilliam Darcy (the latter also has a Colin Firth-esque moment involving a white shirt and a lake.)
The Blu-ray edition of this film offers high quality sound and video. The special features are good and include a series of deleted scenes as well as a blooper reel. There are also a number of featurettes that describe adapting a classic, meeting Mr Collins and the Bennet sisters as well as a look at the cast overall. They offer some interesting insights into this rather dispensable film.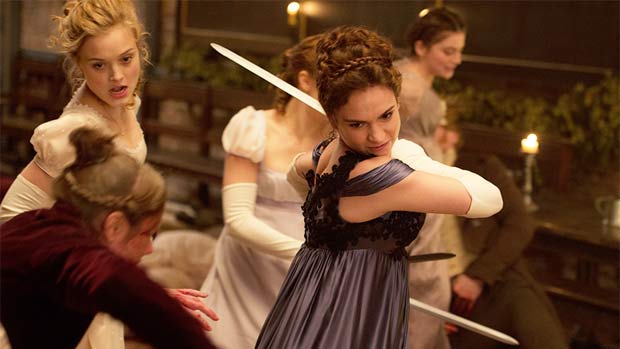 There have been countless zombie flicks and "Pride & Prejudice" adaptions (including straight ones as well as the stories that were inspired by the classic book.) But this film bit off a little more than it could chew because it attempts to consolidate Austen's lengthy tale into a short runtime as well as include the thread about the impending apocalypse. The result is something that is neither terrible nor excellent.
Final Thoughts?
There are some moments where the actors put in strong performances and the costumes and backdrop look sumptuous and are in keeping with the period. But for the most part it's hard to get your head around this take on manners and society where the characters own actions seem at complete odds with themselves in different scenes. In all, it's a clever idea where there is a clear disconnect between the very substance and ideas behind this piece.
Special Features:

Blooper Reel
Deleted Scenes
Creating the Unmentionables
From Austen to Zombies: Adapting a Classic
Mr. Collins Line-O-Rama
The Bad Ass Bennet Sisters
Courtship, Class and Carnage: Meet The Cast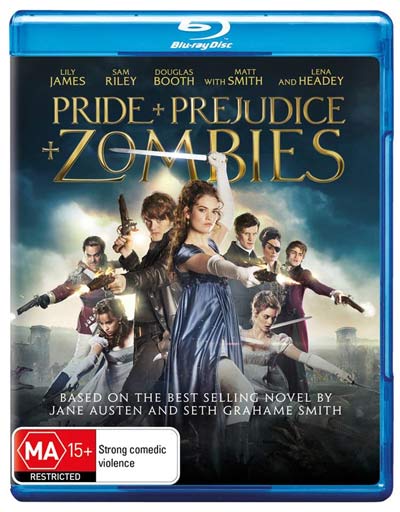 Blu-ray Details
Director – Burr Steers
Actors – Lily James, Sam Riley, Jack Huston, Bella Heathcote, Douglas Booth, Matt Smith, Charles Dance
Film Genre – Horror
Label – Roadshow
Audio – English (DTS-HD 5.1)
Subtitles – English
Running Time – 107
Aspect Ratio – 2.40:1
Region Coding – B (Blu-Ray)
TV Standard – PAL
Rating – MA15+
Year of Release – 2016
Primary Format – Movies/TV – Blu-Ray