Films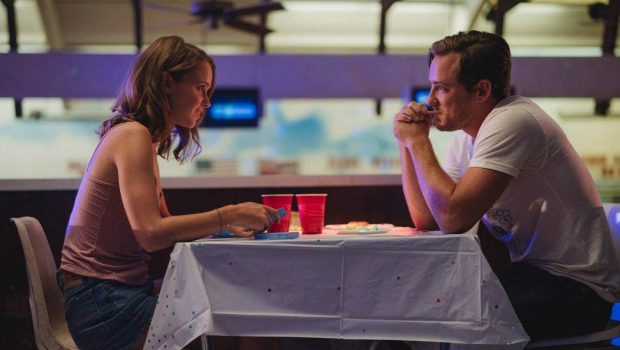 Published on July 31st, 2022 | by Natalie Salvo
Press Play Film Review
Summary: "Press Play" could have been a fun little teen romance with lashings of sci-fi. While it certainly has some pleasant moments, it is sorely lacking the emotional punch we associate with good music.
"Press Play" is a teen romance, which has a time travel element. The film's premise by itself is actually quite a unique and interesting one. But unfortunately, there are some missteps such that what could have been a glorious and soulful symphony comes out sounding like little more than bubblegum pop.
Director, Greg Björkman co-wrote this film along with James Bachelor. The finished product has a hip-young things vibe including a soundtrack that contains indie darlings such as Father John Misty, Dayglow and Japanese Breakfast. This novel idea means it feels like it was trying to be "High Fidelity" at times but the playbook is singing a very different tune.
The film stars Clara Ruggard as Laura, an aspiring artist. She is on holiday in postcard-perfect Hawaii. Her friend Chloe (Lyrica Okano) insists on Laura meeting her step brother Harrison (Lewis Pullman "Top Gun: Maverick"). Harrison is a nice young man who has an old-soul, as he works in a record shop and loves cassette mixtapes. Remember those? I do, but I know my younger siblings (who are closer in age to Harrison) once asked me to BURN them a tape, just saying…
The pair fall in love. While the two actors have some chemistry, things feel really rushed. The upshot is that some viewers may not feel an emotional connection for the couple. It is a tough ask, especially when the audience also must suspend their disbelief at certain plot-holes.
Tragedy strikes one day in the form of a freak accident that leaves Laura devastated. The film then fast forwards four years to see how she is dealing with the grief of having lost her first love. The answer is: not well, as you will see.
Laura then meets up with Harrison's former boss (the legendary Danny Glover who is grossly under-utilised) and what follows is the time travel element of this story. The record store had been a place for people to leave mixtapes so that they may find new owners. Laura is reunited with one she and her late beau had made previously, which essentially documented their romance. This tape proves to be a magical one, because it allows Laura to go back in time to the place where they first enjoyed the song together.
The repetitious revisiting of the past can get a bit monotonous, even if Laura's intentions to save her paramour are good. It also means the film can feel a tad like "Groundhog Day" meets "The Butterfly Effect" but sadly without the charm of either of those films. Audiences may struggle to really root for this couple as we don't get to know them beyond some minor pleasantries. It's a shame because the backdrop in Hawaii is certainly a handsome enough drawcard.
"Press Play" is a film that has some nice elements but it is lacking the emotional resonance of say a Richard Curtis comedy or even a romance like "The Notebook." The film may appeal to some young music lovers, but it is ultimately let down by an overreliance on predictable tropes and by rehashing those tunes it really feels like The Four Tops AKA the same old song…