XBox One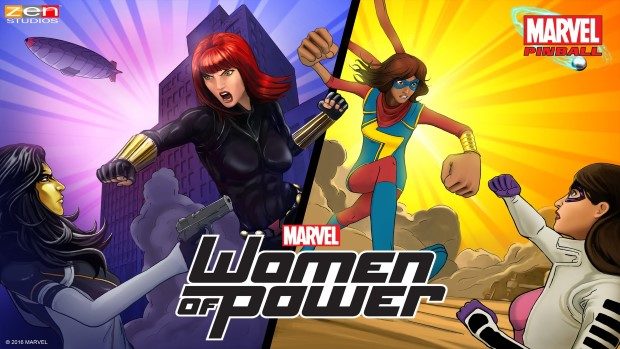 Published on October 9th, 2016 | by James Wright
Pinball FX2: Marvel's Women of Power Review
Summary: FX Pinball Women of Power adds Marvel to the world of virtual pinball machines
Pinball FX2 is one of the world's premium 'virtual' pinball games and best of all, the standard edition is available as a free download on the Xbox One. This game basically mimics a real-world pinball machine with its physics, appearance and classic sound effects with a variety of tables (or themes) available to the player at a small cost. This includes franchises such as Star Wars and also Marvel Comics.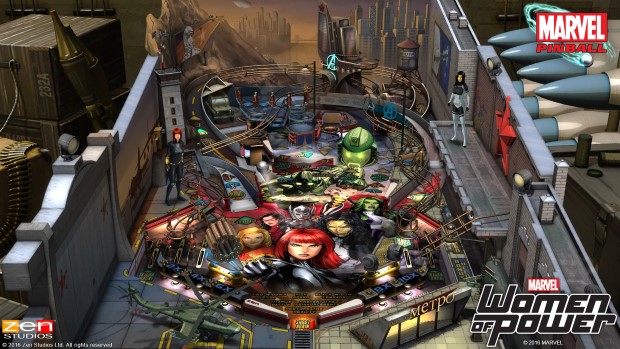 So for those older gamers, pinball machines have all sorts of different designs and features franchises as James Bond, Star Trek, Playboy and even Game of Thrones… yes a real-life Game of Thrones pinball machine actually exists and yes, it's amazing! These tables or 'themes' create different environments for the player to navigate which may include additional flippers, ramps, bonuses or other triggers that move the steel ball or balls around the machine with a particular theme which was a hit with pinball goers back in the day.
However in the virtual world, the developers can do a whole lot more when it comes to special effects and have included some fun interactive elements that makes the pinball machine more dynamic. On that note, developers Zen Studios have successfully created two new tables that celebrate the female superheros of the Marvel comic book universe.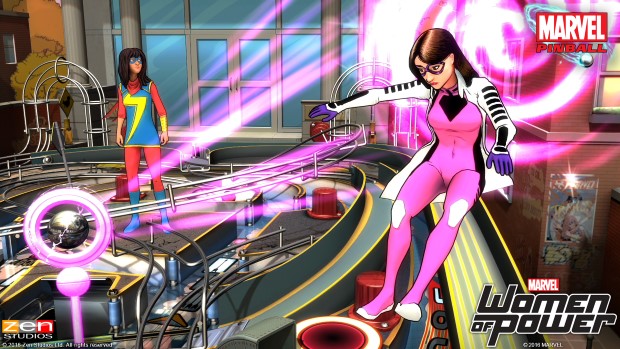 These colourful tables include characters like Ms. Marvel, Black Widow, Madame Masque and even the female super squad known as A-Force. One table features a new reality created by the destruction of a Cosmic Cube (the A-Force table), whereas the other one focuses on a group of female superheroes attempting to defeat Bombshell. Both tables are filled with Marvel regalia and some stunning and colourful graphics that gives both of them a 3D atmosphere.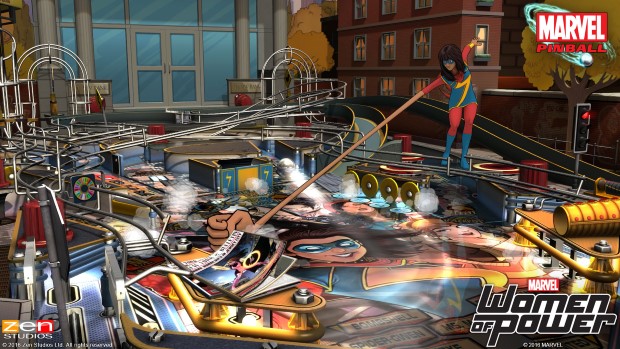 Furthermore the gameplay works like a traditional pinball machine as you attempt to prevent the steel ball getting out of the play area which usually happens when it falls right between the two front flippers. However just like a real machine, you can tilt or 'nudge' the machine slightly to help with gravity. The goal of course is to get a 'super' high score as you hit and bounce the ball on the various obstacles inside the pinball machine.
Given the accuracy of this virtual pinball machine and to get the most out of this game on the Xbox One, having a big screen TV really helps with the overall illusion. I just wish I could turn my TV from landscape to portrait mode. Add in different camera angles and multiplayer and Pinball FX: Marvel's Women of Power is a fun adventure into the Marvel comic book universe but from a classic pinball perspective.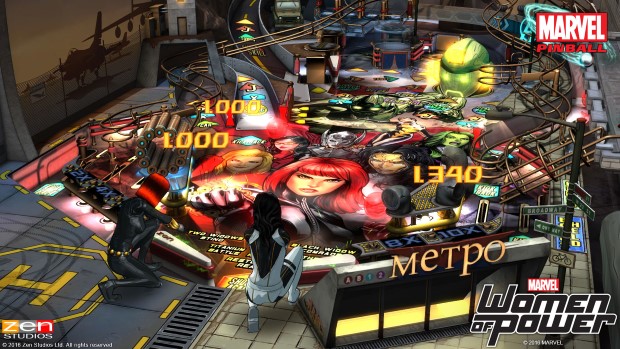 Final Thoughts?
Pinball FX: Marvel's Women of Power is a fun virtual pinball game that really celebrates the amazing female characters from this comic book universe, especially from the animation and sound effects. The graphics are great and the two pinball machines are well designed that are bursting with colours, special effects and some traditional gameplay as it helps emulate a real-world pinball machine. So if you're a Marvel fan and enjoy pinball, check out Pinball FX: Marvel's Women of Power that is now available on Xbox One.