PS4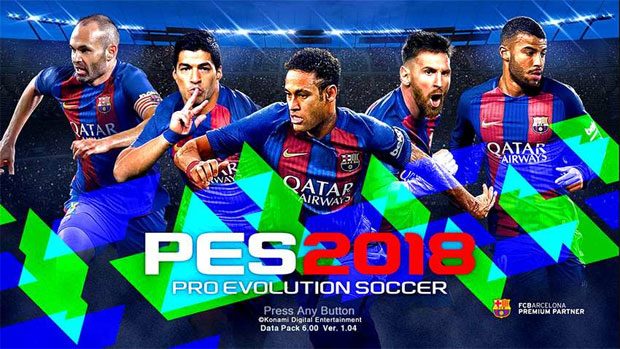 Published on October 23rd, 2017 | by James Coles
PES 2018 Review
Summary: PES 2018 betters its predecessor making it the best in the series to date
The Pro Evolution Soccer series deserves a lot of credit. Standing toe-to-toe with EA's behemoth FIFA franchise is no small feat and yet, each year, Konami manages to deliver a football simulation that may not rival its competitor in sales figures but certainly gives it a run for its money on the pitch.
Ultimately, it doesn't take long to notice that PES 2018 is an improvement over its predecessor. While, Konami haven't torn the mechanics of last year's effort to shreds; subtle improvements to AI etiquette and faster, more responsive controls, makes PES 2018 a cracking football game.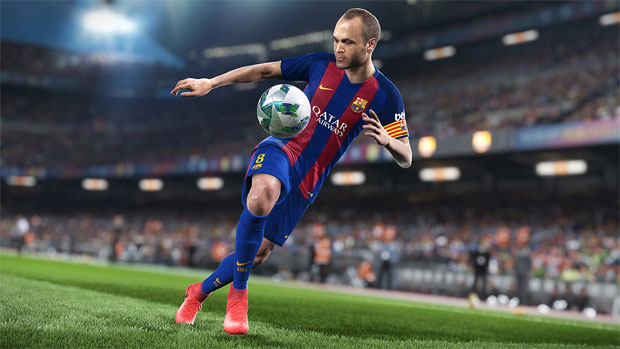 Gameplay
Essentially, PES 2018 plays at a slower pace than last year's entry, making passing and shooting more satisfying. This steadier tempo means there's more weight to each pass you play and extra venom behind every strike on goal you attempt. Successfully pinging balls from one side of the pitch to the other is immensely gratifying and looks tremendous, especially when the recipient adjusts his body to bring the ball under control. Not only does it feel authentic, it also appears remarkably natural. This, in part, is thanks to the Real Touch+ system which considers aspects such as weight, angle and where the ball is travelling from to determine how a player alters his body to collect a pass. The end result is exceptionally life-like, especially when launching a counter-attack from deep with one dazzling pass.
In addition to improvements to the passing and shooting mechanics; dribbling is tighter, making it easier to beat a man down the touch-line and deliver a devastating cross. Coincidentally, it was when I first met an inch-perfect cross with a thumping header where I noticed how flamboyant the goalkeepers are this year. While PES 2017 saw behavioural enhancements in the 'keeper department, this year you'll see saves that even Gordon Banks would be proud of. Sure, these wonder saves will prevent you from scoring but boy do they look spectacular.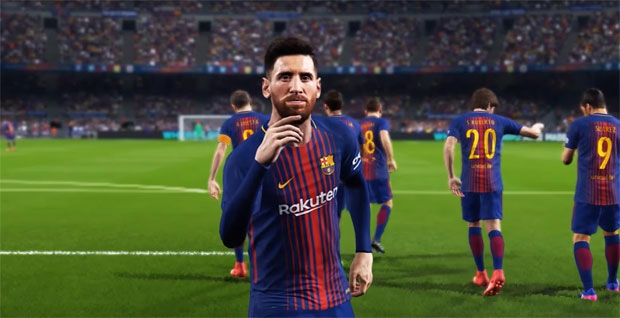 Aside from enhancements to the goalkeeper AI, defensive units as a whole operate intelligently, with defenders sensibly identifying threats and cutting out through balls effortlessly. While this makes it harder to fashion chances, it also means that in PES 2018, you must now carefully consider when to attempt a defence-splitting pass.
At the other end, attackers who like to play on the shoulder like Agüero, are a nightmare to track and consistently keep you on your toes. A pacy forward like Aubameyang requires special attention, mark him too tight and he'll turn you with ease and an all-rounder like Kane is a real handful as he has the ability to hurt you anywhere near the 18-yard box. Defending these threats is always a challenge, although, on the flip side, if you have one of these world-class strikers in your team and play to their strengths, you can inflict some real damage to the opposition.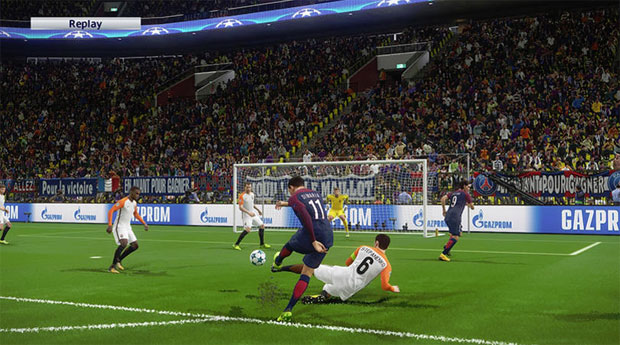 In regards to modes, Master League, Become a Legend and MyClub are all here as are the licensed Champions and Europa Leagues. New to PES 2018 is the return of Random Selection mode, where the game randomly assembles teams that meet your specifications. For example, you can set parameters such as playing with only English players and the game will randomly create two teams that meet your criteria. Additionally, new modes include online 11 Vs 11, 2 Vs 2 and 3 Vs 3 co-op.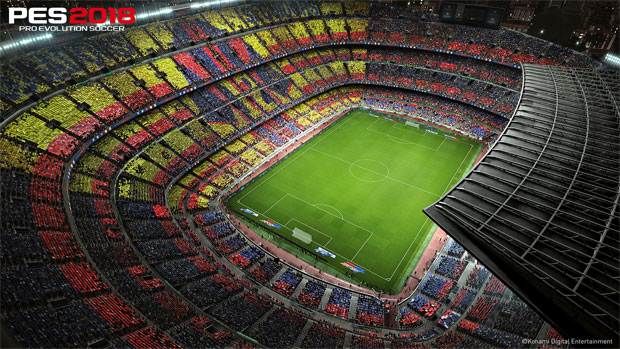 Graphics / Audio
Alas, we now reach the not so positive characteristics of PES 2018. While this year's effort is graphically the sharpest in the series, there are still areas of the game that could use a polish.
Firstly, the menus still look incredibly drab, as does the 'Game Plan' screen which is a shame since with the number of tactics available, you'll be spending more time tweaking your teams' style of play than ever before. Also, with Jim Beglin on commentary, Konami have one of the better commentators in football. And so, it's frustrating that once again the script is thread bare and poorly written – Peter Drury's "I'm ready to rock" being one of the more cringier lines.
Now, although my criticisms may seem harsh, the reason I'm airing these grievances is because they are all avoidable. Certainly, it's unfair to condemn PES for having phony names or a lack of competitions as it doesn't have FIFA licensing. However, the menus aren't unsightly and the commentary isn't inadequate because of licensing issues. Sadly, nuisances like these plague the PES series every year and while I can forgive the lack of authenticity, it's disappointing Konami didn't put a gloss on these particular aspects of the game to give it an extra shine.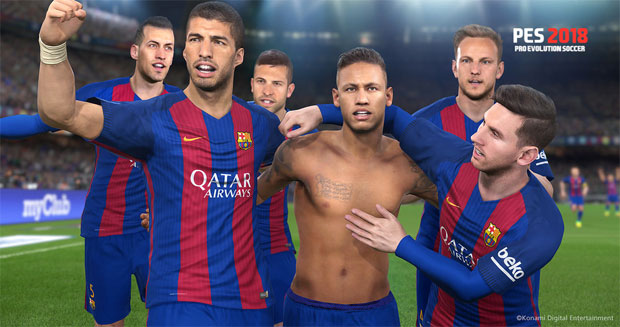 Nonetheless, it's not all doom and gloom in the presentation department. Both the Camp Nou and Westfalenstadion stadiums look sublime as does several of the top clubs' star names. Lastly, with player animations looking exceptionally life-like, there are times, on the pitch at least, where PES 2018 is visually striking.
Final Thoughts
Overall, what PES 2018 lacks in authenticity, it more than makes up for in gameplay. Bettering its predecessor on the pitch, PES 2018 is another fantastic entry in the series.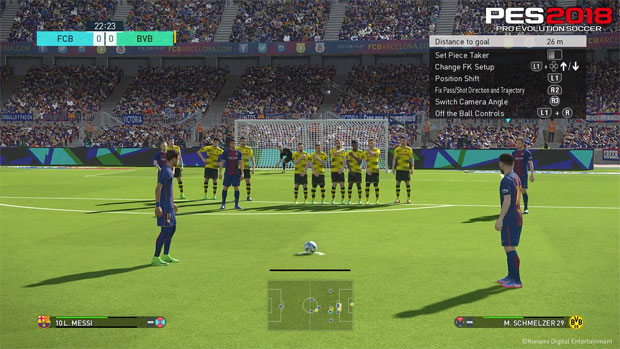 Key Features
• Real Touch – In football, what dictates and separate the best from the rest is 1st touch control. In PES 2017 the 1st touch in calculated by player attributes as well as the further inclusion of real ball physics directly controlled by the input ball touch. See how different players control the ball in unique and different ways based on where and how you control them, dictating the flow of the game based on how they react to the unpredictable movement of the ball. In addition, there is more control in how you receive the pass, and depending on the pass the player can visually execute the exact play intended, from receiving a pass to sending the ball out again.
• Precise Pass – Combining Real Touch and real ball physics, passing is an art form in PES 2017. Many factors determine the speed and accuracy of the ball. The base is the player rates and skills, and adding to these are the players direction and angle that links to the natural, satisfying animation to follow. The pass that is made on the best situation and timing will generate a perfect trajectory, creating a great satisfaction when a killer pass is made.
• Authentic Visuals – For PES 2017 the visuals have seen a major upgrade, offering Authentic Visuals thanks to the further incorporation of Fox Engine. The lighting sources have increased by double this year as well as the crowd models and pitch textures overhauled, making the visuals more realistic than ever. Details such as being able to see the players breathing in winter, the net to splash some rain off when the ball hits in rainy weather, and the debris of the pitch flying when they are kicked up. Shadows in the day matches are more recognizable, and some of the spray line for the free kick lines are seen throughout as subtle enhancements. Nothing has been left untouched, from player models, lighting, crowds, pitch and stadiums totally revamped. Never has a game looked so real.
• Natural Player Movement – New features such as Real Touch and Precise Pass see huge benefit as hundreds of new animations have been added, giving a vast array of movements when trapping and passing the ball. The player interactions (collisions) are also further developed with player individuality clearly represented in detailed movement (e.g. Giroud strong in physicality, Özil strong in balance). The representation for balance in the body when being physically challenged is strongly supported through the 2 new parameters.
• Goal Keeping – Keepers see a great jump in quality through added motions and animations, creating the most agile keepers in PES history. They instantly react to shots including a fast follow up, springing into action after landing. Further improvement have been made to a variety of situations the Goalkeeper will face, including 3 significant areas. These include deflection when the shot is near their feet, instant reaction to shot to the side they are not expecting, and fingertip saves to defend shots right before it goes past the goal line. With the new intelligent keepers scoring a goal will not be a simple task. The ball physics when the keeper saves is close to real life, which can be seen in how a shot is deflected based on which part of the keeper it hits. Attacking moments will be more dramatic than ever, bringing the best feeling of achievement when that goal is scored.
• Total Team Control – The series is known for incredible depth when controlling how your team plays, and with Total Team Control in PES 2017 users have new on the fly options during a match. Users can instantly change the attacking and defending mentality of the team, which can be tweaked and carefully controlled with simple controls, being able to immediately react to the unpredictability of the sport. Defend a lead or drive the team forward to score a goal, the choice is yours.
• Corner Kick Control – Control the defensive and offensive strategies on a set pieces to add a new dimension to corner kicks. By tapping the d-pad on a corner, a variety of options come up allowing the user to tailor each moment to their playing style. Defensive options include choosing to marking zonal or Man to Man. Offensive options are also included, such as flooding the 6 yard box, or 'Train' which sees players attack the ball in a straight line.
• Advanced Instructions – Strategies that are quite individually defined such as Tiki-taka and tight marking which is strongly based on team ideology can be now set in "Advanced Instructions", which adds a huge variety in how you plan to win. The renowned strategy to go in for heavy pressing such as Gegenpressing, the counter target strategy to not go all-in on pressing and heavy man-mark that some teams put into practice are all in this strategy setting. This vividly adds that team identity and makes winning more rewarding, but most of all making the match more fun through tactical strategies.
• Adaptive AI – For the first time in a football game, the AI will learn how you play, listen to your strategy plans, follow your Advanced Instructions, and change their tactics accordingly! Pass to a star player often? The opposition will double up on him and mark heavily. Like to constantly play down the wings? Players will cover their fullbacks to make you think twice! The AI will also adapt its attacking tactics, so if you are intercepting the opposition's long passes they will change to a short passing game! Player and team behavior has always been a staple of the PES series, and for PES 2017 Adaptive AI will change sports games forever.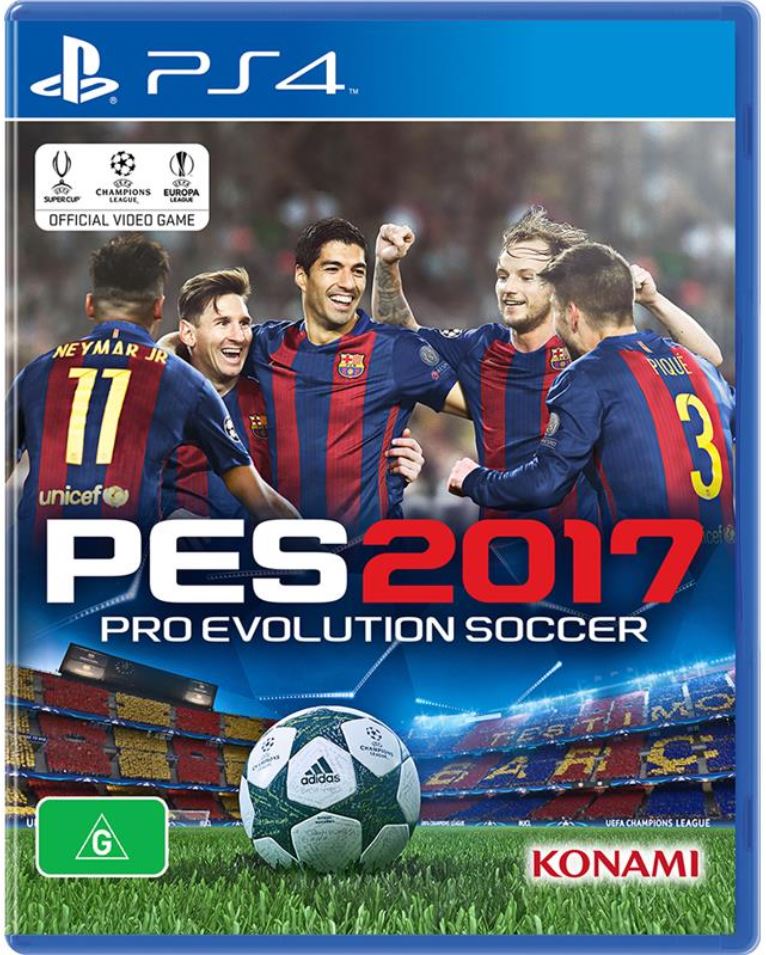 Game Details
Primary Format – Games – Playstation 4
Game Genre – Sport
Rating – G
Game Developer – Konami
Game Publisher – Konami