PS4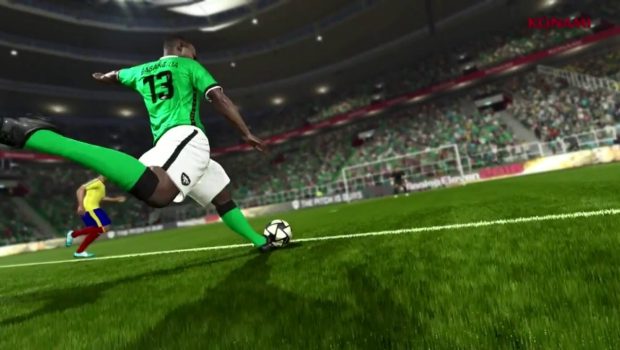 Published on October 5th, 2016 | by James Coles
PES 2017 Review
Summary: PES 2017 is rewarding, intriguing and exhilarating. Quite simply, the beautiful game has never been more beautiful.
The time of the year is upon us where the two annual football sims go head-to-head in a battle to the death to decide who's king of the virtual pitch.
I've played both PES and FIFA for around twenty years. My first FIFA game was back in '94, and I stuck with it until FIFA 99. I then switched to PES and kept with it all the way up to 2012, after which, I switched back to FIFA. On balance, I've always tried to give both games a fair go, and in my opinion, since 2012, FIFA has been the best option. This year, I'm pleased to review both games and share my thoughts on each.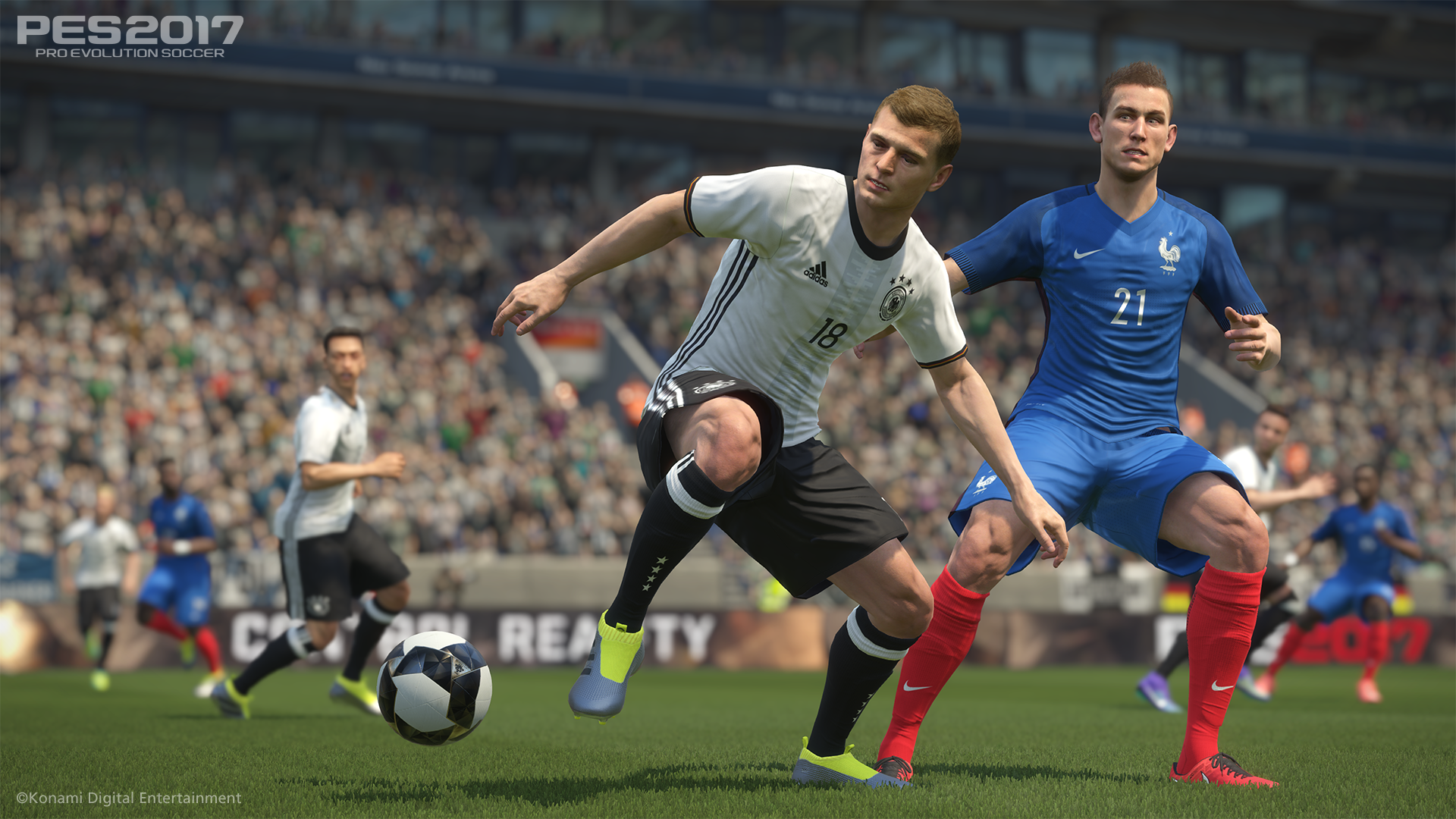 At the time of this review being written, I haven't played a single minute of FIFA 17 but after spending time with PES 2017, it's clear that PES means business. Overall, PES 2017 is an absolute joy to play. Movement is fluid, Passing is sleek and the AI is intelligent and alert. It's rewarding, intriguing, and exhilarating. Quite simply, the beautiful game has never been more beautiful.
Gameplay
While I must acknowledge that PES 2016's gameplay was also exquisite, it still had notable flaws. The most obvious of these was erratic goalkeepers, where the AI would inexplicably rush the 'keeper off his line in a nonsensical way. Other issues were defensive and midfield areas becoming hopelessly disorganised for no reason and players colliding into each other. Thankfully, I'm pleased to say that not only are these issues now fixed but that PES 2017 has the most authentic AI in any football game I have ever played. Another improvement on last year's PES is the overall physics with shooting, passing, dribbling, and volleying much improved. While finesse shooting was a little awkward last year, in PES 2017, it looks natural making every goal you score feel extremely rewarding.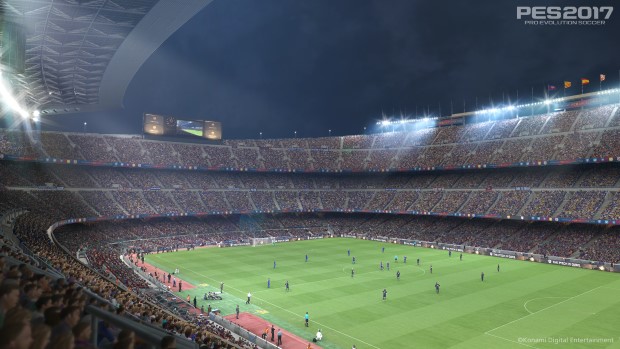 Tactically, setting up your team to play a particular way works well and the strategies you can carry out are noticeable when a game is in full flow. Attackers make intelligent runs, defenders track their men and midfielders block passing lanes or support the offence depending on your preferences. In order to switch tactics, you can assign them to the D-pad for quick access. Whether it be overloading the midfield or using a false number nine, watching the AI adapt and react to these changes is intriguing.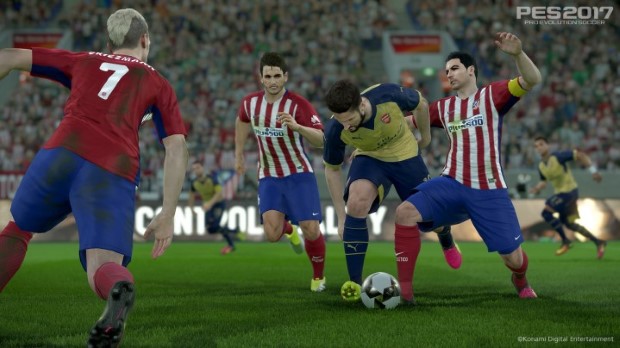 Most players mimic their real-life counterparts superbly well, such as the all-around threat of Kevin De Bruyne or the tireless running of N'golo Kanté. Of course, you'd expect the biggest stars to have these apparent traits, but it feels as though even the lesser players have their own unique skills.
Certainly, like in the real life, the best players in PES 2017 are capable of producing a little magic at any moment, but there are times where you might see something out of the ordinary from a very ordinary player. Due to the unpredictability of football, this is fine, however, it can become rather silly when these little miracles happen consistently. For example, I spent an entire match on the hardest difficulty setting pinging superb 20-30 yard through balls straight into the path of my team-mate making Cheick Tioté look like Andrea Pirlo. Although, this may seem unrealistic, these kind of moments are rare and for the most part, passing is reliant on not only your skill but also on which player is in possession.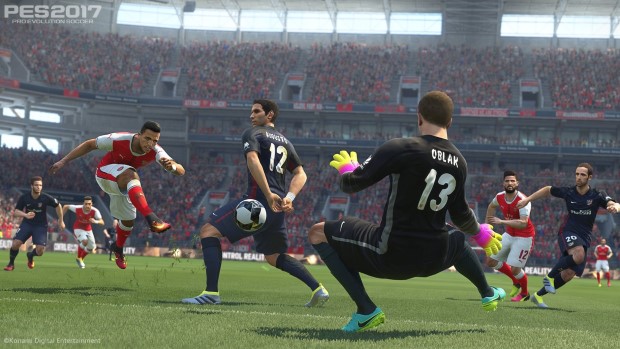 In regards to game modes, PES 2017 certainly doesn't have the options that a FIFA game has. You can play League and cup competitions, including the fully licensed UEFA Champions League and Europa League. The Master League returns with a few new additions such as deadline day progressing hourly and a modified transfer system. Online play has been smooth thus far, and I haven't had too many issues with lag or disconnects.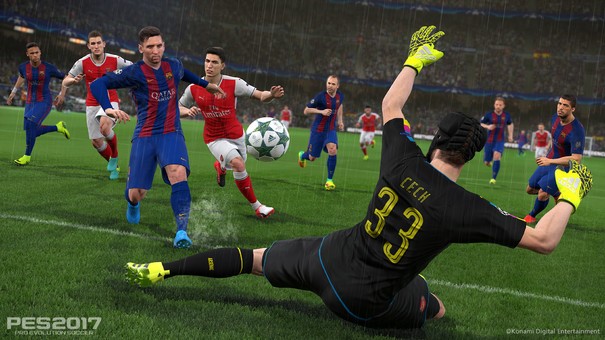 No licenses? No problem!
A major sticking point for some is that PES isn't licensed up the arse like FIFA is, but thankfully, there are mods available to download where you can change all the unlicensed team kits and badges. A simple Google search will bring you to them, all of which are available to download for free.
Presentation
Visually, PES 2017 is a vast improvement on last years' offering with more players and stadia looking authentic than in earlier instalments. Whether it be Messi's low centre of gravity, or Zlatan's strength and flexibility, most players are instantly recognisable. As one would expect, the audio is excellent, with the singing and chanting perfectly complimenting the action on the pitch as the drama unfolds. Crunching tackles produce loud boos and goals lead to euphoric cheers. The only real blemish on the audio is at times the commentary feels a little flat. I find this a shame since I think Peter Drury is one of the best commentators around. Both he and Jim Beglin don't really offer much and can both become repetitive, though this doesn't ruin the overall match day experience.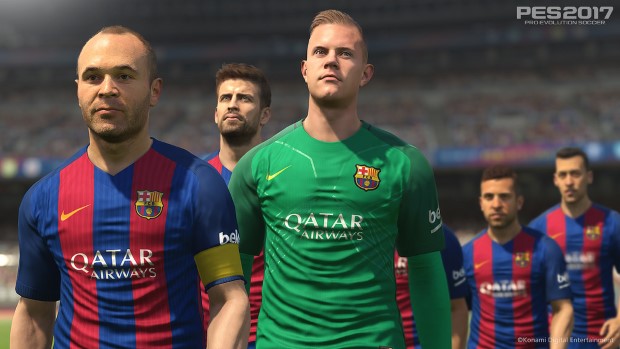 Final Thoughts
In regards to gameplay, PES 2017 is easily the best in the series to date and arguably the best football game ever made. No other football game nails what makes this sport so universally loved around the world like Konami's latest instalment. However, if this is enough to knock FIFA off its perch remains unclear. Ultimately, where PES is lacking is of course where FIFA is at its strongest – Authenticity. The distinct lack of officially licensed teams will always be a stumbling block, though, as before mentioned, there are mods available that add official kits and badges if you wish to change them.
In the end, if you're a FIFA fan, you're going to buy FIFA and likewise, if you're a PES fan you're going to stay loyal to PES. This year it might be worth buying both.
Game Details
Primary Format – Games – Playstation 4
Game Genre – Sport
Rating – G
Game Developer – Konami
Game Publisher – Konami