Kid Zone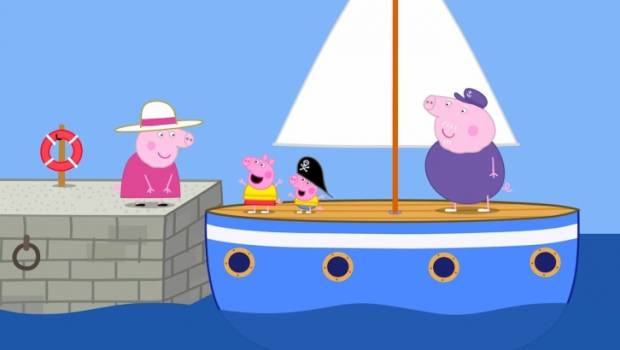 Published on September 12th, 2018 | by James Wright
Peppa Pig Sailing Boat DVD Review
Summary: Peppa and her family go on an interesting sailing adventure that starts slow but eventually ends in the right destination
Welcome back to another colourful and fun installment of Peppa Pig as our favourite piglet and her baby brother George go on a wonderful sailing adventure with Grandpa Pig…well eventually. Also joining Peppa's family in this story is Mr Stallion and Mrs Corgi, members of the local sailing club. Unfortunately for Grandpa he doesn't heed the advice from his fellow members that it's too early to sailing and gets his boat stuck in the mud.
So the when the tides are higher, Mr Stallion and Mrs Corgi sail by and offer their help to which Grandpa declines. As a result, the trio spend the night on the boat before finishing the story with a real sailing adventure.
So while it celebrates the world of Peppa Pig, there's also some messages in the story, not to mention some fun moments which is all part of that trademark franchise. Further, Peppa Pig Sailing Boat is not only well-written but the voice acting really draws you into the characters as these cute pigs go sailing with plenty of anecdotes to be found along the way… including some very amusing scenes that had our children giggling in hysterics.
Like previous episodes of Peppa, the animation is simple yet colourful which will resonate with younger viewers, particularly the larger than life characters and of course the stories itself. Needless to say, the theme of Peppa has always been quite light-hearted and Peppa Pig Sailing Boat is no exception to this rule and features lots of laughing and of course snorting.
It's also well presented on DVD with exceptional video and audio quality.
Final Thoughts?
Peppa Pig Sailing Boat is another enjoyable DVD release of the world's most famous piglet that will easily become a favourite in your household.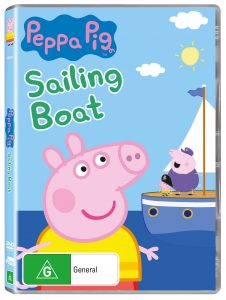 DVD Details
Title – Pappa Pig Sailing Boat
Format ‐ DVD
Genre ‐ TV Pre-School
Rating ‐ G
Consumer Advice ‐ General
Release Date ‐ 04/07/18