Blu-ray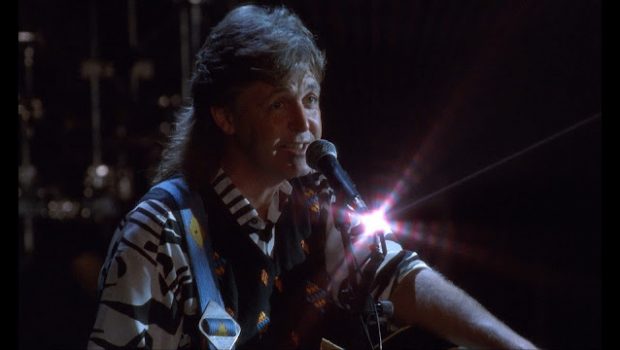 Published on October 18th, 2022 | by Natalie Salvo
Paul McCartney's Get Back Blu-ray Review
Summary: A Paul McCartney concert film shot during 1989 and 1990 world tours. It features many energetic Beatles tracks among some solo and Wings classics.
This year audiences were enthralled by "Get Back," Peter's Jackson's documentary about the Beatles recording their "Let It Be" album. What some people may not know is that Messer Paul McCartney had already released his own concert film with that same name in the nineties. "Paul McCartney's Ge Back" is a Blu-ray release of this film, which brings together 21 songs from his tour.
Richard Lester – the man behind The Beatles' films "Help!" and "A Hard Day's Night" – directs. It was then 13 years since McCartney had toured. He is joined on stage by his late wife, Linda McCartney on keys. Meanwhile, Chris Whitten appears on drums, Robbie Mcintosh on guitars and Paul 'Wix' Wickens on drums with Hamish Stuart alternating between guitars and bass.
The set list is quite a Beatles-laden affair. At the time McCartney was promoting his solo "Flowers in the Dirt" album. The set included artwork from Brian Clark who had designed the record's cover art. While there are some of McCartney's solo and Wings classics, fifteen tracks are from The Beatles with some of the clips even featuring the Fab Four (including clips from Lester's films, of course).
McCartney's 1989-1990 tour was a world one but he did not visit Australia on that particular occasion. Instead, the concert was filmed in places such as Rio, Tokyo, the UK, US, Italy, Canada, and the Netherlands. It can feel like a bit of a cop-out that so many different versions of the songs are stitched together. What is even more strange is that Lester mixes footage within one song with video from different places. It is jarring for the viewer to suddenly see the band change outfits without the audio track skipping a beat.
"The Long & Winding Road" is an emotional song. Here it is accompanied by a montage of newsreel footage from the sixties showing things like the Vietnam War and the moon landing. Some fans may appreciate the artistic context while others may be left wishing they could see more of the band. This latter point further hit home by the overuse of audience reaction shots too.
James Bond theme "Live & Let Die" is an action-packed track filled with pyrotechnics. McCartney still used this same visual punch at his 2017 Sydney show. This is certainly an explosive feel that differs from the more measured goofy funkiness of a song like "Coming Up." I recommend you look up the official video for this one, it's a hoot.
This Blu-ray does not give the viewer any audio or video options. Instead, the default is 2.0 stereo sound and a 1080P format. The age of the footage means it can be a tad fuzzy and dark in parts. The quality certainly is not as crisp as concert films shot in more recent times. But despite these quibbles, this is still one rollicking concert.
"Paul McCartney's Get Back"" is a great primer to the former Beatle's back catalogue. It sees some Beatles tracks performed live for the first time, like "Sgt. Pepper's Lonely Hearts Club Band," "Fool on the Hill" and "Eleanor Rigby". For that reason alone, it is more than worthy of the price of admission. This Blu-ray ultimately shows an expert showman entertaining his many rapturous fans in a stadium setting. It is a delightful slice of a nostalgia and a skip through one excellent back catalogue. Baby I'm amazed…