Blu-ray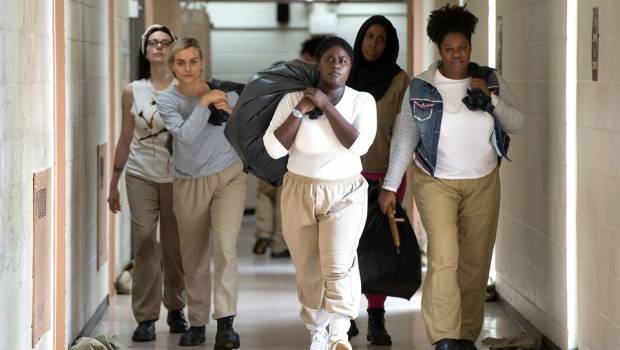 Published on July 31st, 2018 | by Natalie Salvo
Orange Is The New Black Season 5 Blu-ray Review
Summary: Season Five at Litchfield Penitentiary is a pure pressure cooker environment. A riot ensues and power, corruption and lies are rampant.
For the past few years viewers of "Orange Is The New Black" have enjoyed this show because it is a comedic look at the realities of prison life. Season five however, takes a slightly different turn. This is predominantly due to the brutal death of inmate, Poussey Washington (Samira Wiley) in season four. The result is a greater emphasis on intense situations, violence and dark humour that is occasionally shoe-horned into this complex situation.
The cliff-hanger in season four saw Dayanara (Dascha Polanco) pointing a smuggled-in gun at CO Thomas Humphrey (Michael Torpey). This situation had escalated because CO Baxter Bayley (Alan Aisenberg) had killed Washington. A riot ensued and many inmates were out for revenge against the poorly trained and heavy-handed prison guards. The plotlines in season five are at least a little reminiscent to what played out during the Stamford Prison Experiment. In both you see how those who gain control can become drunk on power. In the show's case some inmates hold the guard's hostage and strip them of their dignity. They dole out punishments including locking them in the "poo" AKA the smelly outdoor port-a-loos for solitary confinement, among other brutish things.
The riot may be chaotic but some inmates are actually engaged in some constructive things during this time. Some set-up a make-shift coffee shop while others attempt to discover a Utopian sanctuary. Flaca (Jackie Cruz) and Maritza (Diane Guerrero) become beauty bloggers while Boo (Lea DeLaria) and Pennsatucky (Taryn Manning) hide out eating snacks in the commissary. Pennsatucky's plotline is rather strange seeing as she falls in love with her former rapist, the prison guard, Charlie Coates (James McMenamin). Boo also comes to Pennsatucky's aid after the latter is caught freeing the guard, much to the chagrin of the meth girls, Angie (Julie Lake) and Leanne (Emma Myles).
Danielle Brooks plays a big part and steals the show as Taystee in this series. She wants the world to know all about her friend's death. She also sits down with negotiator Natalie Figueroa (Alysia Reiner) to try and get better health, education and food for the prisoners. It is really admirable stuff, even though there are moments where you feel like the jokes are a little forced and the prisoners should be a bit more angry, shocked and saddened with Washington's death. Red (Kate Mulgrew) certainly wants to punish bully, Desi Piscatella (Brad William Henke) while Gloria (Selenis Leyva) has her own problems because her son is in ICU.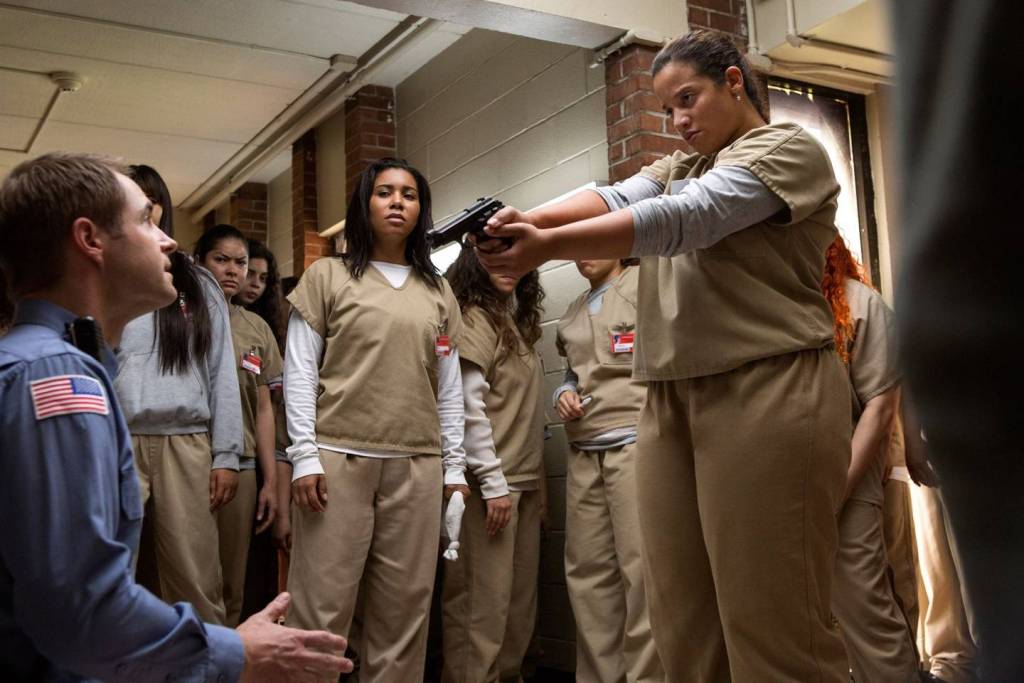 Taylor Schilling as Piper was previously the undoubtable star of the series and she still features strongly here along with her on-again, off-again girlfriend Alex (Laura Prepon). In previous seasons Piper was adjusting to the ways of prison life but this time around she has to find her feet in this strange new situation. She isn't the only inmate who struggles. Lorna (Yael Stone) becomes increasingly unhinged and disconnected from reality and Suzanne (Uzo Aduba) goes completely off-the-wall after missing the structure of prison life and her medication.
This current season of "Orange Is The New Black" won't be for everyone. This time around the episodes develop with a more real-time feel as the riot escalates. It also sees more of an ensemble-feel to the plotlines as more characters are introduced and emerge as important and fully-developed players in these shenanigans (the brilliant, Daniella De Jesús as Zirconia is one such individual). Once again, the use of flashbacks serves to humanise the characters but these can be at odds with some of their actions this time around, particularly as they exploit the situation they find themselves in through exerting control and capitalising on their newfound power. This set also comes with a gag reel and commentaries, which prove as binge-worthy as the original series.
"Orange Is The New Black" packs a lot into season five. It tackles the black lives matter movement but is occasionally let down by some of the more flippant and exaggerated moments in the aftermath of such a popular character's death. This means the overarching message is often diluted and lost. As a look into human behaviour – like in previous seasons – this is an utterly intense and fascinating study, especially in how it shows that humans can turn and be poisoned by power. "Orange Is The New Black" is a smart look at the diversity and spectrum of human emotions and the fragility of relationships, especially in a pressure cooker environment like a prison in the midst of a riot.
Blu-ray Details
Actors – Taylor Schilling, Natasha Lyonne, Uzo Aduba, Kate Mulgrew, Michael Harney, Dascha Polanco, Lea DeLaria, Danielle Brooks
Film genre – TV Drama
Label – Roadshow
Audio – English (DTS-HD 5.1)
Running Time – 720
Aspect ratio – 1.78:1
Region Coding – B (Blu-Ray)
TV Standard – HD
Rating – MA15+
Consumer advice – Strong themes, violence, sexual violence, sex, coarse language and nudity
Year of Release – 2016
Primary Format – Movies/TV – Blu-Ray