PS4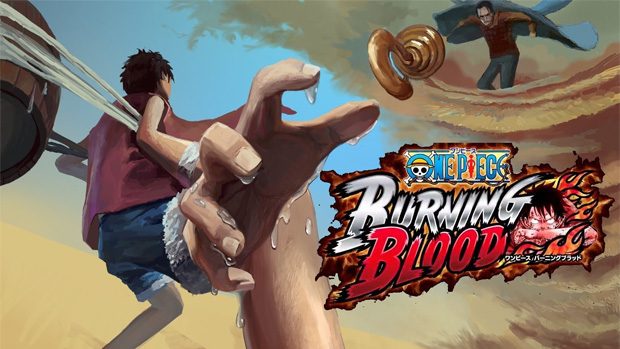 Published on June 10th, 2016 | by Tony Smith
One Piece: Burning Blood PS4 Review
Summary: One Piece: Burning Blood is a fun and challenging fighter on the PS4
One Piece Burning Blood returns gamers to the colourful and battle hardy world of Luffy and his band of crazy pirates in this accessible yet strategic fighter. However unlike games such as Tekken or Street Fighter, One Piece: Burning Blood is like being transported into anime series as the battles are big, explosive and larger than life that are bursting with colours and whacky camera angles. It's fun, it's silly and it's a little bit bad … but in a good way. It's a faux 2.5D fighter which is similar to Street Fighter but with a bigger environment and the winner is the last 'man' or 'team' standing with the most health.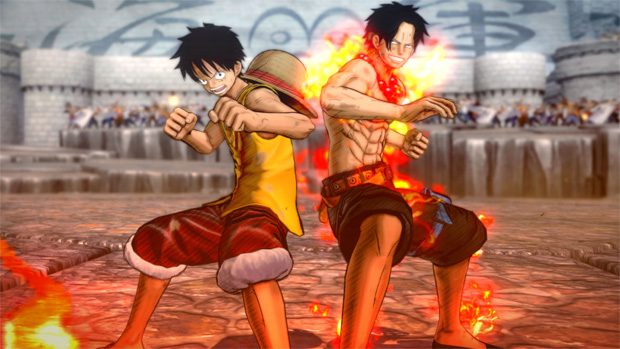 The story of One Piece: Burning Blood involves all the right hallmarks of villains, adventures, pirate booty and crazy characters that is told via a handful of perspectives from different characters which does give you an insight into the Paramount War which is one of the earlier stories of this franchise. If you have never heard of One Piece before, the developers give enough information to help keep you informed but if you do know its diverse history, it really makes the story much more appealing.
There's also some humour thrown into the mix of Luffy and his pirates and the animation is quite quirky which goes hand-in-hand with the characters and outrageous story. Nonetheless, the story does take a backseat approach as it's all about the combat with allows you power-up via Devil Fruits and create some interesting strategies in the process or even given you temporary invulnerability. However by completing the story mode, it does unlock additional characters and further fleshes out this world.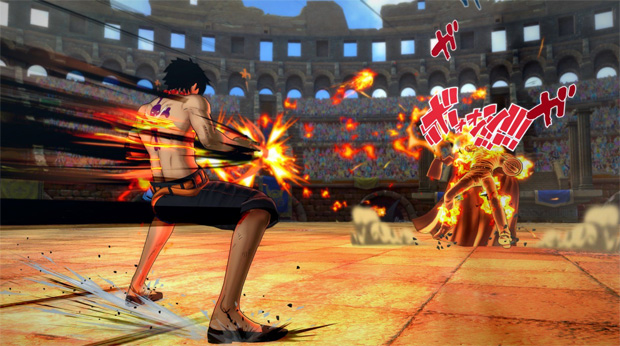 At its core, One Piece: Burning Blood is an anime inspired fighter as characters pummel the absolute living daylights out of each other via their body and weapons. Although there are standard attacks, the game throws in combos, ranged attacks and also special attacks to help spice things up. Each character that you choose to control has their own set of special attacks but once you familiarise yourself with the controls and basic fighting mechanics, this is when you can start employing various fighting strategies in order to become a Ninja Pirate Master!
Timing is also imperative, particularly for defence or successfully completing those combo or special manoeuvres. So yeah, it does look like a button masher but there's definitely more to it. Likewise, controls are well mapped on the PS4 DualShock controller which follow the standard fighting control archetypes. Furthermore, there is an in-game currency to purchase additional bonuses for your characters.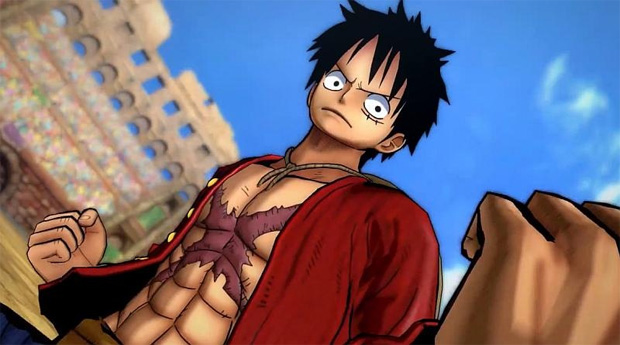 Although the game is 1-on-1 title, you can swap between three characters which makes it more enjoyable and sometimes quite challenging. Each character also has their own health bars but they can be used together to form a shared attack for additional damage.  This adds to the overall strategy of the game and really makes you 'think' because all characters have their subtle differences which must be taken into consideration. But the downside to the game is that things do become a little repetitive.
Nonetheless, it's a great way to explore additional characters because if you only have one character that you use, it does make you a little lazy when it comes to exploring the game to its full potential which makes you miss out on some really cool special moves and finishers. All in all One Piece: Burning Blood is a sturdy fighter with plenty of replay value, especially the multiplayer component with both ranked and casual matches plus leader boards.
However one cool aspect about the multiplayer aspect is the Pirate Flag Battle which requires players to select a faction in order to conquer as much of the map as possible to gain points. Apart from that, you have your traditional 'versus' modes and even though the difficulty settings in the single-player game can be challenging, human players offer a much more interesting and unexpected fight.
Graphics & Audio
Graphically, One Piece: Burning Blood is oozing with anime goodness and looks like the cartoon series come to life with anime-inspired graphics with a stylised cell-shading effect. Add in some great finishing moves that has almost psychedelic effects and it's a good looking game on the PS4. The animation is decent as are the various camera angles that helps make the game quite a dynamic experience but at times, this can be annoying as well. Nonetheless, it's quite a unique art-style but works particularly well for this genre. Audio is equally as enjoyable, especially the over the top sound effects, voice acting and the great musical score that often helps get your adrenaline ready for the upcoming fights.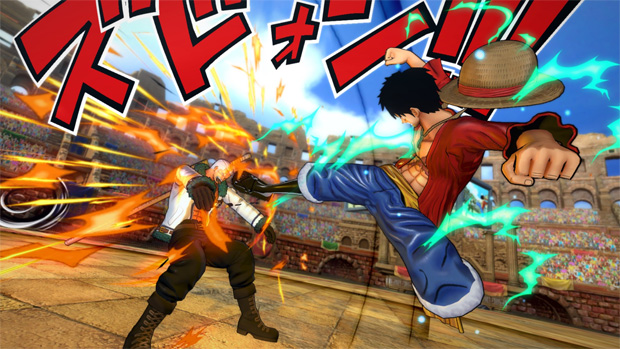 Final Thoughts?
At the end of the day, One Piece: Burning Blood is another fun instalment of this series that features a decent collection of playable characters that is cemented with a sturdy gaming engine. Sure, it may not be as realistic as some other fighters but it delivers with the entertainment factor, provided you're a fan of the anime genre. Additionally, One Piece: Burning Blood is a game that can be played by anyone and with practice, you'll soon be a master of the pirates with some deadly fighting skills to help plunder against your villainous opponents!
Game Details
Primary Format – Games – Playstation 4
Game Genre – Fighting
Rating – PG
Game Developer – Spike Chunsoft Co., Ltd.
Game Publisher – Bandai Namco Entertainment