Blu-ray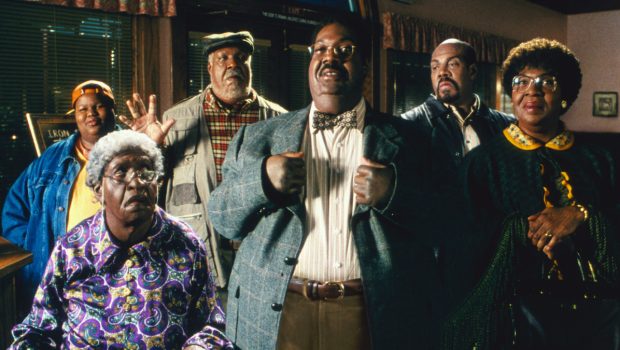 Published on July 24th, 2017 | by Natalie Salvo
The Nutty Professor II: The Klumps Blu-ray Review
Summary: The sequel to "The Nutty Professor" dials up the gross-out humour to eleven. It results in an unfunny, throwaway film.
In "Nutty Professor II: The Klumps" Eddie Murphy has lost something and it isn't Sherman Klump's weight. It's actually the charm and other things that made the first film so enjoyable. This unnecessary and unfunny sequel is one that dials up the gross-out gags and crude humour and this is at the expense of the heart, soul and other endearing qualities that underpinned the latest outing of this film remake.
Eddie Murphy once again plays almost a football team's worth of characters including the titular, mild-mannered professor as well as his foul-mouthed, oversexed granny and his mama and papa. And Murphy even plays two different incarnations of the latter character. Once again the outrageous Buddy Love is wreaking havoc and he is played by Murphy sans fat suit. In a bizarre turn of events the latest version of Buddy is also part dog (you have to watch it to believe it and you still may not be sold on this ridiculous premise.)
Old Sherman is once again working as a researcher and academic at a university headed up by a sarcastic dean (Larry Miller.) Sherman has also fallen in love with another female colleague like he did in the first film (this time around the love interest is named Denise and played by Janet Jackson in a sweet, if forgettable performance.) Denise and Sherman want to get married but Buddy Love is hell-bent on sabotaging this relationship by turning up at inopportune times and making Sherman say and do some nasty things. The professor decides that the only way to remedy this is to perform an experiment, but it should come as no surprise that this doesn't go according to plan and in fact sets off a chain of catastrophic events.
This film sees The Klumps getting more airtime but it also feels more episodic than the previous film. A sub-plot involving Papa Klump losing his mojo and job is under-developed. There is another "dinner" scene involving the Klumps and this time around they act all manic and over-the-top at an all-you-can-eat buffet. There is also a horrible scene involving a hamster assaulting a man and the less said about this the better.
"The Klumps" is a loose and meandering film that is little more than a vehicle for Murphy's shtick. The performances he gives are excellent and along with the wonderful make-up by Rick Baker (who won an Oscar for his work in the first film) really helps to create a varied bunch of convincing, stand-alone characters. It's just a shame that what is coming out of their mouths is so one-note and low-brow, because this makes for an unfunny, stupid and nonsensical sequel.
Blu-ray Details
Director – Peter Segal
Actors – Eddie Murphy, Janet Jackson, Larry Miller, John Ales
Film Genre – Comedy
Label – Shock
Audio – English (Dolby Digital 2.0)
Running Time – 104
Region Coding – B (Blu-Ray)
TV Standard – HD
Rating – M
Consumer Advice – Sexual references
Year of Release – 2000
Primary Format – Movies/TV – Blu-Ray