Blu-ray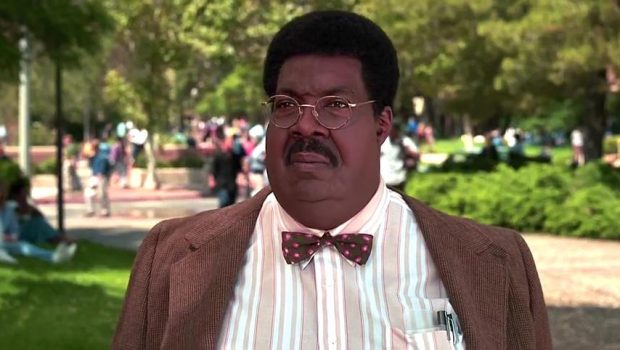 Published on July 16th, 2017 | by Natalie Salvo
The Nutty Professor Blu-ray Review
Summary: "The Nutty Professor" is a crude comedy where Eddie Murphy shines as multiple characters. It's a cheeky film that's one fun day in the lab.
Eddie Murphy is a chameleon actor. Never was this more apparent than in the film, "The Nutty Professor." This comedy would see him playing seven different roles in a story that was a remake of the Jerry Lewis film from 1963. It is ultimately a fun, crude and vibrant tale.
Professor Sherman Klump (Murphy) is a morbidly obese academic and research scientist. He is shy, unassuming and softly-spoken, especially around women. His research involves looking into genes with fat-burning qualities and testing these breakthroughs on guinea pigs in the lab. But one day he decides to turn himself into a human experiment.
Klump is an innocent man who becomes smitten with his fellow colleague, Carla Purty (Jada Pinkett before she married Will Smith.) The two share a nice chemistry together around campus but they also have a disastrous first date at a local club. This culminates in a Def Jam comic played by Dave Chappelle singling out Klump during the set and delivering a barrage of fat jokes aimed at him. Klump is humiliated and upset so he decides to test the waters in the lab and he succeeds.
Enter Buddy Love (Murphy) who is the character that Klump transforms into after consuming some blue liquid. Love is a suave, ladies' man with a dangerously-high libido. He becomes increasingly obnoxious and aggressive through the movie although initially he does win over Purty and Klump's boss Dean Richmond (Larry Miller.) The story tries to deliver the message of "being true to your real self" but in order to get there it also includes some rather crude humour including fat and fart jokes as well as a foul-mouthed, sex-obsessed Granny.
Make-up artist Rick Baker does a stellar job of physically transforming Murphy and this is also combined with some great CGI effects and some fine performances by the comedian himself. Murphy is unrecognisable as Klump as well as the titular character's parents, grandmother and brother. Murphy also plays a fitness guru who is styled like Richard Simmons. The film is directed by Tom Shadyac ("Ace Ventura: Pet Detective") and at times some of the jokes and the humour seem to be in a similar vein to the Jim Carrey film.
"The Nutty Professor" is ultimately a raucous comedy. It provided the perfect vehicle for Murphy to make a career comeback and he was really in his element in the different roles. The film is a cheeky one at times but it still holds up as being quite an amusing if rude tale that proves to ultimately be one fun day in the lab.
Blu-ray Details
Director – Tom Shadyac
Actors – Eddie Murphy
Film Genre – Comedy
Label – Shock
Audio – English (Dolby Digital 2.0)
Running Time – 95
Region Coding – B (Blu-Ray)
TV Standard – HD
Rating – M
Consumer Advice – Sexual references
Year of Release – 1996
Primary Format – Movies/TV – Blu-Ray